Wake Forest to interview Bowling Green coach Dave Clawson
Wake Forest is talking with Bowling Green head coach Dave Clawson, whose Falcons won the MAC championship Friday night.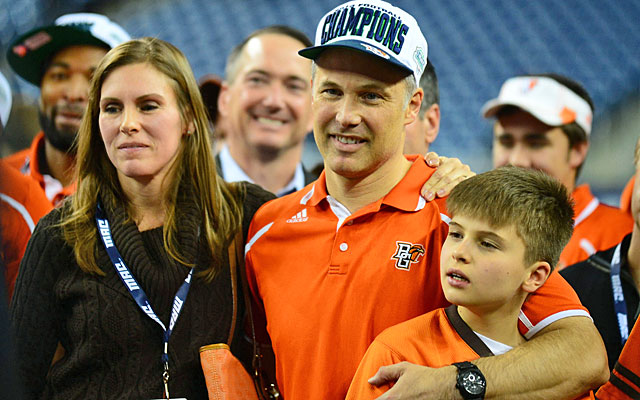 Wake Forest is scheduled to interview Bowling Green head coach Dave Clawson at some point in the next few days, according to sources with knowledge of the search.
Wake Forest athletic director Ron Wellman was believed to be at the MAC Championship Game on Friday night to catch Bowling Green's 47-27 win over Northern Illinois, according to sources from the MAC and ACC. Clawson's camp has been notified of the process.
Ball State's Pete Lembo interviewed for the job during the week and impressed. He has momentum for the job.
Both MAC coaches are considered program-builders, Lembo having success at Elon and Lehigh and Clawson at Fordham and Richmond. Both have private-school experience, which is a plus at Wake. Both won 10 games this season, though Bowling Green's dominant performance over NIU on Friday could provide momentum for Clawson.
ESPN reported the Wake job is a two-man race for the job.
Lembo and Clawson have the same mentor, longtime Albany coach Bob Ford. Clawson and Lembo were last two finalists once before, at Richmond in 2004, which went to Clawson.
Show Comments
Hide Comments
Our Latest Stories
These are the games worth watching this weekend

Two of the favorites within their respective Big Ten divisions square off Saturday

The Cardinals and Tigers play what could be the game of the year on Saturday night
Mack Brown left the broadcast, a wacky two-point conversion was scored and more

The Vols and Bulldogs will battle for front-runner status inside the SEC East

The Huskies look like the best team in the Pac-12, but can they sustain their success at O...