Washington announces death of longtime coach Don James
Don James, the winningest coach in Washington football history, has died, the school announced Sunday.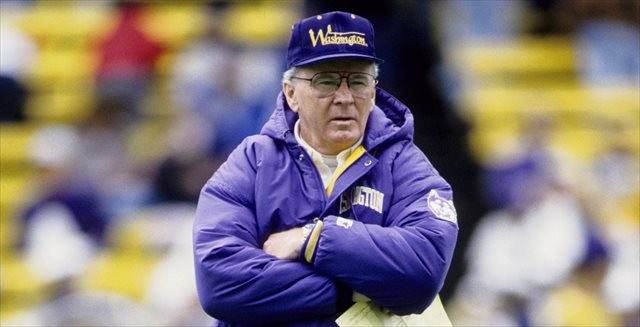 Washington has announced that longtime coach Don James, the winningest coach in the Huskies' history, has died after a battle with cancer.
James had been diagnosed with a malignant pancreatic tumor and was scheduled to begin chemotherapy, the James family announced in September. James was 80.
"My family and I are extremely saddened to hear of Coach James' passing," current Huskies coach Steve Sarkisian said in Washington's statement Sunday. "His accomplishments as a football coach stand alone, but what made him truly special is the quality of man he was away from the game. The guidance and leadership he instilled into this program and community are still felt today, and will continue to be felt here for a long, long time."
James coached the Huskies from 1975 to 1992, going to six Rose Bowls in his 18 seasons and compiling a total record of 153-58-2. The Huskies won a share of 1991 national championship, going 12-0 and defeating Michigan 34-14 in the Rose Bowl.
From Washington's announcement:
At home and comforted by family, longtime Washington football coach Don James passed away this morning from the effects of pancreatic cancer. The James family would like to thank the thousands of friends, former players and fellow coaches, and fans who prayed and expressed their love and support for Don these past few weeks.

Details on a public memorial service will come later.

To several generations of Washington football fans, James' name is the one most associated with the highest highs of the program. The "Dawgfather" served as the UW football team's head coach from 1975 through 1992.

During his 18 seasons at the helm, he led Washington to six conference titles and the 1991 national championship. James was named the AFCA National Coach of the Year in 1977, when he led the Huskies to the Rose Bowl for his first time. In 1991, he won four different national coach of the year awards. At the time of his retirement in 1993, his 10 bowl-game victories were fourth-most in college history, behind only Paul "Bear" Bryant, Joe Paterno and Bobby Bowden.

Born Dec. 31, 1932, in Massillon, Ohio, James graduated from Massillon Washington High in 1950. By then, his older brother Tommy was three years into a 10-year NFL career.

He played quarterback at the University of Miami (Florida), graduating in 1954 with a degree in education. Upon graduation, he won the Phillip Optner Trophy, honoring the senior player at Miami with the highest academic average ...

After stints as an assistant coach at Florida State, Michigan and Colorado, James was named head coach at Kent State in 1971, compiling a 25-19-1 record over his four seasons. He was named the Mid-American Conference Coach of the Year in 1972, when he led the Golden Flashes to a conference title and their first-ever bowl game appearance ...

His 1991 team, which finished 12-0 and beat Michigan in the Rose Bowl, is regarded as the greatest team in Washington history. That team was named the national champion by USA Today/CNN, UPI, the Football Writers, Sports Illustrated and a number of computer rankings ...

James was inducted into the University of Miami Athletic Hall of Fame in 1992, the Husky Hall of Fame in 1994 and the College Football Hall of Fame in 1997. Upon his retirement, the Tyee Center in Husky Stadium, at the time the stadium's only premium seating area, was renamed the Don James Center, the name it carries to this day ...

James is survived by his wife, Carol, who he married in August of 1952. They had three children: Jeff, Jill and Jeni, and 10 grandchildren.
Show Comments
Hide Comments
Ranking the strength of schedule for each of the 12 teams in the Pac-12 entering the seaso...

Thomas Tyner will reportedly re-start his college football career at Oregon's biggest riva...

Collin Johnson needs to do this in a game or all of this was for nothing
The Bulldogs are upping the game in the ever-changing facilities arms race

Five things I want to do as nothing more than a college football fan

The United Airlines Coliseum is the richest naming rights deal in college football