Washington St. QB not impressed by Auburn QB Nick Marshall
Connor Halliday said Auburn can have a big season 'if they could find a quarterback.'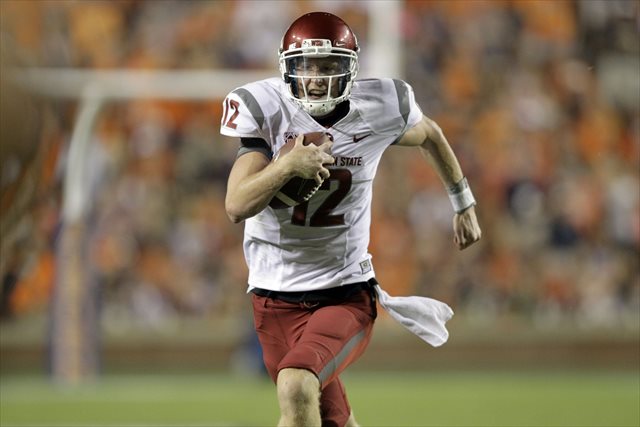 Overall, Washington State quarterback Connor Halliday was far from ungracious in the wake of his Cougars' 31-24 loss at Auburn Saturday, saying the Tigers had the potential to be "a top-five team" -- a rank exaggeration, frankly -- and effusively praising the Auburn running game.
But it might be interesting, all the same, to hear the response from the Plains when it comes to Halliday's specific comments on the state of Auburn's quarterback position and starter Nick Marshall.
"They ran the ball real, real, real well," Halliday said, per the Spokesman-Review, with emphasis added: "If they could find a quarterback, they'd be a top-five team in the nation. They just don't have a guy who can throw it. That running game was something very, very impressive."
On the contrary, the strong-armed Marshall showed multiple times during the game that's he's capable of throwing the ball, uncorking several downfield bombs with minimum effort. The problem was that none of those bombs found the mark, with Marshall overthrowing several receivers and finishing the game 10-of-19 for just 5.2 yards an attempt and without a touchdown.
The catch is that Marshall also didn't throw an interception, letting the dominant Tiger running game and a surprisingly feisty Auburn defense (just three points allowed after halftime) win the game. Halliday threw for 344 yards, but needed 65 passes to do it -- his 5.3 per-attempt average was only slightly better than Marshall's -- and tossed three interceptions, the last one a backbreaker with under 5 minutes to play and Wazzu on the Auburn 8.
Is Halliday right that Marshall's debut could have been more impressive? That a more accurate quarterback would make a world of difference for an offense that's already ripping off an average of 6.6 yards per-carry? That the evidence of Week 1, at least, is that no, Auburn does not have "a guy who can throw it" with consistent accuracy? Yes, yes, and yes.
But that's subject to change, of course, and Haillday's own shortcomings suggest that maybe he should have let someone else point those things out. Expect the Tigers to be fired up the next time these two teams meet, which will be ... oh, never? Well, there's the possiblity they'll meet in a bowl game if ... oh, the SEC and Pac-12 have no shared tie-ins?
Well, in tha tcase, Mr. Halliday, feel free to say whatever you'd like.
HT: SDS
Show Comments
Hide Comments
Fitzerald is already the program's leader with 77 wins

Darryl Rudolph was just 55 years old

The Michigan coach nearly caused an international incident throwing a football
Using college stats and math to determine which FBS quarterbacks will be the most successf...

The LSU quarterback has been dealing with back issues for some time

Moss, a tight end, announced his decision to transfer from NC State this spring