WATCH LIST: Ray Guy Award list includes 25 punters
One of 2013's three Ray Guy Award finalists -- Texas A&M's Drew Kaser -- is a member of the 25-deep 2014 Watch List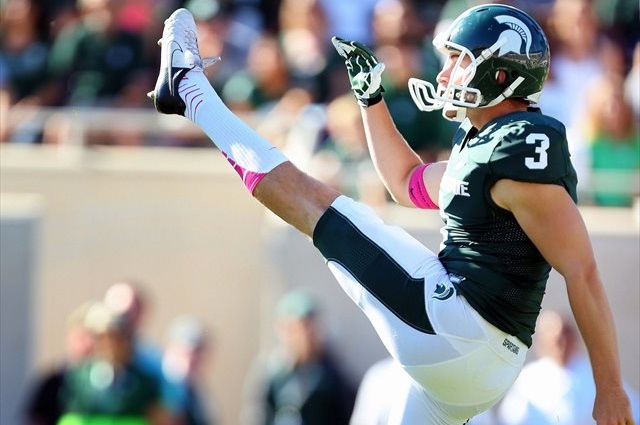 Watch Lists: Maxwell (player of the year) | Bednarik (defensive player) | More
The 2014 Ray Guy Award Watch List has been issued, featuring 25 of the FBS's best punters and one returning finalist -- Texas A&M junior Drew Kaser.
Michigan State will also be watching the competition closely with an eye towards Mike Sadler, their All-Big Ten punter who it felt was unjustly snubbed when not named a Ray Guy finalist in 2013. 
The list: 
Wil Baumann, N.C. State
Riley Dixon, Syracuse
James Farrimond, Rice
Tom Hackett, Utah
Thomas Hibbard, North Carolina
Taylor Hudson, Vanderbilt
A.J. Hughes, Virginia Tech
Sam Irwin-Hill, Arkansas
Cameron Johnston, Ohio State
Drew Kaser, Texas A&M
Sean Kelley, Florida Atlantic
Cole Leininger, California
Justin Manton, ULM
Anthony Melchiori, Kent State
Will Monday, Duke
Peter Mortell, Minnesota
Hunter Mullins, UAB
Nick O'Toole, West Virginia
Trevor Pardula, Kansas
Zach Paul, Akron
Austin Rehkow, Idaho
Spencer Roth, Baylor
Mike Sadler, Michigan State
Garrett Swanson, Fresno State
Tyler Williams, Marshall
Show Comments
Hide Comments
Nebraska has all white alternates for its Sept. 24th game vs. Northwestern

O'Leary is a pillar of UCF football, but also has a muddled history

BYU's Hail Mary vs. Nebraska was one of the plays of the year in 2015, and now it's in LEGO...
Dan Voltz is retiring from football after sustaining numerous injuries over his career

2017 defensive lineman Aubrey Solomon was thanked for attending a cookout he didn't attend

Even the sad Michigan fan is featured int his tremendous LEGO-based video