WATCH: Valentine makes big goal line stop
Former Nebraska defensive tackle Vincent Valentine made his presence felt in the AFC Championship Game.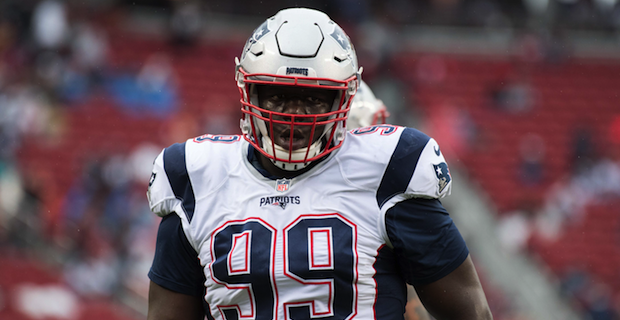 Former Nebraska defensive tackle Vincent Valentine made his presence known in the second quarter of the AFC Championship Game.
With the Pittsburgh Steelers preparing to score, Valentine broke through the line and dropped Pittsburgh running back DeAngelo Williams for a 3-yard loss. On the next play, Pittsburgh threw incomplete and settled for a field goal.
Because of the stand, New England took a 17-9 lead into the locker room at halftime.
Valentine has enjoyed a productive rookie season for the Patriots. Coming in to Sunday's action, Valentine had appeared in 13 games, making 19 tackles and one sack. After his big play Sunday, Valentine threw the bones -- a nod to his career at Nebraska.
Husker fans should hope that New England holds on and advances to the Super Bowl. Valentine is currently the only hope to extend the Huskers' 23-year streak of having a former player on a roster of a Super Bowl team.
Check out Valentine's play below.
Vincent Valentine with the stuff!!! What a goal line stand! #PITvsNE #Patriots pic.twitter.com/KNH2dTtjlF

— Casey Baker (@CaseyBake16) January 23, 2017
Many, including myself, felt Vincent Valentine needed one more year at Nebraska. TFLs like the one on that defensive stand make you rethink.

— Dion Caputi (@nfldraftupdate) January 23, 2017
The shooting took place during an apparent meeting over a cell phone

A decision in either direction would help the NCAA move forward in Sin City

White is the No. 1 running back recruit and No. 6 overall recruit for next year's class
Dennis Dodd goes inside college football to explain why realignment is still an agenda ite...

Shedrick Jackson is a three-star wide receiver

Nigerians are making waves in the U.S. due to their intensity, intelligence and athleticis...