Weekend Watch List: Auburn, Duke have plenty for which to be thankful
Dodd: Count your blessings, Auburn fans, because you'll never get a better shot at derailing the Bama dynasty. Duke, with a shot at the ACC title game, also has reason to be thankful.
Miss Terry has spoken, so there's that out of the way.
"We're staying," Nick Saban's wife told the Wall Street Journal. "We're not going anywhere."
And when the wife speaks -- especially Nick's wife -- it's done. Congratulations on keeping your coach until he retires Sweet Home. Now someone tell Bill Battle he's going to have to crack the seal on a few more million Benjamins.
So much for the biggest news before the Thanksgiving Week Watch List. Here's what we should be thankful for this week ...
The Iron Brawl
Auburn Tigers will never have this chance again ...
... a chance to knock off Alabama Crimson Tide at the height of its powers. Auburn will never again be able to end a streak of consecutive national championships, three out of the last four. We're talking about taking down a freaking dynasty.
There are approximately 85 players who were on the team that all but gave up last year at Alabama.
This could arguably be the biggest win in Auburn history. The Tigers have the tools to win: perhaps the best player caller in the country (Gus Malzahn), an improving thrower (Nick Marshall), a top running game, a bye week, a big-play defense and that home field.
Auburn will never have this chance again, until next year when it could be three in a row by Alabama and four out of five.
Is it too much to ask for consecutive miracles at Jordan-Hare?
Can Ohio State catch a break?
Urban Meyer and the Ohio State Buckeyes need help. We know that. A win over Michigan Wolverines would mark Ohio State's 24th in a row overall. But either Alabama or Florida State Seminoles have to lose for the Buckeyes to have a chance to play in the BCS title game.
Alabama has the best chance of losing in that scenario. However, isn't it ironic that Meyer's old team could deliver him a gift for the ages by upsetting the Seminoles?
No one expects it, of course. Least of all Georgia Southern, which finished the season out of the FCS playoffs but with its first win over an FBS team in 21 tries.
Florida didn't give up a completed pass against Georgia Southern. That will change against FSU.
Michigan has an Ohio State problem
While Ohio State may never pass this way again -- consecutive undefeated seasons -- Michigan has some work to do -- and not just on Saturday.
As noted in this space, Meyer is getting ready to run away and hide from the Big Ten. If The Game isn't competitive -- Ohio State has won eight out of the last nine -- it's clear that Meyer is going to need a foil in the conference.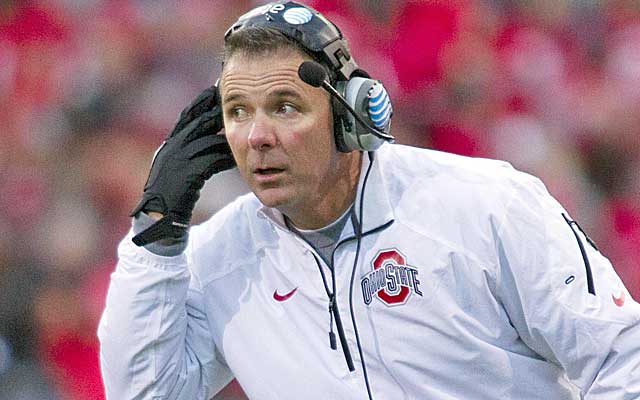 In the SEC, it was Les Miles, Steve Spurrier and Nick Saban. In the Big Ten, so far, it's been the NCAA (2012) and BCS (this season).
Feel free to step up, Wolverines.
Andre Williams chasing Barry
Boston College Eagles 's tailback needs to average 278 yards in his final two games to pass Barry Sanders for most yards in a season (2,628 by Sanders in 1988).
Williams would be playing in two more games than Sanders -- 13, The NCAA didn't count bowl games in stats back then -- but his accomplishments should not be diminished. He is about all coach Steve Addazio has.
With Jameis Winston 's status in question and Johnny Manziel slumping, Williams deserves a Heisman invite. That 278 (556 total) is doable with games remaining this week against Syracuse Orange and the bowl. Williams has surpassed that total twice this season.
Simply the best: the Pac-12
That and a dollar will get you burrito at Sun Devil Stadium this week. While the Territorial Cup highlights two of the hottest Pac-12 teams in Week 14, the conference long ago lost its No. 1 luster. It was officially eliminated from championship contention last week when Oregon Ducks was upset at Arizona Wildcats .
Jeff Sagarin regularly rates not only the conferences, but the divisions within the conferences. In the same week the Pac-12 South is No. 1 and Pac-12 North is No. 2, the Pac-12, as a whole, is out of the championship race.
The argument for toughest conference this season now tilts toward the SEC -- surprise! -- even though its divisions are ranked No. 3 and No. 4.
The Northern Illinois-Fresno State mystery
It's still inexplicable how Northern Illinois Huskies finally zoomed past Fresno State Bulldogs for that at-large BCS bowl berth. Fresno State had led in the BCS standings but after NIU beat Toledo Rockets and Fresno beat New Mexico Lobos , they switched places.
Why? When Jerry Palm can't figure it out, something is amiss.
"Their movement defies description ...," Palm said of Northern Illinois this week on his podcast. "It's almost fishy."
One explanation: It turns out that, at least lately, the MAC has been ranked first among the Group of Five leagues (non-BCS). The Mountain West is ranked third. While that ranking is used essentially for revenue distribution among those leagues, there is more confusion.
In Sagarin's aforementioned conference rankings, NIU's MAC West is rated No. 15 overall, Fresno State's Mountain West West is No. 11.
Go figure.
The games
Alabama Crimson Tide at Auburn Tigers : Auburn grad Katherine Webb is "really nervous" about going to The Plains to see her boyfriend play. One suggestion: Stand behind Bama's offensive line. It works for your man AJ McCarron .
Florida State Seminoles at Florida Gators : Most of the trash talk is coming from Gator fans -- aimed at their program.
Texas A&M Aggies at Missouri Tigers : I can't prove this but Johnny Manziel looks tired and a bit worn down. Perfect for Missouri, which is playing one of its biggest games ever.
A victory pushes the Tigers into its first SEC title game in its second year in the league. Going back to the league's last expansion in 1992, it took Arkansas Razorbacks three years to reach that point. It took South Carolina Gamecocks 18 years.
The Tigers should roll by double digits and -- given the stakes -- expect at least one goal post to come down at Faurot Field. Coach of the year candidate Gary Pinkel would surpass the field's namesake -- Don Faurot -- to become Mizzou's winningest coach.
Duke Blue Devils at North Carolina Tar Heels : I'm still trying to get my head around Duke playing for an ACC title after Thanksgiving.
The fan in me wants the Blue Devils to win, setting up the best conference championship game storyline. (Jameis Winston vs. his off-field issues vs. Duke.) The realist in me expects Carolina to win and throw the Coastal Division into a Cuisinart.
Clemson Tigers at South Carolina Gamecocks : Steve Spurrier has won at least nine games for four consecutive years. He could make it at least 10 three years in a row by beating the Tigers.
I know these teams once beat the stuffing out of each other after a game, but I can't get past the only thing at stake is Clemson as a BCS team.
UCLA Bruins at Southern California Trojans : Jim Mora already has voted Ed Orgeron Pac-12 coach of the year. Coach O would settle on being the Trojans coach in the year 2014.
Oregon State Beavers at Oregon Ducks : In the Rose Bowl-tinged words of De'Anthony Thomas , "I feel like it's, whatever."
Notre Dame Fighting Irish at Stanford Cardinal : The Cardinal are worshipping the ground Rich Rodriguez walks on.
Finally, the menu
Grandma's dressing, Janet's turkey, Aunt Karen's mashed potatoes, Uncle Jerry's fellowship, Jack saying the prayer.
That's what I'm thankful for.
Show Comments
Hide Comments
The former coach weighed in on the new NCAA recruiting rules

Wiggins has played more than 30 games in the ACC and SEC during his career

Our panel of experts drafted the best sports video games that have ever been created
The players allegedly conspired to steal belongings from another student's dorm room

Harbaugh handed the Pope a Wolverines helmet and special shoes

How Markeeth Taylor has become a last chance for NFL hopefuls like LeBeaux Cooper