Weekend Watch List: Biggest loser in Baylor-Oklahoma State is Big 12
November has often been costly to the Big 12's BCS chances. Another contender will fall in Baylor-Oklahoma State, bringing up the question: Is a championship game needed?
For the third consecutive year, the Big 12 is about to lose a championship contender in a hotly contested November conference game. That is all but assured as No. 3 Baylor Bears heads to No. 11 Oklahoma State Cowboys .
For Baylor, a loss in Saturday's game in Stillwater could end what are currently slim national championship hopes.
For the Cowboys, a defeat at home would put them at a further disadvantage in the Big 12 race.
The question going forward for the Big 12: Does it need to be such an all-or-nothing November? In 2014, the Big 12 will be the only BCS conference that doesn't stage a championship game. (The one-division American Athletic Conference of 2013 will be a non-contract conference beginning next season.)
Is the Big 12 at a disadvantage because it doesn't play such a game?
"It depends," Big 12 commissioner Bob Bowlsby told CBSSports.com this week. "If your best team wins, it's helpful. If your best team loses, it isn't helpful."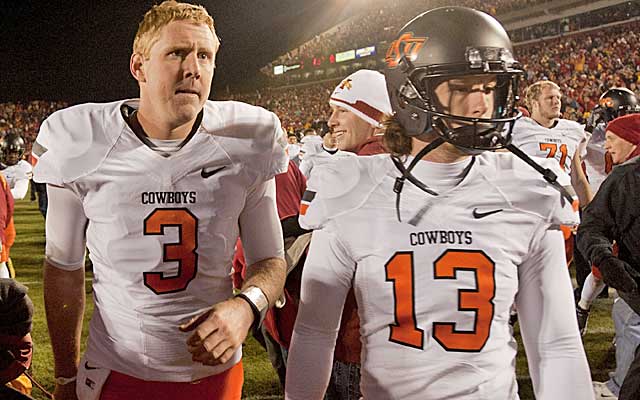 The conference has looked into staging a conference championship with their two "best" teams while remaining in its current one-division, 10-team format. NCAA rules state a conference must have at least 12 members to play a league title game.
While there have been informal discussions about changing that requirement, nothing is imminent, Bowlsby said.
In the last two years the Big 12 champions Oklahoma State (2011) and Kansas State (2012) have been eliminated from national championship contention with November conference losses.
As they should -- some would say. November is winning time and if you don't, well, the old saw applies: It's better to lose early than to lose late. Alabama Crimson Tide is the only exception having survived losses the past two Novembers.
Bama also plays in a league with a conference championship game -- as do seven of the other nine FBS leagues.
There's no question winning that extra game in 2011 would have allowed Oklahoma State to play for the national championship. An untimely loss to Iowa State, then 5-4, ultimately left the Cowboys .0086 of a point behind the No. 2 Tide in the BCS.
The Cowboys' would be in the championship discussion if not for its lone loss this season. The Sept. 28 defeat at West Virginia Mountaineers , now 4-7, almost defies description.
K-State's blowout loss at Baylor last Nov. 17 dropped them from No. 1 to No. 6 in the BCS. The Wildcats finished at No. 5.
As the final year of the BCS draws to a close, the Big 12 hasn't played in a national championship game since 2009. Extending the drought to four years would be the conference's longest of the BCS era.
Never mind a loss, Baylor -- No. 4 in the current BCS standings -- can't afford to even play shaky in the fourth week of this November. The unbeaten Bears need help in the form of losses by teams ahead of them.
But with the playoff era soon upon us, how hard will it be to compare apples (those leagues staging championship games) to the Big 12 orange?
The playoff selection committee is on record as valuing conference champs and strength of schedule. But conference titles have been devalued in the BCS era. (See: Oklahoma, 2003; Alabama, 2011.) Nonetheless, that conference championship game does add to that strength of schedule.
In the BCS, the measuring stick has been decimal points. In the playoff era, the subjective opinions of the selection committee will rule.
The Big 12 has attempted to compensate down the stretch by placing high-profile games on the last day of the season. This year Oklahoma Sooners -Oklahoma State and Texas Longhorns -Baylor will be played Dec. 7, the same day as the league title games.
Still, one less game is one less game. The argument goes both ways, as Bowlsby noted. An undefeated Big 12 champion risks less than other leagues. But if all of those other leagues are risking the fortunes of their best team with an extra game ...
At least the Big 12 is playing these high-profile conference games in late November. That's the message delivered this week by a Big 12 marketing partner.
Various media received an email recently from LDWWgroup, a firm that assists the Big 12 in branding. While the Bears and Cowboys are playing what amounts to an elimination match, LDWW pointed out these less-than-compelling matchups by contenders this week.
• Chattanooga at No. 1 Alabama
• Idaho Vandals at No. 2 Florida State Seminoles
• The Citadel at No. 7 Clemson Tigers
• Coastal Carolina at No. 11 South Carolina Gamecocks
Can't blame LDWW for trying, but that comparison doesn't tell the whole story. Everyone plays non-conference slappies. The schools above just happen to have scheduled theirs now.
Alabama finishes the regular season at Auburn Tigers . Florida State Seminoles still has to get by rival Florida. Clemson and South Carolina will meet.
It continues to be winning time in November. But for the Big 12 going forward, how is that going to position the conference in December?
Your Week 13 musical interlude
The topic of the week is Ed Orgeron's worthiness to become USC's permanent coach. That inspired Pac-12 Network's Rick Neuheisel to channel Harry Belafonte with "Coach O."
Nick and Texas -- and Chattanooga
Don't get nervous, Bama Nation. Nothing is imminent. But it's time to ask: What would drive Nick Saban to Texas?
It certainly isn't money. Whatever Texas (if it changes coaches) would offer would be matched in Tuscaloosa and vice versa. It's not about the money, folks.
Consider, then, that it's Senior Day Saturday at Alabama. Those seniors who arrived in 2010 were following a national championship. They won two more on their own and are gunning for a third. Their combined record, 45-5.
The fifth-year seniors – AJ McCarron among them -- have assembled a school-record 59-5 mark.
Saban wants them honored in the proper way. The "proper way" means a packed house at Bryant-Denny, even against an inferior opponent. You may have noticed that Chattanooga isn't exactly LSU Tigers in terms of drawing power.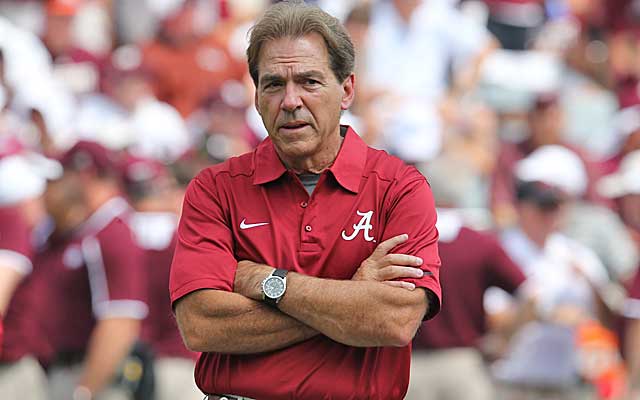 Saban is on record as being disappointed in those who leave early. What about those who don't show up? Let's not forget that Bryant-Denny wasn't totally filled for last year's Iron Bowl.
Saban probably isn't leaving. If he does, it's because he wants a new challenge. If he does, Alabama has become, in some way, routine. The average point differential in Tide home games since 2009 is four touchdowns (28 points). Scarier: It's gone up each year from 24.3 in '09 to 33.3 now.
If he does leave, Saban would be continuing his legacy at a place that would be a quick-twitch turnaround.
Nick probably isn't leaving for Texas but get to your seats early, Bama fan. It could matter. A lot. To your coach.
The Sugar Bowl and Johnny Manziel's incredible BCS juice
Sounds like a kid's book but hang with me. There is a (potentially) interesting decision looming for the Sugar Bowl.
Really, it's no decision if Auburn, Missouri Tigers and Texas A&M -- potential replacements for No. 1 Alabama in New Orleans -- all end up 10-2.
Here's why in the BCS bowl pecking order:
In the scenario, the Sugar Bowl would have the first replacement pick in the BCS (having lost No. 1 Alabama).
Figure Texas A&M to be the pick. Why? Three teams, all 10-2. Auburn would be coming off a loss to Bama.
Missouri would have to beat Ole Miss Rebels and then lose to A&M.
A&M would have lost to Auburn and Alabama but finished with wins over LSU and Missouri.
The deciding factor unquestionably would be Manziel. In his last college football game, A&M's quarterback remains perhaps the biggest at-large BCS bowl draw.
Auburn, No. 6 in the BCS, would have the biggest beef having beaten No. 12 A&M head-to-head. In that scenario, they'd be close in the BCS standings. The tiebreaker for Sugar Bowl executive director Paul Hoolahan would wear No. 2.
Something to think about this week with Missouri at Ole Miss and Texas A&M at LSU.
The games
Baylor at Oklahoma State: The Bears haven't won in Stillwater since World War II (1939). The Cowboys have won 15 of the last 17 in the series.
Baylor's doing it without their best receiver and top two rushers. Oklahoma State's doing it with an underrated defense. Its 19 interceptions are tied for the national lead.
A wintry night in Stillwater with temperatures dipping into the 20s does not bode well for Art Briles' offense.
Arizona Wildcats State at UCLA Bruins : Todd Graham's packing the right luggage for a tough road trip -- a top-20 defense. Three members of the defensive front are seniors, including defending Pac-12 Defensive Player of the Year Will Sutton . D-line "is where we have the biggest advantage," Graham said. Three freshman start on the Bruins offensive line. The Sun Devils can clinch the Pac-12 South with a win. A UCLA win could create a momentary three-way tie in the division with USC. In what is basically a pick 'em game, the Bruins will be more physical on offense and win a squeaker.
Duke Blue Devils at Wake Forest Demon Deacons : If somehow Briles doesn't win national coach of the year, Duke's David Cutcliffe should get it.
Charlotte's on the Blue Devils' minds. Duke controls its destiny to get to the ACC Championship Game. It needs to win out against the Demon Deacons and North Carolina Tar Heels to get there.
Wisconsin Badgers at Minnesota Golden Gophers : David Cobb , Google him. The junior tailback has been a hidden star in the Gophers' current run. At some point Saturday, Cobb probably will surpass 1,000 yards, becoming the first Gopher to do it since 2006.
Wisconsin and Minnesota want to play the same ground-based way -- completing the game in 2 1/2 hours. With a week off to prepare and a possible New Year's Day bowl still on the line, the Gophers are going to make this much closer than expected.
Oregon Ducks at Arizona Wildcats : Has it really been six years? That was the last time (2007) Oregon lost in Tucson. That was also the infamous game when Dennis Dixon, on his way to the Heisman, blew out his knee.
Things have gone better for Oregon since then. Lately, the Ducks are back in control of the Pac-12 North. This game comes down to an Oregon defense allowing 143 rushing yards per game to Arizona's Ka'Deem Carey averaging 150.3 yards per game. The Ducks won't misstep this time.
Missouri Tigers at Ole Miss Rebels : I had my doubts about Mizzou's chances in this game until James Franklin returned this week. In a league with a load of talented quarterbacks, Franklin is among the best.
Unless the Tigers suddenly go opposite and start putting it on the ground -- they are No. 2 in turnover margin -- Mizzou should win by double digits.
Ole Miss has won four in a row after a three-game dip. The Rebels already have beaten a top-10 team (LSU). The Tigers have to win to keep hopes alive of winning the SEC East.
Texas A&M Aggies at LSU Tigers : Zach Mettenberger already is one of only four quarterbacks to beat Johnny Manziel. Can you guess the other three? (See below for answers.)
Mettenberger and a stingy A&M defense won at College Station in 2012 before any of us knew of the Johnny Football phenomenon. Things have changed.
LSU's D can't stop air these days. While the Tigers are out of the BCS bowl running, Manziel still has a realistic chance of going back-to-back in the Heisman race. With Jameis Winston playing the walking dead this week (Idaho) and likely to be removed early, Manziel has a chance to post some meaningful numbers going into the second-last week of the regular season.
Answer: The only other quarterbacks to beat Johnny Football are Florida's Jeff Driskel , Auburn's Nick Marsh all and Alabama's AJ McCarron.
Show Comments
Hide Comments
USC enters as the favorite, but are the Trojans the best bet?

Jim Harbaugh's Michigan staff will be at FAU on June 5

These five coaches will be hot names on the market after the 2017 season
The Big 12 could be wide open in 2017 ... we mean it this time

Rhule's stance on sexual violence is much-needed for a program that's been submerged in co...

The former Oregon coach was most recently the coach of the San Francisco 49ers