Weekend Watch List: Cam Cameron and LSU are perfect together
Dodd: Cam Cameron hasn't merely resurfaced, he has thrived, getting big production out of Zach Mettenberger and a long-dormant LSU offense.
The best assistant coach in America -- at the moment -- is feeling pretty good about himself.
LSU Tigers offensive coordinator Cam Cameron has reclaimed the confidence and game of LSU quarterback Zach Mettenberger . It doesn't stop there. The Tigers offense in general -- at times a spotty enterprise the past few years -- is humming.
Mettenberger is a top-10 passer. Two veteran receivers -- Odell Beckham Jr. and Jarvis Landry -- might be the most lethal pair in the SEC. Tailback Jeremy Hill is coming off a career high against Auburn Tigers .
Just my opinion, but Cameron, 52, really is in the running for the Frank Broyles Award. The honor goes to the best college assistant in the country. If Cameron wins this year, it might be a lifetime achievement award. The man himself doesn't want to look at it that way -- or at all -- this week of the Georgia Bulldogs game.
The man has been an NFL head coach, a Big Ten head coach, worked on Bo Schembechler's staff and coached in seven bowls.
Georgia should be just another game. It isn't.
Cameron said: "Drew Brees told me when I took the job, 'Cam, I can honestly tell you you're going to love Louisiana. There's no place like it. People here are just the best. People here have a spirit and resiliency and are unflappable. Just move through life with such joy.' "
Cameron and Baton Rouge just fit. The Tigers needed an accomplished offensive coordinator. Cameron needed a job. Steve Kragthorpe had to move to a different position before calling a play in 2011 after being diagnosed with Parkinson's. Offensive line coach Greg Studrawa had OC added to his duties in '11 and '12.
Cameron's arrival just seemed so seamless. He helped set up Les Miles with his wife, was in his wedding. They coached together at Michigan. Cam is one four people on earth to have a 1988 recording of Bo addressing the Wolverines before that year's Notre Dame game. He should know. He secretly recorded it.
His value is clear in the ultra-competitive SEC. Cameron has a three-year deal worth $3.4 million. He is making $600,000 this year. It will go up to $1.3 million in 2014 and $1.5 million in 2015.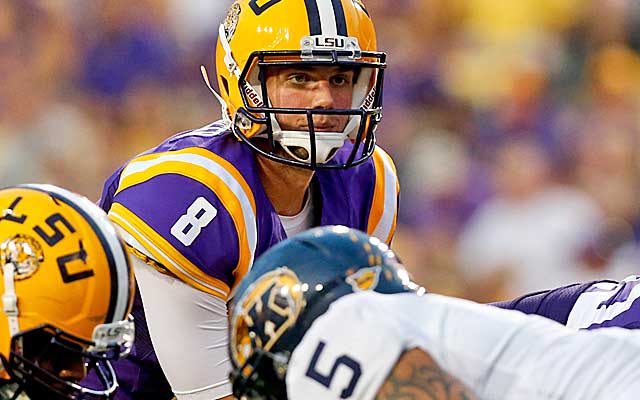 It helped all concerned that Cameron needed a gig. Nine months ago -- you might have heard -- he was dismissed from a Baltimore Ravens franchise that would win the Super Bowl.
Never mind his revamping of LSU's offense, how much credit does Cameron deserve for Joe Flacco and a Super Bowl?
"I've never been around a better group of people ... " Cameron said. "I was sincere when I said I went from offensive coordinator to fan right away."
And that's about it on that subject. What do you expect him to say: "Those bleepin' cowards cut me loose just as we were getting it together in Week 14"?
The focus these days is on an improved Mettenberger. The Georgia transfer has 10 touchdowns to one interception through four games trailing only the Bulldogs' Aaron Murray in SEC pass efficiency. That ratio was four and two at this point last season.
To the naked eye, it looks like LSU is taking more chances. Mettenberger is throwing more downfield. Because of the offensive efficiency, there is less pressure on a defense that has lost a load of NFL talent.
The rebuilding of Mettenberg's game has been at least as challenging as rebuilding his confidence.
"I've heard it was that way, but I haven't seen it that way," Cameron said. "We all have things in our past. I'm not saying anything is insurmountable ... Sometimes he's overly critical. I've told him to quit doing that. I'll be the critic. You worry about your teammates."
The season could turn this week in Cameron's first SEC road game. Georgia probably can't a take a second loss, but a national championship isn't the main thing right now. The Dawgs have already beaten South Carolina Gamecocks . A victory against Florida Gators on Nov. 2 might sew up the SEC East.
After Georgia, LSU faces a three-week slog at Mississippi State Bulldogs , at home against Florida and at Ole Miss Rebels .
Step aside. The best assistant in the country -- at this moment -- has it handled.
"Late in games when games are on the line, headsets get real quiet," Cameron said in the offseason. "And I know those moments are coming and that's what I get paid to do."
LSU-Georgia leftovers:
Mettenberger will make his 18th consecutive start. That's the most by an LSU quarterback since Herb Tyler from 1995-1998 ... How long has Cameron been familiar with Mettenberger? Ravens director of college scouting Joe Hortiz alerted Cameron to the Watkinsville, Ga., talent out of high school.
Quarterback battle? Yeah, right
OK, we get it. Ohio State Buckeyes State" data-canon="Ohio Bobcats" data-type="SPORTS_OBJECT_TEAM" id="shortcode0"> has the best quarterback depth in the country. Urban Meyer was either jerking us around or hammering that fact this week when he listed Braxton Miller as an "or" with Kenny Guiton .
Wisconsin Badgers doesn't get a break either way. For the record, Miller is expected to start and be at or near 100 percent. Melvin Gordon and James White will keep the Badgers in this one deep into the fourth quarter.
Game of the Century Jr.
Bo Wallace said what I was thinking earlier this week when he claimed Mississippi's receivers are better than Texas Longhorns A&M's. Is that the key to Ole Miss- Alabama Crimson Tide ? Not entirely, but expect lots of yards and lots of points, just like College Station two weeks ago. Concerned, T-town?
Irish sighs
Two teams yet to prove themselves meet in South Bend, where -- one way or another -- dreams seem to die.
Notre Dame Fighting Irish has won nine of its past 10 games decided by seven points or fewer. The Irish are 7-0 in such games at home. Figure this one to be close. Oklahoma Sooners has the revenge motive. The Sooners were tied at 13 in the fourth quarter last year in Norman before ND posted its most significant victory of 2012.
Irish sighs II:
You won't find Brian Kelly on any official NCAA list being No. 2 in FBS victories since 2001. That's because he has been an FBS coach only since 2004 at Central Michigan Chippewas . However, in this week's game notes, Notre Dame is counting Brian Kelly's 41 wins in his final three years at Division II Grand Valley State under a heading, "Winningest Active FBS coaches (By Victories, Since 2001)".
Kelly is listed second nationally behind Oklahoma's Bob Stoops. Good way to hype the game, but a bit misleading. Kelly has won only 84 games at the FBS level (Central Michigan, Cincinnati Bearcats , Notre Dame). Everyone else on the ND list has won all of their games since '01 at FBS programs. Kelly is listed ahead of the likes of Mack Brown , Frank Beamer, Mark Richt, Urban Meyer and Les Miles.
Don't get upset. There's a reason Notre Dame has won all those Heismans. It's called promotion.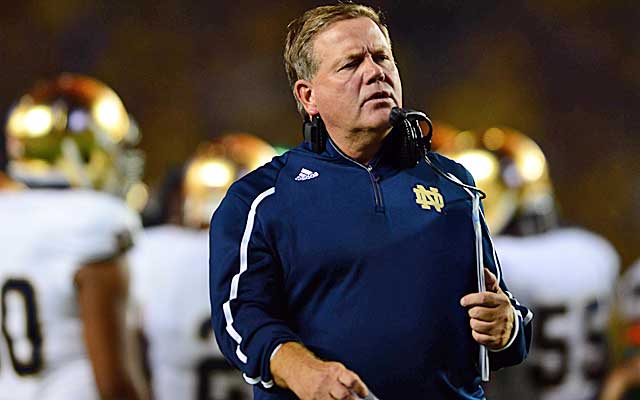 Death (Bright House Networks) Valley
There has to be a reason why BCS teams continue to play Central Florida. It can't be because they are seeking an easy win.
Since 2010, the Knights have beaten Georgia (in a bowl game), Boston College Eagles (by 27) and were respectable last year in losses to Missouri Tigers (21-16) and Ohio State (31-16). Steve Spurrier goes to Orlando with full knowledge that the Gamecocks could 1) get nicked up for the rest of the SEC schedule and 2) lose.
This series was signed in 2010 with Central Florida returning the game in 2015. Question: How does UCF Knights have the leverage to sign home-and-homes with SEC schools? This series should be a two-for-one or three-for-one.
Pounding the ground in the Pac-12
You won't find the nation's No. 2 rusher among the national rushing leaders this week (average per game). Huh? Arizona Wildcats 's Ka'Deem Carey doesn't qualify yet because he hasn't played in 75 percent of this team's games. But the 2012 national rushing leader is gaining almost 150 yards per game, having played in two of three Wildcats games.
It's hard to explain, then, why Carey is listed as the No. 54 rusher in total yards (299). Best to just focus on the two main combatants in Arizona- Washington Huskies . Their numbers -- NCAA qualifications or not -- are nearly identical.
Bishop Sankey , Washington: Games, 3; Attempts, 64; Yards, 446; Average per game, 148.7; Average per rush, 6.96
Carey, Arizona: Games, 2; Attempts, 43; Yards, 299; Average, 149.5; Average per rush, 6.95.
Derek Carr

for Heisman

The campaign is real. If only folks could see the Fresno State Bulldogs quarterback play.

This week's Hawaii Rainbow Warriors game kicks off at midnight ET. Fresno's previous games have started at 10:30, 10 and 9 p.m. ET. The Colorado Buffaloes game was cancelled because of the floods in Boulder.

Only five other players have thrown for more touchdowns than Carr's 12. That total will grow against an awful Hawaii team.
Line of the week
Noted USC alum and donor Steven Spielberg -- he has also directed some movies -- when asked about his favorite disaster movie, "The Washington State Cougars game."
Show Comments
Hide Comments
The three players attempted to rob a fellow student but claimed it was a prank gone wrong

Unique Brissett was pretending to be a WR with scholarship offers from multiple Power Five...

These are the players who college football coaches simply can't live without
Welcome to the world, Flynt Anderson-Foster Pruitt

Baylor should value faith over football and do what's right in the wake of seven Title IX...

The conference will adopt two divisions when it becomes a 10-team league in 2018