Weekend Watch List: Hungry Dawgs out to finish job in 2013
Dodd: Georgia is tired of being SEC runner-up, while Clemson is tired of losing to Georgia. Something's gotta give at steamy Death Valley. Elsewhere, Iowa, Oklahoma and Kentucky better watch out.
It will be hard to find a more motivated team this season than Georgia Bulldogs .
Not Alabama Crimson Tide , whose biggest opponent is complacency.
Not Ohio State, which can only get worse from a perfect 2012.
Not Oregon, which has been to four consecutive BCS bowls.
Not Texas A&M, which -- as Kevin Sumlin himself says -- needs to win its division first.
The No. 5 Dawgs are basking in their highest preseason ranking since that infamous preseason No. 1 in 2008. They have a veteran quarterback leading eight starters back on offense coming off back-to-back SEC title game appearances.
Never mind that they are picked by many to get to Atlanta for a third consecutive time, perhaps this time they can -- you know -- win.
"I'm sure the No. 2 Miss America is not bad looking," tight end Arthur Lynch said. "[But] second-best is second place and second best is last place."
At the risk of going Ricky Bobby on us all, Lynch succinctly summed up the Georgia mission this season.
The Dawgs are at least the latest -- if not the best -- team acquainted with beating Alabama. They came five seconds and five yards away from doing it in December in that SEC title game after losing by 32 the previous year to LSU.
"The years of the SEC East being a nonfactor are gone," said Chris Conley , the receiver and former Bama recruit who caught Aaron Murray 's pass at the Alabama 5 as time ran out last December. "We have an opportunity to go as far as we want to."
"Anxious is the right word," Lynch said as the Dawgs prepare for Saturday's season opener at No. 8 Clemson Tigers . "You can use it for any motivation you want."
Georgia is essentially tired of rehashing what coach Mark Richt hinted was an "epic" game against the Tide. The Dawgs led Alabama by 11 in the second half and gave up the lead with 3:15 to go, only to drive to within 5 yards of the Alabama goal before succumbing.
The result showed that Georgia had the intestines that so often have been in question. Now the Dawgs just need to follow through.
They are coming off only the third 12-win season in the program's history. For the second time in three years, Georgia will play two top-12 ranked opponents to kick off the season. In 2011, the season started 0-2 after losses to Boise State and South Carolina. This season three of the first four opponents are ranked (Clemson, South Carolina, LSU).
"We proved to ourselves that we belong in the top five …," Lynch said. "We proved to ourselves, you know, that we are a national championship team. It's kind of what we've been doing the six, seven months now, preparing for that one play that will get us over the edge."
There is no time to get used to the water. Georgia is going to dive into the deep end right away. This is the first time in school history Georgia has played in an opener with both teams ranked in the Top 10.
Clemson is waiting, armed with its own motivation. The Tigers haven't beaten the Dawgs since 1990, losing the last five.
"I've talked to guys who played in the '80s and '90s and they've said we don't lose to Clemson," Lynch said.
Perhaps not but this is Death Valley at night. Seven Dawgs on defense will be making their first career start. Clemson's Tajh Boyd carries not only the label of perhaps being Johnny Manziel with some meat on his bones, but has the burden of the ACC on his shoulders.
If the league is going to get back in the conversation, the Tigers are going to have to win this game. Much has been made of Clemson's defense in Year 2 under Brent Venables, but the improvement is going to have to be dramatic. That D was 63rd nationally last year, up only eight spots -- and about 30 yards less per game -- than 2011.
It's not a good matchup considering Murray is about to become the SEC's career passing leader, tailback Todd Gurley is a preseason All-American and the Dawgs are full of that motivation that began to build up almost nine months ago in Atlanta.
"We don't want to talk about moral victory … but all men want to be respected," Richt said. "I think our players earned more respect on that day -- everywhere I go, not just in the South."
Best opening-week chances for upsets
Northern Illinois over Iowa: The only regular-season blemish on the Huskies' 2012 record was a one-point loss to the Hawkeyes in Chicago. This time the teams are in Iowa City. The Hawks have a ways to go for national respect. NIU's Jordan Lynch -- dig that Heisman campaign -- is a year older and probably the best player on the field. The Huskies will have no problem with confidence. It is written in stone somewhere that the MAC beats at least one Big Ten team each season. This is almost too easy to pick.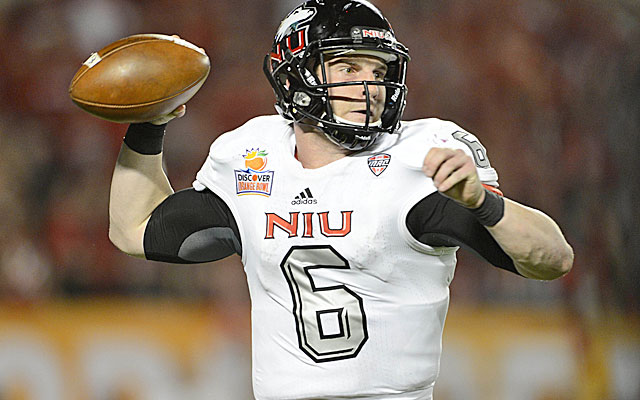 Western Kentucky over Kentucky: Bobby Petrino had to find a home. Then he had to find a quarterback. He got at least one of those in surfacing with the Hilltoppers after his escapade at Arkansas. Junior Brandon Doughty will the first at Western Kentucky to benefit from Petrino's quarterback-making abilities. Petrino remains one of the brightest offense minds in the country. With these teams close in ability, that mind is the difference in Nashville.
TCU over LSU: Let's establish that LSU will have the home-field advantage in Cowboys Stadium, 19 miles from TCU's campus. The Tigers' average number of tailgaters without tickets is more than TCU's entire enrollment. But in a year of transition and upheaval in '12, Gary Patterson was able to produce a top-20 defense. That will serve him well in this "neutral" site game where the biggest question is whether LSU can score enough to challenge Alabama in the SEC West this season. The second-biggest question is how Frogs' quarterback Casey Pachall plays coming out of rehab. Call it TCU in a close one.
Louisiana-Monroe over Oklahoma: I can't believe the line is three touchdowns. These are the same Warhawks who started the 2012 season winning at Arkansas and finished with eight wins. ULM averaged 35 points in three games last year against BCS schools. Oklahoma is breaking in their quarterback. ULM has senior Kolton Browning , perhaps the Sun Belt's best player.
Sympathy for the Hurricanes
Miami deserves an answer from the NCAA. It's probably not going to get it before Friday's opener against Florida Atlantic. The infractions committee hearing ended June 14. Friday marks 77 days, 11 weeks, since the committee began digesting the penalties -- if any.
Those 11 weeks are right on the edge of "early" for deciding penalties. I had a source tell me last week that he had never seen a case decided inside of 10 weeks. Miami deserves better
Your Alabama-is-awesome note of the week
Seven players take the field for the Tide this week against Virginia Tech who will each be chasing their fourth national championship ring: QB AJ McCarron , WR Kevin Norwood , LB Tana Patrick , WR Kenny Bell , OL Anthony Steen , DL Ed Stinson , OL Kellen Williams
Whatever happened to Virginia Tech?
This, for starters.
Clowney's barriers
This is for James Hurst and John Theus and Wesley Johnson and Torrian Wilson . For starters. There will be others, but those four are the left tackles facing South Carolina's Jadeveon Clowney through the month of September.
Guys, you have been warned. It will be your job -- as the starting left tackles at (in order) North Carolina, Georgia, Vanderbilt and Central Florida -- to contain Clowney, the All-American and Heisman candidate. Through the first four games. Hurst, Johnson and Wilson have been named to preseason all-conference teams in some form or another. Georgia's Theus, a sophomore, has played 14 career games having made a couple of freshman All-America teams in 2012.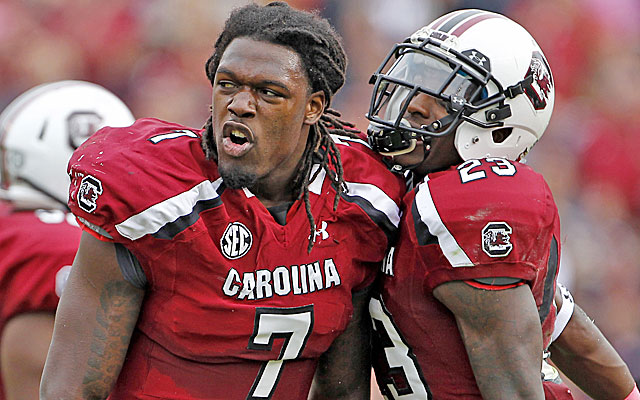 While we consider Clowney's Heisman run, there are reputations to be made on the other side of the ball. Michigan's left tackle during "The Hit" -- Taylor Lewan -- said he played one of his better games that day. But who remembers or even knows that? In this highlight-driven world it only takes one sack to ruin your day. These four have a chance to make their careers by hanging a Clowney trophy on the wall.
"I know that people are going to be watching him," Hurst told the Raleigh News and Observer, "and hopefully they're going to be watching him not do a whole lot."
Big 12 indecision
Only four of the conference's six programs are settled on starting quarterbacks (Iowa State, Baylor, Kansas, Texas).
The other six are either undecided or -- like Oklahoma State's Mike Gundy -- going to play two quarterbacks until further notice. Strange for a conference that has produced four Heisman-winning quarterbacks since 2001, but what are you going to do? You don't have to be told again that the Big 12 is as down as it has been in recent years.
• Oklahoma is going with redshirt freshman Trevor Knight but Blake "Belldozer" Bell will play near the goal line. Bell was the expected winner of this battle but I totally trust Bob Stoops on this one. The pick of Knight says more about Bell than it does Stoops. If Bell was good enough, he'd be playing. Since being part of the celebrated but largely disappointing 2010 quarterback class, he hasn't been playing enough.
• Bill Snyder is going with juco "thrower" Jake Waters over "runner" Daniel Sams to replace Collin Klein. Both will play.
• Gundy is turning into the league's mad genius. Three quarterbacks threw for at least 1,100 yards in the nation's No. 7 passing offense last year before Wes Lunt transferred to Illinois.
Gundy was left with senior Clint Chelf and sophomore J.T. Walsh against Mississippi State in Houston.
"Sometimes you have two good players. Sometimes we have one," Gundy said. "I just know that at times we had success last year with three of them. "We try to get 80 plays a game, so there are enough reps to go around at all positions."
• Dana Holgorsen at West Virignia is still deciding between Clint Trickett and Paul Millard .
• Reality smacks Texas Tech rookie coach Kliff Kingsbury square in his handsome, smooth, marketable face this week. It's likely a true freshman quarterback starts the season for the first time ever at Texas Tech Friday against SMU.
Sophomore Michael Brewer is hobbled with a bad back. That means either Davis Webb and/or Baker Mayfield will play. Mayfield is a walk-on who once produced an undefeated season at Lake Travis High School, the same school the produced SMU starter Garrett Gilbert .
One bold prediction
Mark Helfrich will have more success in his first career game as head coach at Oregon (vs. Nicholls State) than Chip Kelly.
Show Comments
Hide Comments
Hurd left Tennessee during the 2016 season

But it worked, and that's what matters

TV viewing and live stream information for the 2017 Alabama spring game
The Dawgs wrap up spring practice with G-Day on Saturday, April 22

The race with his namesake has sold out again, bringing thousands to support his charities

Auston Robertson's charge stems from an alleged incident on April 9