Wes Lunt enjoys life in the shadows as transfer at Illinois
Wes Lunt, who transferred from Oklahoma State despite restrictions from Mike Gundy, starts a new life as Illinois' scout-team quarterback.
• 4 min read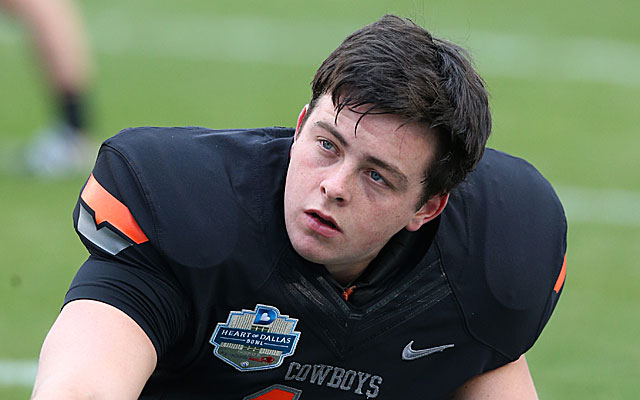 CHAMPAIGN, Ill. -- Bill Cubit has coached offense for much of the last 40 years, to the disbelief of Illinois coach Tim Beckman, who predicts his new offensive coordinator has called "a million plays" in his career. Cubit wonders if that number is somehow accurate.
The pass-game enthusiast had seen hundreds of throwing motions. Then he saw Wes Lunt's.
"He may have one of the prettiest motions I've seen in a long time," said Cubit, the Western Michigan coach from 2005-12.
Lunt's arm won't result in immediate results for Illinois' reclamation project as the high-profile transfer from Oklahoma State sits out 2013. But it illuminates a future of an offense that finished 119th nationally with 296.7 yards per game last season under co-coordinators Billy Gonzales and Chris Beatty, who are both gone.
No disrespect to projected starter Nathan Scheelhaase or Riley O'Toole or touted freshman Aaron Bailey, but Lunt wields the most promise in Champaign.
His presence in camp is sort of one big tease. His reps are limited, and he'll run the scout team throughout 2013 as he toils in transfer anonymity.
The shadow is exactly where Lunt feels he belongs for now. He never agreed with former coach Mike Gundy's restrictions -- keeping him from transferring to nearly 40 schools, including the SEC -- but Illinois sold the former Rochester, Ill., prep standout on family.
"The state needs you," Beckman recalled telling him.
After losing his OSU starting spot last season because of a knee injury, watching Clint Chelf snag the inside track on this year's job and enduring what he calls a "very draining" transfer process, Lunt might as well consider running the scout team an NFL playoff game.
"[Transferring] was the hardest decisions I've ever had to make -- a lot of sleepless nights not knowing what to do," said Lunt, a sophomore who threw for 1,108, six touchdowns and seven interceptions last season.
Lunt has no trouble sleeping now. In fact, he took a nap on an orange couch in the Illinois facility before an interview with CBSSports.com.
Lunt is respecting the transfer process and admits he wouldn't have been ready to play this year anyway.
"The quarterback is the leader of the team, and you have to prove it before you get on the field," Lunt said. "I'm glad I made the decision. I'm happy I'm here. I feel like I'm at home."
Beckman hasn't given Lunt many reps in camp but knows he's "got great touch with the ball." Instead, he's counting on Lunt having a similar impact as his old scout-team QB, Oklahoma State's Brandon Weeden, during Beckman's days as the Cowboys' defensive coordinator.
Lunt wants to become a complete quarterback, and says the signs are encouraging after working with Cubit, who loves watching Duck Dynasty and calling passing plays.
Cubit wants his quarterback to release the ball in 2.5 seconds or less. He rarely calls running plays, instead giving his quarterbacks the right to check based on which side of the field is most vulnerable.
Cubit said he got calls from four FBS schools inquiring about an offensive coordinator job shortly after Western Michigan fired him.
"I've learned more in these last two weeks than I have my whole life in football, just learning fronts and stuff," Lunt said. "It's been really cool. At OSU we learned a lot of passing schemes but I never got hands-on with fronts and linebackers and blitz pickups and stuff like that. It's a lot more hands on for the quarterback."
As far as Lunt knows, he and Oklahoma State coach Mike Gundy are on good terms. The two haven't spoken since the restrictions, which were later dropped while Lunt was choosing between Illinois and Louisville.
Illinois isn't exactly electric at receiver but hopes at least one underclassman emerges and believes JUCO wideout Martize Barr can contribute.
Lunt is trusting the process.
"I feel like good things can come from this university and good things can come from Illinois football," Lunt said.
Illinois' offense will only improve -- "if we can get to 60th(in total offense), we're heroes,"Cubit said -- but Beckman sees the Lunt transfer as a different kind of improvement.
It makes a statement that local players belong in Illini orange.
"It's something we sometimes haven't done the best job with -- keeping local players home,"Beckman said.
Lunt can help, eventually.
"The kid's special," Cubit said.
Show Comments
Hide Comments
Moss, a tight end, announced his decision to transfer from NC State this spring

A police report states that the future UGA offensive lineman choked his girlfriend

Clint Lewis, who has Down Syndrome, has been with the program for 22 years
Hurd left Tennessee during the 2016 season

But it worked, and that's what matters

TV viewing and live stream information for the 2017 Alabama spring game