West's best comes out for bright lights at New Level 7-on-7 in Vegas
In one of the biggest offseason events in the country, plenty of talent from all over the country came out for the Las Vegas stop of the New Level Athletics 7-on-7 tournament. Day One was pool play and some of the best of the West shined with their stellar play.
LAS VEGAS -- As one of the largest offseason events in the country, the
New Level 7-on-7
tournament in Las Vegas is an annual stop on the recruiting circuit to catch top recruits and discover plenty new FBS-level prospects looking to make a name for themselves. This year was no exception as perhaps the deepest and most talented group of athletes took to the fields at
UNLV Rebels
, ready to turn up the competition and play with a little bit of house money during pool play on Day One.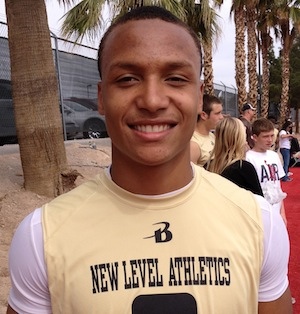 Right around 1,000 players from across the country and even Canada were looking to set themselves up for the knockout round on Sunday and qualify for nationals later this year, slated to be held in New York. Murrieta (Calif.) athlete
Su'a Cravens
is capable of delivering a knockout by himself in pads and needs no introduction as one of the top recruits in the class of 2013 and perhaps the best defensive prospect in the West. Playing a variety of positions for the Frat Boyz Team from Southern California, he left an impression as a roaming safety that more than lived up to the hype.
"I came out here mostly to stray in shape and keep my football skills sharp," Cravens said. "If you just sit around all offseason, you'll lose them. There's a lot of great competition out here, we've got guys that are competing, trying to get a scholarship. Just a lot of great athletes. It's a preseason preview of what were going to play coming up this year but without shoulder pads."
Contributing at wide receiver with several tough catches throughout the morning session, Cravens looked like a natural on the defensive side of the ball. Although some consider him as an outside linebacker in college based on his tape in high school, others see him as a hard-hitting safety. Based on his play Saturday patrolling the secondary, Cravens is able to cover ground as quickly as anybody and played well in coverage that allows him to sneak into passing lanes and attack the ball when it's in the air. Even though it wasn't a position that he's used to playing, the future top 100 player left quite an impression.
"I want to work at safety because I don't really get to play a lot of it outside of the championship game last year," he said. "I want to work a lot of safety to get my footwork down, get depth. They're going to move me around - I was playing receiver and that was a lot of fun - and that's what I'm going this season as well."
Cravens did a little bit of everything for Vista Murrieta High last season, racking up 100 tackles on defense and 19 touchdowns on offense on the way to being named a
MaxPreps
All-American. Although the program went undefeated on the field, the California Interscholastic Federation stripped the team of four victories and left them out of the state championship bowl games at the end of the year. The slight is something that is fueling Cravens to improve not only individually this offseason but help his teammates get better - some of whom were playing alongside him in Vegas.
"It didn't hurt, it really just made us mad and want to work harder," said Cravens. "Its like when they stripped the games from us, it didn't really bring us down it just made us want to prove that we were the best team in California. I think, last year, we were the best. Next year we're going to get there."
The 6-foot-2, 210-pounder holds offers from just about every program in the country and is one of the most heavily pursed recruits from his area in some time. While he's mainly focused on getting in camps and 7-on-7 tournaments in order to improve how he plays the game, Cravens is hoping to have a drama-free recruitment that doesn't impact his friends and family in a negative way.
"It's either going to be before the season or after because I'm not going to commit or distract my team from anything like that, we need to win games," he said. "If I make it before the season it's because I thought that school was a great fit and I don't want to wait and keep kids from getting scholarships as a result. If I make it after it was because I wasn't ready and I wanted to make all my trips."
Speaking of trips, Cravens has unofficially visited a few schools close to home but, being a national recruit, is already thinking of a few places beyond
Pac-12
country to see. While plenty of head coaches have made him a top priority, it appears a few in the
Big Ten
have already done enough to secure an official visit this fall.
"So far I think I'm going to go to
Michigan Wolverines
,
Ohio State Buckeyes
and
Nebraska Cornhuskers
," Cravens said. "With Michigan, Coach (
Brady
)
Hoke
has been recruiting me since I was a sophomore and I have a lot of good relationships with that coaching staff. I actually just got done talking to them last week. I've got to get out there and see what it's all about.
"Nebraska because (former teammate)
Corey Whittaker
committed there and he tells me everyday that Nebraska is the greatest place on earth. Our coaches also went there for a coaching clinic and they said they loved it so I have to see it for myself.
"Ohio State, with
Urban Meyer
up there, he's a great coach and I feel like I can gain a lot from him. I liked him when he was at
Florida Gators
and feel he's going to do a great job there."
Several analysts see
Southern California Trojans
as the program to beat for Cravens and there's a notable reason why. Though the smart, savvy athlete is trying to take out emotions with regards to his recruitment, it might end up being a factor in his thought process.
"I grew up a USC fan, grew up in LA right by the Coliseum and could hear them playing and the band," he said. "As you grow up, you have a favorite school but as soon as you get in high school (and get recruited), it becomes a business and you don't have any favorite schools. You don't choose where you'll be the next four years based on that.
"They're not afraid to play freshmen. Half their team is freshmen or sophomores and they're really young but favored to win the national championship. That really stands out to me and says that I'll have a chance if I come in and compete and I'm not afraid of competition at all."
Regardless of what his final list looks like - he says he does not have a top five - there are a few things Cravens is looking for as he tours campuses, talks to coaching staffs and studies his options.
"First off, they have to have my major (business management) because I'm not going to a school that doesn't have that," he said. "I also have to go somewhere where I am a good fit. I can go somewhere where I feel uncomfortable with the campus. I'm really going to look at the coaches, the school and the education."
As far as top players go, it should be a relatively smooth recruitment for Cravens as his opponents no doubt wish he could head to college a little earlier than expected after facing him between the lines.
Willis taking things slow off the field but mixing it up on it
As impressive as Cravens was during 7-on-7 Saturday, he had competition for top defensive back. Tempe (Ariz.) cornerback
Priest Willis
was a standout for the B2G Five-stars, which featured an entire secondary with multiple BCS offers and shut down the competition all afternoon long.
"Iron sharpens iron," Willis said of the competition. "There are a lot of great receivers and they better me. My teammates tell me what I need to work on and I tell them what they need to work on. It's great for all of us."
The 6-foot-1, 200-pounder took away his side of the field during the few times B2G went with zone coverage. With such a good secondary the players were in man most of the day and that allowed Willis to get up in the receiver's face at the line of scrimmage where he looked like a seasoned pro.
"I love pressing," he said with a smile. "I like to show my physicality and to compete with the receiver. He's going to make some moves and you have to give him the jam."
One only needed to watch a few reps of Willis to see why he is one of the hottest recruits in the country. With close to 30 offers from schools such as
Arizona State Sun Devils
, Florida,
LSU Tigers
,
Oklahoma Sooners
and USC, the talented corner has had schools extending a scholarship just about everyday for the past two months.
"Basically," Willis said with a laugh. "I'm thankful. I thank God everyday when I wake up for giving me his blessing and I'm just trying to stay humble."
Though it might seem like things are moving at the speed of light with his recruitment, the laid-back Willis letting things play out in front of him much like he does plays on the field. He doesn't have a set plan as to how to go about the process and is mainly looking forward to the time he's able to spend shutting down receivers during camps and other competitions.
"I'm really just taking it slow and going with the flow. I listen to my supporting group and taking things slow," said Willis. "I'm really just looking for the best situation and best program for me as a young man and a young football player. I'm just talking with all the people I have been and I know Alabama, I've been talking to them a lot."
Willis recently took in both Los Angeles schools and has started to get to know multiple staffs better before deciding on unofficial visits this spring and summer. At the moment, he only has one visit scheduled and will end up going across the country to see it.
"I'm going to Virginia," he said. "No other ones I know of. I probably will be (visiting others) but for right now just Virginia."
The depth chart isn't a concern for Willis so much as fit and he has an open mind regarding just about every school recruiting him at the moment.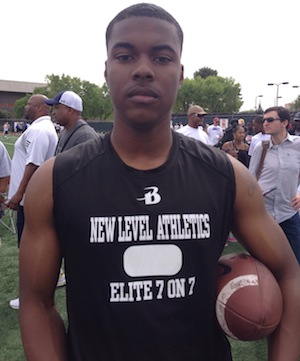 Williams relaxed in second go-around with 1925
Former
NFL
wide receiver
Keyshawn Johnson's
1925 team is always looked at with both admiration and envy at events like the New LEvel 7-on-7. While having a target on their backs means they often get the best shot from opponents, it's not a new challenge for Harbor City (Calif.) quarterback
Troy Williams
. As the second-year signal-caller for the squad, he was relaxed in the pocket and looked sharp throughout three games as he rotated with his backup.
"We felt real comfortable and got the early jitters out of the system. We're ready for the next round," Williams said. "I feel more comfortable because I have guys in my class around me," he said. "I'm around guys that I'll be going with to college and stuff like that."
One notable improvement Williams has made over the past year is with his footwork. He was fluid on drop backs and didn't get nervous feet if a receiver was not open on Saturday. He was spinning the ball well despite occasional wind gusts and threw a tight spiral to deliver one of the nicest balls thrown all day. A calm and collected leader who was a source of strength when 1925 faced a little adversity, it's easy to see why eight schools have already offered with more coming in by the week.
"My last offer was Arizona but nothing new yet," he said. "With Coach (
Rich
)
Rodriguez
and them running the spread, it's a really good offense.
"First thing I'm looking for is academics. I'm also looking at how early I can play and who can prepare me best for the next level."
Williams is looking for schools that offer kinesiology as a major and is good friends with several top recruits in Southern California so playing with one of them might be an additional factor in his recruitment. One thing that will not come up, it appears, is distance from home.
"I don't mind leaving at all. My parents, they said I can go wherever. They don't mind if I leave home. I'm really not worried about it at all," said Williams. "If I do stay close it makes it a lot easier on my family but it's all about where I feel comfortable and where I want to go."
Originally planning to graduate early and enroll in time for spring practice, Williams' plans are up in the are regarding that decision and when he ultimately wants to make his commitment.
"I was kind of debating because I don't know if I want to leave early yet," he said. "I'm going to take a few unofficials during spring break and I'll probably make a decision in the next few months."
The 6-foot-2, 200-pounder will hit Arizona,
Arizona State Sun Devils
and
Washington Huskies
during the break and stop by the Los Angeles Nike Camp at the beginning of April. Williams cited close relationships with Washington coach
John Nansen
and new
UCLA Bruins
coach
Adrian Klemm
because they are from the LA area so don't be surprised if both programs wind up in his top five when he ultimately decides to come out with one.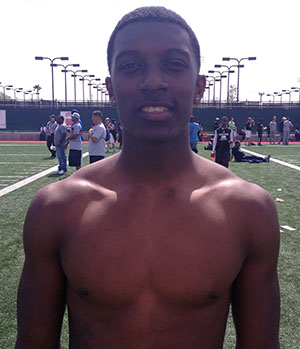 One of Williams' top targets on Saturday was Mission Hills (Calif.) wide receiver
Steven Mitchell
. The speedster made several tough catches in traffic and navigated traffic in the middle of the field with ease. Already one of the top players at his position in the region, he came out to 7-on-7 looking to improve by working on the details that some might not notice at first glance.
"I really wanted to be more physical," he said. "There's a lot of strong guys out here, with safeties and linebackers picking up slot guys like me. The physicality is real important to me."
With a 1925 coaching staff that includes college stars like Johnson and
Brian Kelly
, Mitchell has some pretty good tutors that have been working with him the past few weeks. The pair has already harped on a few things with the receiver group as a whole that has resonated with Mitchell.
"The route running," he immediately said. "Coach is teaching all the receivers crisp route running."
Mitchell has hit the double-digit offer mark early in the recruiting process with schools such as
Notre Dame Fighting Irish
, Oklahoma and
Tennessee Volunteers
making him a priority. His most recent pick up might be the scholarship offer that the slot receiver was most looking forward to as his recruitment picks up steam.
"Two days ago I got offered by
California Golden Bears
," he said. "I'm really excited about it. I like Cal a lot and have two of the coaches up there that are really good friends.
Oregon Ducks
and USC are recruiting me pretty hard, I'm just getting letters from them right now but that's pretty much it. I grew up watching those two teams my whole life. I really like the other schools too, Washington, Arizona State are my other main schools right now."
In addition to various competitions with 1925, Mitchell will stop by the Los Angeles Nike Camp in April and the USC Rising Stars Camp in hopes of picking up an offer. He is looking to take several unofficial visits over the next few months but doesn't have a firm date as to when he might make a commitment. Having shined at the U.S. Army All-American Combine in January, if Mitchell were to receive an invite to the game next year, he said he'd commit then on national television.
Show Comments
Hide Comments
Caleb Joshua Halley, who was the mascot for four years, was fatally stabbed in 2015

Michigan's trip to Italy has been fantastic, if you enjoy that sort of thing

The ex-Notre Dame quarterback would be eligible to play immediately in 2017
Tuberville has been mulling a decision to run in 2018

Ranking the best draft-eligible college football players in the 2017 draft class

Taking a closer look at what went down during one of the biggest weekends of spring football...