What We're Seeing: First impressions from Week 1
The Eye on College Football crew offer their reactions to many of Week 1's biggest games. Post will update throughout the day.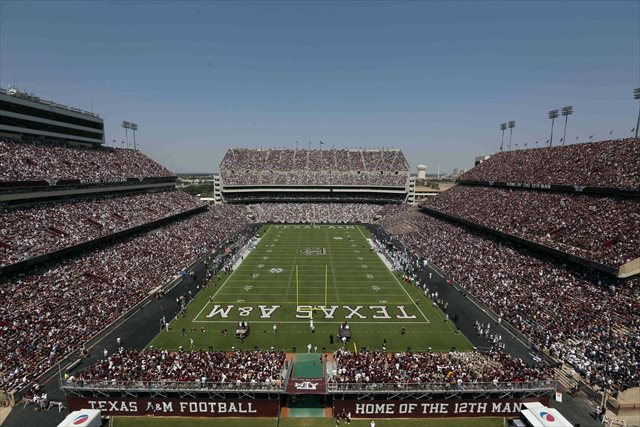 Every game day Saturday, the three-man Eye on College Football crew watches football ... a lot of football. Here's their knee-jerk impressions of what they've seen during Week 1. This post will update throughout the day.
Alabama Crimson Tide 35, Virginia Tech Hokies 10 [BOX]

So, yes, the story of the game was Christion Jones. But story No. 1A was Virginia Tech's defensive line completely owning the Tide's overhauled offensive line for much of the game, and even occasionally getting the better of Tide potential All-American Cyrus Kouandjio. While the offensive line was always the biggest question mark amid the Tide's stockpile of exclamation points, if even Kouandjio is struggling, that might be a much bigger question mark than previously thought.

But few opponents on the Tide's Southern hospitality-inspired schedule have nearly the kind of firepower on the defensive line that the Hokies do. In fact, LSU and a hypothetical East team in the SEC Championship make up the complete list. Does having an Achilles heel matter if no one else is carrying the right weapon to attack it?

Oklahoma State Cowboys 21, Mississippi State Bulldogs 3 [BOX]
Hey, Cowboys, where's the POINTSPLOSION? We were promised a POINTSPLOSION. But we think Mike Gundy will take only 21 points on offense if it means holding Mississippi State to 3 on defense. After a jittery opening drive, senior corner Justin Gilbert and the rest of the Cowboy secondary dominated the green Bulldog receiving corps, giving Tyler Russell and Dak Prescott precious few windows in which to throw. With the Bulldogs unable (and in some ways, seemingly unwilling) to run the ball, well, a grand total of zero points over the game's final 53 minutes wasn't that much of a surprise--even for a Big 12 defense.
And hey, speaking of the Big 12, if the play of that secondary isn't a mirage, it's very good news for a team in a league that pass-happy. -- Jerry Hinnen
Penn State Nittany Lions  23  Syracuse Orange  17 [BOX]
The only reason I tuned in to the game between Penn State and Syracuse was to get a chance to see five-star freshman  Christian Hackenberg , and I can see why he was considered the top pro-style quarterback in the 2013 recruiting class. As you'd expect, Bill O'Brien kept things pretty conservative in the first half, having Hackenberg throw a lot of short passes to help him settle in.

Then O'Brien allowed Hackenberg to open things up in the second half. Hackenberg would throw a 51-yard touchdown to  Allen Robinson  and a 54-yard touchdown to Eugene Lewis after halftime and finish the day with 270 yards and two touchdowns. Though it wasn't a perfect debut, as Hackenberg also threw two interceptions, including one late that set up a Syracuse touchdown and got the Orange back in the game. - Tom Fornelli
Arkansas 34, Louisiana-Lafayette 14 [BOX]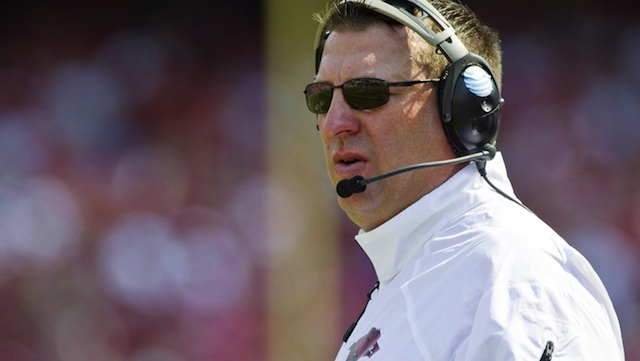 The Bret Bielema era at  Arkansas Razorbacks  kicked off with a victory thanks to a pair of 100-yard rushers on Saturday. Bielema's arrival from Wisconsin suggested a stronger focus on the rushing attack, so it came as no surprise to see  Jonathan Williams  and  Alex Collins  combined for 283 yards on 39 carries in the win. Quarterback  Brandon Allen  was efficient, completing 65 percent of his passes while picking the Ragin' Cajuns apart with the play-action passing game.
For three quarters -- Arkansas' defense softened up a bit down the stretch -- the Razorbacks kept  UL Lafayette Ragin Cajuns  quarterback  Terrance Broadway  in check. Broadway led the Sun Belt averaging 8.30 yards per play of total offense in 2012, but Arkansas sacked him four times and limited his ability to keep drives alive with his feet. 
The punishing ground attack was classic Bielema. But as exciting as it was to see the former Wisconsin coach succeeding in an unusual environment, the real anticipation is for the Razorbacks' first SEC competition. Thanks to some friendly scheduling, there are a few more weeks before that challenge begins. -- Chip Patterson
Texas A&M 52, Rice 31 [BOX]
The excuses, if you'd like them (or reasons, if you're feeling more generous than I am): Texas A&M was missing a whole gaggle of suspended defenders, many of them starters; several of the remaining starters were in that role for the first time in their career; Rice, a team that went 7-6 a year ago, ain't that bad; A&M won by 21 points anyway on a day when their Heisman winner didn't play for two quarters.
If you're not looking for those excuses: the Aggie rush defense looked bewildered and got flat shredded. It gave up 303 yards (and 31 points), at home, to the Owls ... and Alabama arrives in two weeks. -- Jerry Hinnen
Notre Dame Fighting Irish  28  Temple Owls  6 [BOX]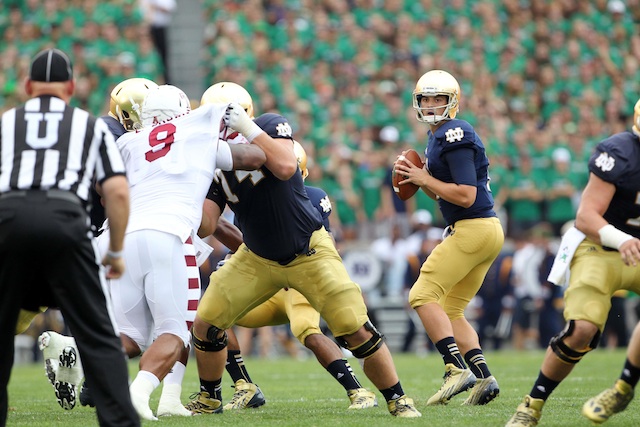 Well, if you were wondering how the Notre Dame offense would look with  Tommy Rees  at quarterback in place of  Everett Golson , early indications are it'll be just fine. Rees completed 16 of 23 passes for 346 yards, three touchdowns and no interceptions in a relatively easy win. In fact, the Notre Dame offense as a whole looked pretty strong, as the Irish compiled 543 total yards and averaged 8.8 yards per play.
Frankly, it's somewhat shocking the Irish were only able to manage 28 points the way they were playing, but problems on third down -- Notre Dame converted only five of 13 third downs -- and penalties helped stall more than their fair share of Notre Dame drives. Of course, doing all of this against Temple is a bit different than doing it against Michigan. Who just so happens to be Notre Dame's next opponent. -- Tom Fornelli
West Virginia Mountaineers 24, William and Mary 17 [BOX] 
First, some good news for the Mountaineer faithful: the West Virginia defense that in 2012 might have been termed "sieve-like" if it wasn't an insult to sieves played an inspired second half, keeping the Tribe scoreless despite some disadvantageous field position. But Dana Holgorsen's famously explosive offense never looked like itself, averaging a meager 5.8 yards per-play, turning the ball over twice, and struggling to finish drives. If not for Houston transfer RB Charles Sims -- who looked every bit the real deal and finished with 132 total yards on 24 touches -- things might have been even worse.
Holgorsen is missing virtually everyone who made the 2012 WVU offense so fearsome, but his reputation (and WVU salary) is such that you might expect some plug-and-play success regardless--and though quarterback Paul Millard 's numbers were respectable, the field never felt stretched against the Tribe. If the Mountaineers can't even count on their offense to come through against a 32-point FCS underdog that went 2-9 last year, how can they do so against the Big 12? -- Jerry Hinnen
Florida Gators 24, Toledo Rockets 6 [BOX]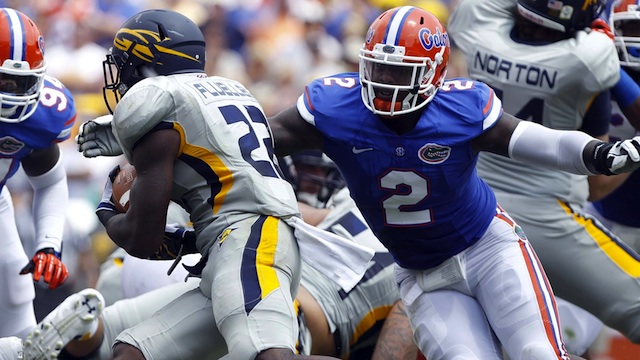 There's going to be lots of talk about how the Gator offense looked like the same old Gator offense we've seen since the day Will Muschamp arrived -- that'll happen when you score 24 points and average 5.4 yards a play against a MAC defense -- but the bigger story is that the Gator defense also looked like the same old Gator defense we've seen since the day Will Muschamp arrived. Dominique Easley was simply overpowering in the interior line, and the Florida secondary blanketed dangerous Rocket wideout Bernard Reedy and anything else that moved (even without the suspended Loucheiz Purifoy ). In the end, Toledo gained just 207 yards and averaged a humiliating 3.2 per-play--and they're a well-coached, hardly talent-deficient attack that should play in a bowl game.
If last year's defense was strong enough to carry Florida to 11 wins, the evidence of Week 1 is that this defense can, too. -- Jerry Hinnen
Maryland Terrapins 43, FIU 10 [BOX]
Last season, Maryland quarterback CJ Brown suffered a season-ending knee injury during a non-contact drill in August. The injury woes continued as the Terps went on to finish 4-8, eventually settling on their fourth string quarterback -- a redshirt freshman linebacker. Brown's return to action against Florida International gave fans a much better feeling about the position in 2013. 
Saturday was the first time that Brown and Stefon Diggs , one of the most electrifying freshmen in the country a year ago, were on the same field. Wide receiver Deon Long was superb in his Maryland debut, lining up opposite Diggs and leading the team with 9 catches for 106 yards and a touchdown. Five touchdowns and 40 first half points later, the Terps have an offense that can compete in the ACC.
The most important development Saturday was a successful first outing for Brown following the knee injury. In addition to distributing the ball to Maryland's speedy receivers, Brown showed off his ground game with 12 carries for a team-high 105 rushing yards. In total, the senior quarterback was responsible for all five of Maryland's touchdowns. -- Chip Patterson
Wisconsin Badgers 45, UMass 0 [BOX]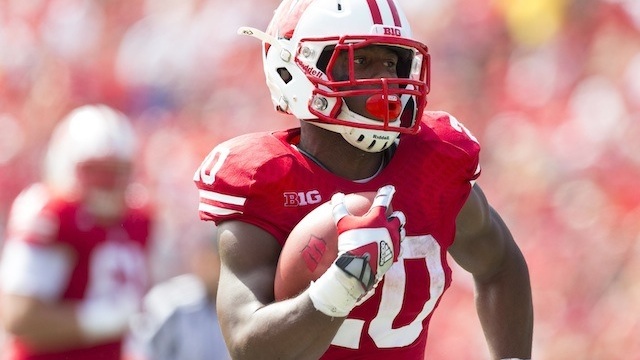 Gary Andersen's first game at Wisconsin went just about as well as you could expect, beating Massachusetts Minutemen 45-0 in Madison. The Badgers rushed for 393 yards with Melvin Gordon , James White and Corey Clement all going over 100 yards on the day. Generally when you have three running backs breaking the 100-yard mark during a game, things are going to go your way. -- Tom Fornelli
Cincinnati Bearcats 42, Purdue Boilermakers 7 [BOX]
Cincinnati certainly made a statement in Tommy Tuberville's first game at the school, crushing Purdue 42-7 at Nippert Stadium. And while the Bearcats offense was impressive (425 yards of offense) it was the Bearcats defense that was truly impressive on Saturday.

The Bearcats caused four turnovers while holding the Boilermakers to 229 yards of offense and four yards per play. And that touchdown Purdue scored? Yeah, that came after a muffed punt gave the Boilermakers the ball at Cincinnati's 11-yard line. - Tom Fornelli
Georgia Tech Yellow Jackets 70, Elon 0 [BOX]
Georgia Tech got to rest their starters for most of the fourth quarter in a 70-0 victory against Elon. The Yellow Jackets have had one of nation's most productive rushing attacks under Paul Johnson, but even in that offense it is odd to see a team score 70 points with only seven pass completions. Four of those were passes to running backs, but wide receiver Michael Summers did break free for a 54-yard play on one of his three completions. In fairness to the Yellow Jackets, the game got out of hand quickly and any clock-stopping plays were likely frowned upon. -- Chip Patterson
Ohio State Buckeyes 40, Buffalo Bulls 20 [BOX]
Braxton Miller 's Heisman campaign got off to a decent enough start on Saturday, as the Ohio State quarterback threw for 178 yards and two touchdowns while also rushing for 77 yards. Of course, Miller also threw a pick-six that allowed Buffalo to sneak back in the game for a bit.
And while the Bulls managed to score 20 points against Ohio State, it was a bit misleading. Buffalo managed only 258 yards of offense (averaging 3.9 yards per play) against an Ohio State defense that was already missing plenty of players to injury and suspension before losing Ryan Shazier for most of the game due to cramps. -- Tom Fornelli
Show Comments
Hide Comments
Twenty-eight of 95 early entry prospects went undrafted

The SEC and Michigan each had great weekends in the 2017 NFL Draft

Rawleigh Williams III left the field on a stretcher after a neck injury
Jim Harbaugh wants more college football programs to embrace the international trip

It seems there's a lot of talent in the SEC

There are all sorts of drafts out there and these are my favorites