What would Tillman think of world, game he loved 10 years after dying?
Pat Tillman was neither a first-team All-American nor an NFL All-Pro, but his sacrifice is legend. Ten years after his death, he's sorely missed.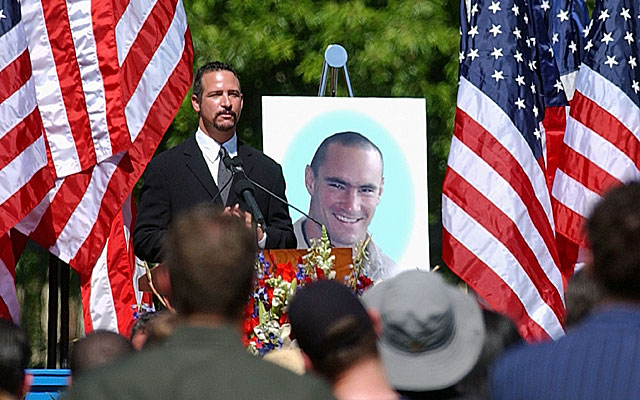 More college football: Dennis Dodd | Jeremy Fowler | Latest news and notes
We need Pat Tillman more than ever.
We need him to tell us what a farce it's all become. Courtrooms. Lawsuits. Suits and posers. Guys who never put on shoulder pads or defended their country or climbed a 200-foot stadium light tower just to contemplate life.
We need him to show us the way because it's been 10 years since he died and the world is a worse place. The hurt still lingers.
"It never dawned on me," CBS Sports Radio and CBS Sports Network personality Jim Rome wrote in an email, "that he wouldn't return home."
But he didn't, killed 10 years ago Tuesday by friendly fire -- snuffing out a life that ended as sordidly as it had been celebrated. Tillman the former Arizona State and Arizona Cardinals player had given up NFL millions declining to sign a new contract after the 2001 season.
Instead, he enlisted to become an Army Ranger in the wake of 9/11.
An unbelievable act of bravery, selflessness and patriotism ended in Operation Mountain Storm hunting down Osama bin Laden. There were strong claims that the nature of his death was shamefully hijacked to promote the U.S. military effort.
That didn't stop Tillman's life from being celebrated in film and books.
But what would Pat think of a world that has become so much more complicated since he passed? One can only imagine how he would scoff at NCAA rules banning cream cheese or the concussion issue or lawyers getting rich off the game he loved. Or even Penn State?
What would he think of the annual run in his name (Pat's Run) that will draw 28,000 to Tempe, Ariz., this weekend? There are at least 32 other similar "shadow" runs celebrating Tillman's spirit in cities throughout the country.
What would he think of a former Army brother who believes he could have mistakenly fired the shot that killed Tillman?
He was a player who never was a first-team All-American at Arizona State, never was All-Pro. But the Pac-12 defensive player of the year award is now named after him.
Tillman was a man who thought beyond three dimensions. He questioned authority and did not suffer fools. He delved deeply into the meaning of religions. Tillman was kind but one of the hardest hitters ever.
"He was a rock star," Rome said. "And when I asked what it felt like to beat ... Arizona he described it as a 'nice, swift ass-kicking.' "
Rome says he didn't know Tillman well but it was the spirit that moved him, literally moved through the radio to inspire him. It was that connection, that spirit 10 years ago that led the family to ask Rome to speak at Pat's memorial service.
"I remember standing in a house across the street from the [memorial] along with John McCain and Maria Shriver as we nervously awaited the start of the memorial.
"I remember what a powerful and surreal day it was as Pat's family was clearly numb and still in shock over what happened.
"I remember straining to focus and make sense of everything that was swirling around me," Rome said, "and all the love, awe and respect there was for Pat on that day."
A decade has diminished none of it. Arizona State sports information director Doug Tammaro has been telling me about Pat's Run for years. He wouldn't let go. There was something special happening out in the desert long after Pat had passed.
Tammaro couldn't let go. The two had formed a deep relationship from Pat's ASU playing days.
Tammaro, in his 21st year at Arizona State, had worked with Tillman when the Sun Devils went to the Rose Bowl. Quarterback Jake Plummer was the star of that team.
"Pat was always one of those guys who gladly deferred," Tammaro said.
But is it more than a coincidence that ASU hasn't been to a major bowl since?
How many schools' halls of fame, he asked, have a player's transcript on display? Tillman graduated in 3½ years.
"I think his legacy is so powerful," Tammaro said. "For us, we learned so much more in how he lived than how he died."
That's why Pat's Run thrives today. Shortly after his death, money came rolling in for some sort of memorial scholarship fund. Tammaro was among a small group of insiders who decided to do something grand and inspiring.
Golf tournament? The game didn't seem to convey who Pat was.
Triathlon? Pat would have been down but the event's strenuous nature would have limited the amount of participants.
They decided on a 4.2-mile run, not a typical 5K. The race would end at the 42-yard line of Sun Devil Stadium. The kid's race would be .42 of a mile. You might have guessed that Pat's Sun Devil number -- they still sell his jersey in the bookstore -- was 42.
When Marie Tillman goes to Arizona Cardinals games -- she kept her married name despite remarrying -- Pat's number is still the one she sees most frequently.
Next to an ASU home game, Pat's Run is the biggest event on campus. Soldiers run in military back packs to honor him. Last year, a fireman ran the course fully dressed in firefighting gear. Are they trying to prove something to themselves or Pat himself?
The Pat Tillman Foundation has handed out 290 scholarships to military veterans and their families worth nearly $5 million.
"People ask how the foundation was started ... I would tell you, Pat started it," said Alex Garwood, Marie Tillman's brother-in-law.
Inspiration strikes different people different ways.
"Something kind of hit me," said Scott Cunningham, a 31-year old father of two in Phoenix. Cunningham was watching the memorial service in 2004.
"I told my wife, if we have another son I'm going to name him Tillman."
Three years later, Tillman James Cunningham was born. And at age 7, he knows as much about the man he was named for as can be expected.
"Around 4 or 5 he used to go around and tell people he was Pat Tillman," dad said.
Tuesday is a bittersweet anniversary for Scott. It was noble for Tillman to give up that NFL career, to take a harder path, but that's not what he would have told you.
"I really haven't done a damn thing with my life."
That's Cunningham on what he thought Tillman would have said.
"He realized this world isn't just about man," Cunningham said. "There's a higher calling ... A soldier who gives his life is held in the highest honor for me."
But it would still be the greatest thing if he were still here. There would be a little less BS in the world.
"We talked a few times when he was in the service," said former ASU trainer Perry Edinger. "He would say, 'They needed to set a bomb up at the Pentagon and start over. They don't know what the [bleep] they're doing.' "
Edinger was one of those, along with Tammaro, who helped establish the run. He loves to tell the story of Pat playing against Oregon one year. A linebacker was inserted into the game to call the defensive plays. Pat, a defensive back, changed the plays on the field. They resulted in the linebacker getting a sack, a tackle for loss and a sack on consecutive plays.
Smart, savvy, brave, a hero. Tillman's icy good looks and square jaw alone could inspire millions. It's amazing all this has lived on for a decade. A life ended unfairly and grotesquely has grown beyond the NFL, an opportunistic government, Arizona State, even the Army. Three years after Pat died, Edinger lost his wife to cancer. Marie Tillman was one of the few people who knew how he felt.
"Sometimes we look at each other and we just kind of shake our heads," Edinger said. "We have something in common."
The legacy lives. Gary Klingman is a 61-year old middle school teacher in Atlanta. In 2012, he ran in Pat's Run. Next weekend he'll be in the shadow run in Atlanta.
The day Tillman died Klingman assembled a video tribute to show his students. Ten years on, he keeps a little corner of his classroom developed to Tillman memorabilia.
"My current students have no idea who Pat was," Klingman emailed. "I think it is important to remember him when athletes today make it hard to find a true hero/role model."
That's the shame of the years. A new generation is growing up having never known Pat or his story or his legacy. If anything, though, that story, that legacy, that spirit has grown stronger. Runners will begin picking up their packets mid-week. There will be traffic around Sun Devil Stadium on Saturday. Current Arizona State players will greet runners at the finish line.
There are those of us who remember all too well what Pat Tillman stood for. Of the 28,000 runners, 1,500 of them will have run in all 10. They recall, for sure. They know we need Pat Tillman more than ever.
"I don't hide my pride," said Edinger, 53. "When I'm done on earth, I'll feel like it's the best thing I've done in my life. I've given people the opportunity to celebrate Pat's life."
Show Comments
Hide Comments
What colleges and conferences had the most first-round picks in the 2017 NFL Draft?

Myles Garrett and Leonard Fournette were top-rated prospects coming out of high school

Ohio State and Washington will play in Seattle in 2024 and Columbus in 2025
Kirk Merritt claims 'jock itch' was the reason he exposed himself to two tutors

The former coach weighed in on the new NCAA recruiting rules

Wiggins has played more than 30 games in the ACC and SEC during his career