When will Big Ten escape SEC shadow of football success?
The Big Ten has the longest national championship drought among the Power-5 conferences. When, if ever, will it catch the mighty SEC in the title discussion?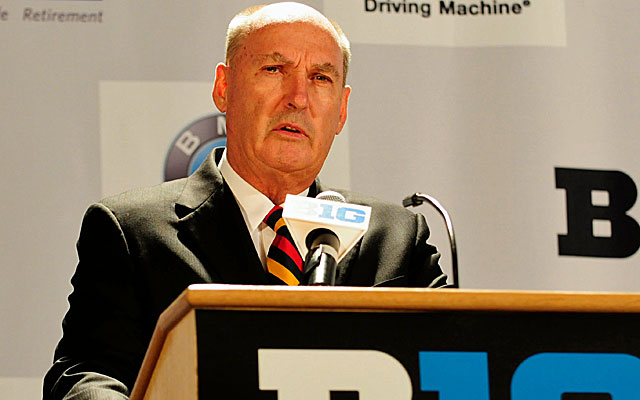 More college football: Dennis Dodd | Jeremy Fowler | Jon Solomon | Latest news
CHICAGO -- Tournament of Roses president Richard Chinen knew his audience while speaking at the Big Ten's annual kickoff luncheon this week. More than once, Chinen told the crowd he is eyeing an all-Big Ten College Football Playoff semifinal at the Rose Bowl in January.
No Big Ten fans laughed out loud. But they didn't exactly embrace the statement given that the Big Ten has gone 11 years without a national title, while enduring the longest drought among the Power 5 conferences (including Notre Dame) without even playing for the national championship.
As the SEC dominated the last half of the BCS era, the Big Ten became an afterthought in the national conversation.
"I think it would be nice for the Big 12 or the Pac-12 or the Big Ten to win a national championship," Big Ten commissioner Jim Delany said. "The SEC, hats off to them for winning national championships with four different teams. For all of us, it's 'give us a glass of water in the desert.' So it's important."
The conventional wisdom is Ohio State (24-2 under Urban Meyer) and Michigan State (fresh off a Rose Bowl win over highly respected Stanford) are legitimate playoff contenders. The truth is no one knows if that's the case. Nor does anyone know how the selection committee might react if a surprising Big Ten team -- such as Michigan State in 2013 -- makes a playoff push.
Michigan State, fresh off a 7-6 season in 2012, didn't enter the Associated Press Top 25 poll last year until Oct. 27, when it was slotted at No. 24 with a 7-1 record. The Spartans were not ranked in the first BCS standings in Week 9. They ended the year with top-5 wins over Ohio State and Stanford and finished No. 3.
"I think had we come off a 10-win season in 2012, we would have been ranked earlier," Michigan State coach Mark Dantonio said. "I guess you would think if we would have had some votes earlier on, there would have been more of a push at the end."
Big Ten Nonconference Results Since 2010
How the Big Ten has fared out of conference vs. current Power 5 schools, including the current SEC configuration.
School
vs. Power 5
vs. Ranked Power 5
vs. SEC
Northwestern
8-2
0-0
3-1
Ohio State
5-3
2-1
1-1
Michigan State
4-4
2-3
1-1
Illinois
3-3
1-1
0-1
Michigan
4-5
2-4
0-3
Iowa
4-5
1-3
1-1
Nebraska
3-5
0-3
1-2
Wisconsin
2-6
0-4
0-1
Penn State
1-4
0-2
0-3
Minnesota
1-4
0-2
0-0
Indiana
0-2
0-0
0-1
Purdue
0-5
0-2
0-0
Totals
35-48
8-25
7-15
The Big Ten didn't always used to be this way. Only eight years ago, the nation was debating whether to pair Ohio State and Michigan in a rematch for the BCS championship. The BCS picked Florida instead of Michigan. Meyer's Gators routed the Buckeyes to start the SEC's seven-year title streak, until Florida State ended it last season.
In college football history, four current Big Ten schools are among the top 10 teams with the most total appearances in the final AP poll: No. 1 Michigan, No. 3 Ohio State, No. 6 Nebraska and No. 10 Penn State. Based on current conference alignments, Big Ten schools' 18 all-time No. 1 AP finishes ranks second behind only the SEC's 20.
But too many Big Ten powers have struggled in recent years. Current Big Ten members have gone 11 years without finishing No. 1 by AP -- the longest stretch for the current Big Ten configuration since the poll started in 1936. Current Big Ten teams went 10 straight years from 1972 to 1981 without ending atop the AP poll.
The Midwest's sluggish population growth has threatened the Big Ten's talent base, which is one reason Maryland and Rutgers were added. (Getting lucrative subscriber fees for the Big Ten Network in those new markets is certainly another major reason.) The Big Ten is now opening a second office in New York City in addition to Chicago.
Ohio, Pennsylvania, Michigan, Nebraska, Illinois and Iowa rank among the 12 states with the smallest projected population growth from 2000 to 2030. SI.com noted that only 37 of Rivals.com's 250 top football prospects this year live within the Big Ten geographic footprint, with 11 of those prospects living in New Jersey and Maryland. Other top-250 prospects within a conference's footprint: SEC 138, ACC 102, Big 12 63, Pac-12 39.
A recent CBSSports.com study of recruiting trends shows the 2014 Big Ten, as a 12-team league, signed 129 of 244 high school players from outside the nine-state footprint, or 52.8 percent -- more than 20 percent higher than in 2010. That percentage dips to 43.8 percent with Maryland and Rutgers included, punctuating the importance of an East Coast base that Delany has long coveted.
Delany said the Big Ten wants to win championships but also aspires to succeed in other areas, citing the league's high graduation rates and Academic Progress Rate scores while calling the Big Ten "the gold standard" in integrating academics and athletics.
"We want to win a championship, there's no doubt about it," Delany said. "Our time will come. No predictions, no excuses. We're geared to do it. We have resources, we have good coaches, we have a fan base. We probably need to recruit more nationally."
How tough has recruiting been in the Big Ten? Delany used weather as one selling point, saying it mimics NFL weather if a recruit wants to play at the next level. "Nobody has better weather than we do in August, September and October, and then you have NFL weather in November," Delany said.
The NFL Draft tells a revealing story. During the first eight drafts of the BCS era from 1999 to 2006, the SEC had 49 NFL first-round picks compared to 47 for the Big Ten. The Big Ten equaled or surpassed the SEC in first-round picks in four of those eight years.
The final eight years of the BCS were a landslide. First-round picks: SEC 74, Big Ten 32. Or to put it another way, Alabama, LSU and Florida combined to have more first-round picks since 2007 than the entire Big Ten.
NFL First-Round Picks
Conference
1999-2006
2007-2014
SEC
49
74
Big Ten
47
32
Over the last four years, the Big Ten has gone 35-48 against the other Power 5 conferences as currently comprised, and 8-25 against ranked Power 5 teams. The Big Ten's traditional powerhouses -- Ohio State, Michigan, Michigan State, Penn State, Nebraska and Wisconsin -- are 19-27 out of conference against Power 5 opponents.
The Big Ten has several statement games in 2014, such as Michigan State-Oregon, Wisconsin-LSU, Nebraska-Miami and Michigan-Notre Dame.
The best hope for the Big Ten may rest with Meyer changing the caliber of athlete who joins the conference and where he comes from. Meyer said this season's Ohio State defensive line with Michael Bennett, Noah Spence, Joey Bosa and Adolphus Washington could mirror the best defensive line of Meyer's career: the 2006 Florida front four that dominated the Buckeyes in a 41-14 win for the national title.
"This one, if they all perform and stay healthy, this could be at that level," Meyer said. "It's game-changers up front. You don't have to do a lot of blitzing, you don't have to do a lot of twisting and movement, because those guys are one-on-one beaters."
Another recent SEC coach, James Franklin, joins the Big Ten at Penn State after developing a reputation as an aggressive recruiter at Vanderbilt.
"I think in the past people really looked at this as a regional conference," Franklin said, "but it's a national conference."
If you want the narrative that the Big Ten needs to add SEC coaches to compete nationally, Delany would have none of that. He points out Nick Saban, Les Miles and Meyer were all Big Ten coaches and/or Midwesterners before joining the SEC.
"What I'm seeing is a global kind of a game, and the SEC has had remarkable teams and athletes and coaches," Delany said. "They've always had good coaches, but they also have coaches who come from all over."
No one will be holding their breath waiting for the Big Ten to put two teams in the playoff. Given the complexities of a selection committee, it may be difficult for any conference to put two teams in the playoff.
But Dantonio said he believes Michigan State would have won the national championship last year if given a shot because it was playing its best football late. The extra playoff game is an X-factor for any conference, including the Big Ten as it tries to escape the SEC's shadow on the field.
"There's going to be four teams, not two, playing," Delany said, "and that's going to open up some opportunity."
Shedrick Jackson is a three-star wide receiver

Nigerians are making waves in the U.S. due to their intensity, intelligence and athleticis...

Have fun with this, SEC defenders
Making plays on the over/under for all 12 teams in the Pac-12

Mike Gundy and the Cowboys know there's one monster they have to contend with in their own...

The initiative has been put forth to offset the burden of declining freshman enrollment