Why Big Ten Network president is always ready for future realignment
SEC Network is the third major conference 24-hour network. ACC could be fourth. If conference expansion comes back, league networks might be why.
• 3 min read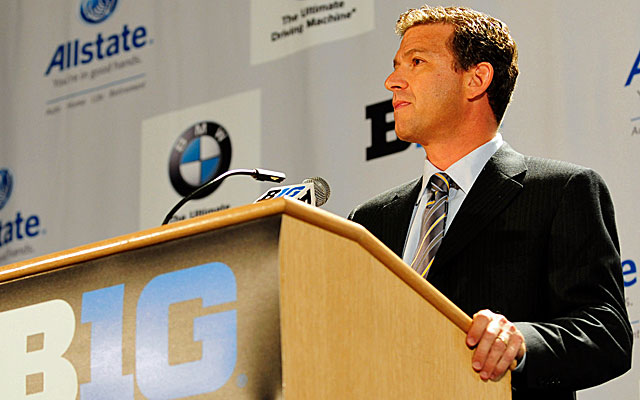 More college football: Dennis Dodd | Jeremy Fowler | Jon Solomon | Latest news
The SEC has surpassed even internal expectations with distribution of the SEC Network, which launches Aug. 14.
The league already has a reported 60 million homes locked up and will expand that number once it secures a deal with DirecTV, which looks promising. No way DirecTV passes on the Disney/ABC behemoth. If SEC Net hits the $600-million mark off subscriptions and the conference/ESPN split is 50/50, which has been speculated, that's a mammoth haul for the league, though one side must cover tens of millions in operating costs (ESPN might take that off the top).
Anyway, before telling the SEC how awesome you think it is, let's not forget the Big Ten Network blazed this lavish trail for everyone with its 2007 launch. It got full distribution and has been pumping millions to its members, from Ohio State to Purdue, ever since.
Big Ten Network president Mark Silverman has overseen that growth while integrating Maryland and Rutgers, two reasons for the league to camp out in the New York and Washington markets.
In other words, Silverman understands the power of conference expansion as it relates to 24-hour, conference- or team-centric networks, which played a "large part" in the league-hopping nationwide, he said, adding that the SEC Network is a great product that will do well in distribution.
So perhaps it's no surprise he's aware of what might trigger future expansion if it returns in the next decade.
Conference networks, of course.
(Yes, that point is moot if those pesky grant of rights are ironclad. That's for lawyers to decide).
In a recent interview, I asked Silverman about the attractiveness of future conference growth if bundling good content equals more homes and increased distribution fees.
Silverman says he believes realignment is on pause for a while but doesn't discount the notion.
"The success, or lack of success, of conference networks, depending how you look at things, may lead to future expansion," Silverman said. "It may. I think we're in this period now where there is so much activity relating to the NCAA and the college football playoff where that it almost feels like things need to kind of get through this next period of change, and then we'll see. Or maybe it does happen in the midst of this. ... The others that have networks, the Pac-12 and the SEC, do they want to add schools to help grow their networks? We'll see. I don't know. At this point, you're not really surprised one way or the other."
Integrating two new teams can take years, Silverman says, so perhaps conferences need a break. The playoff is under a 12-year deal and it seems the game has settled into a peaceful period.
But with the Big Ten's television deal up in 2016-17, with the only major conference negotiation for a while, and thus the last chance to counter what the SEC is doing, would the league want a five-team East Coast presence instead of three?
It's already established that Big Ten coaches are willing to go anywhere for talent.
Silverman was asked in broad terms how prepared he has to be for the potential of future "Southern markets" in his stable.
"You've got to be prepared," Silverman said. "We're always kind of, not so much just expansion either -- there are a lot of things on the TV industry, the cable bundle, people talk about a la carte. You always have to be evaluating various different potential changes to your business model. We're always kind of looking at what happens if this, what happens if this. Expansion plays a little part in that but it's really more. Where are we going to be in 2020? What is the network look like? How are people going to be watching games?"
Deepening the conference network intrigue is the ACC, which is eyeing its own 24-hour network starting in 2017.
ESPN has to reciprocate that eagerness, but a source with direct knowledge of the process said talks between the sides have been encouraging.
No doubt the SEC's early distribution returns would help the ACC immensely.
Sheer volume is a factor. Would ESPN want to take on, what, a ninth network by then? It's the Ocho + 1.
Maybe, especially if ACC football teams outside the panhandle mushroom into serious contenders in the next two years. You know the basketball will be killer.
Show Comments
Hide Comments
What colleges and conferences had the most first-round picks in the 2017 NFL Draft?

Myles Garrett and Leonard Fournette were top-rated prospects coming out of high school

Ohio State and Washington will play in Seattle in 2024 and Columbus in 2025
Kirk Merritt claims 'jock itch' was the reason he exposed himself to two tutors

The former coach weighed in on the new NCAA recruiting rules

Wiggins has played more than 30 games in the ACC and SEC during his career