Why Ohio State can still contend without Braxton Miller
Ohio State is not the same team after Braxton Miller's season-ending shoulder injury, but the Buckeyes have enough on their side to make a run.
• 2 min read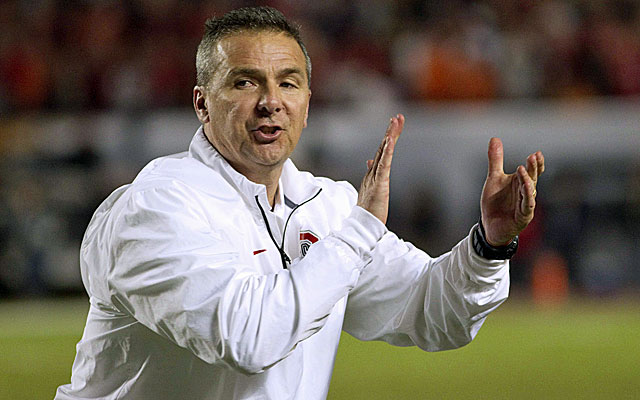 Conference previews: ACC | Big Ten | Big 12 | SEC | Group of Five/Independents
Knock Ohio State out of your playoff bracket, push the Buckeyes off the Big Ten perch, but don't dismiss them as an afterthought after Braxton Miller's season-ending shoulder injury this week.
Ohio State is a fringe contender.
So what if the Buckeyes aren't favored to win the Big Ten? Michigan State should be the favorite, anyway.
Doesn't mean the Buckeyes can't navigate a manageable schedule and position itself for a November run for a spot in a contract bowl -- maybe a playoff spot.
That's if JT Barrett plays ungodly good football.
There are quite a few reasons why all hope is not lost for Ohio State.  
Good schedule
Bud Foster's Virginia Tech defense will be a challenge for Barrett in Week 2 in Columbus, but the Hokies offense is still in transition and Ohio State should still have an edge. After that, the toughest road games are at Maryland and at Penn State before heading to East Lansing on Nov. 8.
Arguably the top-three Big Ten West teams -- Wisconsin, Nebraska and Iowa -- are not on the schedule. Michigan is a home game.
Most weeks, Ohio State will be favored to win.
Skill, skill, skill
The Buckeyes are so high on freshman running back Curtis Samuel that he might be the closest coach Urban Meyer will get to Percy Harvin -- only without the baggage.
Samuel is one of at least three capable running backs that complement anywhere from four to seven capable wide receivers.
And, oh yeah, the Buckeyes might have the Big Ten's best tight end in Jeff Heuerman.
Yes, the offensive line lost four starters but it added once-potential Alabama starter Chad Lindsay through transfer, and Pat Elflein is a talented guard. The depicted doom about Ohio State's line might be overstated a bit.
Urban scores
In eight seasons at Ohio State and Florida, Meyer's offenses have averaged well over 35 points per game in five of them.
The lowest total? The 26.3-points-per-game average in 2005 with a Gators quarterback (Chris Leak) not suited for Meyer's spread.
Worst case, the Buckeyes have a reasonably good offense.
Improved defense
The narrative all spring was that Ohio State's defense has picked itself off the Lucas Oil Stadium turf, where Michigan State flustered the Buckeyes secondary in the Big Ten championship game, and will be resurgent in 2014.
This one needs to play out but the defensive line will be one of the country's best and coaches have sent the message that pass defense won't lag anymore.
Fickle nature of college football quarterbacks
Preseason analysts are conditioned to pick teams based on quarterback outlook, which usually inflates the value of quarterback tenure.
But a great first-year quarterback can shake what you thought you knew about college football.
Four of the top 10 teams in the end-of-season AP rankings (five if you count Mizzou's midseason relief Maty Mauk) won with a first-year starter at quarterback, including the top three.
Braxton a crucial loss but...
There's a reason Ohio State coaches tried just about everything to improve Miller's pocket passing -- even enacting a Gruden QB camp in the offseason.
It's not implausible that Barrett, with time, could match or even eclipse Miller's passing ability. Ohio State won't replace Miller's insane athletic ability and the way he imposes his will on a defense. Can't replace that.
Doesn't mean Ohio State now has futile quarterback play, either.
Show Comments
Hide Comments
From graduate transfer to alcohol in stadiums, here's what's on tap for the SEC spring mee...

A roommate of Josh Smith reportedly suffered a broken nose, broken teeth, and other damage...

Looking for value picks and long shots in the SEC conference title odds
Ranking each of the 14 SEC teams by their 2017 strength of schedule

Ohio State is favored to win the Big Ten, but is it the best bet?

USC enters as the favorite, but are the Trojans the best bet?