Will NCAA vote force Big 12 to expand for conference title game?
Legislation from the Big 12 and ACC look to change the NCAA's rules for staging conference championship games, but the odds of that passing get slimmer by the day.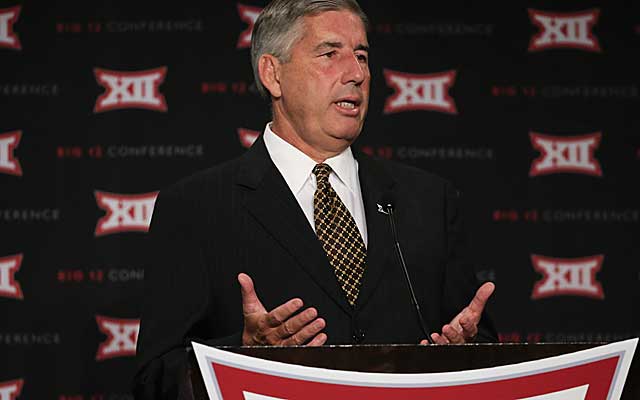 SCOTTSDALE, Arizona -- The Big 12's future membership number and its ability to stage a football championship game could become clearer this week. Gradually, a picture has emerged of what a compromise might look like at the NCAA convention this week in San Antonio.
SEC commissioner Greg Sankey said Sunday his conference will vote against proposals that would change the format of football championship games, but he did indicate a willingness to find a different way for the Big 12 to stage a championship game if it wants one.
"Is there a way to allow a 10-team conference to play full round robin and play a championship game?" Sankey asked. "I think that's worthy of a conversation, but it hasn't been introduced for formal consideration at this point."
Big 12 commissioner Bob Bowlsby said the conference does not want to add members or be forced to play two divisions. If there's any sort of compromise, "those two provisions would have to be considered," Bowlsby said.
The ACC and Big 12 long ago developed legislation that would basically allow conferences to determine how they stage championship games. A year ago, it looked like this legislation would easily pass. That's no longer the case. The Big Ten submitted an amendment that would require conference title games to only be held between division winners.
The current NCAA rule requires 12-team conferences with two divisions of at least six teams in round-robin play. The rule was created in 1987 so a 14-school conference in Division II, the Pennsylvania State Athletics Conference, could stage a championship game that would be exempt from the NCAA's regular-season limit.
The 10-member Big 12 wants the option to hold a championship game despite currently having fewer than 12 schools and with a full round-robin schedule. The parameters for conference championship games are pivotal for the Big 12, which could decide to expand with or without the NCAA vote to deregulate championship games.
The vote consists of FBS members on the NCAA Council with a weighted structure. Votes for the five Power Five conferences count two each, compared to one vote each for the other five FBS conferences. Majority support is needed for a proposal to pass.
The Big 12 has a composition committee of university presidents exploring the possibility of expansion. The Big 12 hasn't taken any steps to expand, Bowlsby said. BYU and Cincinnati have been mentioned as possible expansion candidates.
Bowlsby said the Big 12 could go to two, five-team divisions as the Big Ten proposal would require. But the Big 12 wants to avoid that because its two best teams could be on one side of the division.
"What would have been the best matchup was already played within divisional play," Bowlsby said of such a scenario. "I'm not convinced that a full round robin isn't the most viable and most reliable way to determine your champion.
"Theoretically, we could go to fewer games. We have a nine-game requirement in our contracts with Fox and ESPN, but theoretically, we could renegotiate those and go to an eight-game schedule that might give us more flexibility. We just need to see all the pieces of the puzzle and then thoughtfully go through what it is we want it to look like once we know the rules."
Bowlsby said the conference's 2016 schedule was created with flexibility to play a championship game if the NCAA vote goes the Big 12's way, though it's also possible a Big 12 Championship Game might not return until 2017. The Big 12 hasn't had conversations with potential host cities, but Bowlsby said Houston, San Antonio, Dallas or Kansas City would be his guess if the game returns.
"My sense is [Big 12 presidents and athletic directors] like the money that comes with a championship game, and there's some belief that we are always going to have the issue of a 13th data point disadvantaging us with the [College Football Playoff] committee," Bowlsby said. "Some years we're going to wish we have one more game and others we won't. I don't think that's going away so we have to acknowledge we're at some level of disadvantage by not playing the 13th game."
The 14-member ACC wants flexibility to possibly play without divisions and put its best two teams in its championship game each year.
"I doubt that we would change what we are doing," ACC commissioner John Swofford. "It's mainly a philosophical belief in our league that the conferences should have that autonomy without having their hands tied."
Sankey said the SEC supports the current 12-team divisional structure but understands the Big 12 might have other interests and needs. "There is a standard that has been set and there are four conferences among the five that meet that standard," Sankey said. "There's an openness to see if there's an approach for the Big 12 to meet their needs."
Big Ten commissioner Jim Delany has expressed concern about unintended consequences of letting conferences choose how they stage their championship game. The Big Ten wants consistency for how the CFP committee views conference championship games across the board.
"They're fearful others, mostly the ACC, will change their formats in ways that might be unfavorable to the selection process," Bowlsby said. "Jim and I have talked about it and he's made it clear they don't have a problem with what we're trying to do. They've encouraged us to go through a waiver process. Well, that's not what we started out to do. We want to deregulate something that ought to be deregulated and we believe that's the right thing to do."
If the Big 12 has a championship game, the matchup would probably be a rematch of its two highest-ranked teams, Bowlsby said. This year, based on the Dec. 1 CFP rankings, that would have been No. 3 Oklahoma vs. No. 11 TCU, with No. 12 Baylor and No. 17 Oklahoma State not far behind.
A problem with not having division winners is the CFP Rankings don't come out until Tuesday night of championship week. That's a four-day turnaround for teams and fans to definitively know they're in the Big 12 Championship Game.
"You'd like to know before Tuesday night who's ranked where," Bowlsby said. "That's problematic. We just have to think our way through it."
First, the Big 12 needs to know the rules and if a potential 11th-hour compromise settles the issue once and for all.
Follow and read more from Jon Solomon on Facebook and Twitter.
Show Comments
Hide Comments
Kirk Merritt claims 'jock itch' was the reason he exposed himself to two tutors

The former coach weighed in on the new NCAA recruiting rules

Wiggins has played more than 30 games in the ACC and SEC during his career
Our panel of experts drafted the best sports video games that have ever been created

The players allegedly conspired to steal belongings from another student's dorm room

Harbaugh handed the Pope a Wolverines helmet and special shoes