Winston prosecutor says decision in case unlikely before Thanksgiving
State attorney Willie Meggs 'seriously doubts' his office will be ready to decide on charges in the Jameis Winston case before next week's holiday.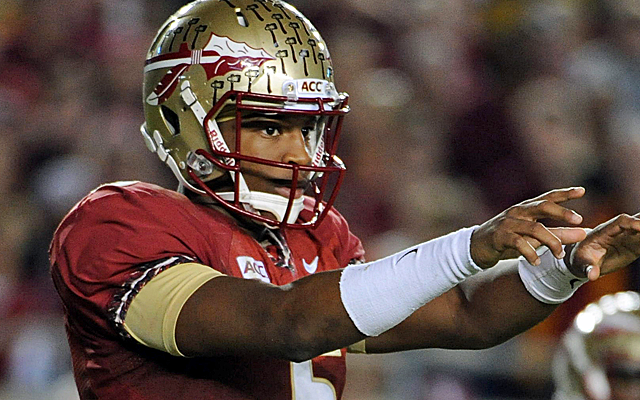 State attorney Willie Meggs told the Associated Press Saturday that he did not expect his office to make a decision on possible sexual assault charges in the Jameis Winston case until after Thanksgiving.
"I very seriously doubt that we will be finished by Thanksgiving," Meggs said. "We still haven't gotten everything we need to get."
Meggs said that "not everything has fallen into place" yet to make a decision on whether to charge Winston, who stands accused by a former Florida State student of sexually assaulting her in December 2012. Meggs' office began its investigation into the accusations after the case was reopened earlier this month. 
Per the AP, investigators have both the results of DNA testing and -- as expected -- have interviewed the accuser. 
Both sides of the case issued statements late this week, with Winston attorney Tim Jansen acknowledging that his client and the accuser had engaged in consensual sex in the wake of DNA evidence linking the two, but denying any wrongdoing on Winston's part. The accuser's family issued a statement Friday saying "this was rape" and calling Jansen's statement "clearly reactive damage control."
Winston's playing status has remained unchanged, with the redshirt freshman Heisman candidate starting and completing 14-of-25 passes for 225 yards and four touchdowns against overmatched Idaho.
Show Comments
Hide Comments
Have fun with this, SEC defenders

Making plays on the over/under for all 12 teams in the Pac-12

Mike Gundy and the Cowboys know there's one monster they have to contend with in their own...
The initiative has been put forth to offset the burden of declining freshman enrollment

How will the Big 12 shape up in 2017? Let's take a team-by-team look

Kush went 176-54-1 in 22 seasons at Arizona State