D'Antoni: Kobe will defend primary scorers for rest of the season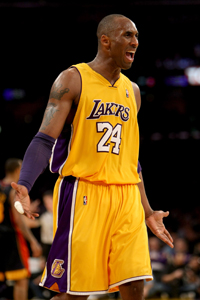 Til death does he defend.
(Getty Images)
The Lakers made a pretty significant philosophical defensive change recently -- Kobe Bryant will now defend the other team's primary scorer, assuming it's a perimeter player.
What has really hurt the Lakers this season isn't their offensive chemistry or lack of sharing. Their offense has actually been a strength of the team. They rank sixth overall in offense at 106.1 points per 100 possessions.
It's their defense. It's not great. They rank 17th in defense giving up 103.4 points per 100. Mike D'Antoni has never been known for coaching great defense. But seeing as it's kind of what's holding his team back, they've made the adjustment of using Kobe more as a stopper.
The drawback is obviously putting your 34-year-old scorer on a 40-minute assignment of chasing a great scorer around screens and defending off the dribble. Kobe defending guys like Russell Westbrook and Chris Paul and James Harden is pretty daunting as is, but then for him to sustain his incredible offensive output is almost unrealistic.
So how long does D'Antoni intend on deploying this strategy? How many more games?
"Forty-three," D'Antoni told reporters on Friday. "Unless he dies first."
Well, let's hope it doesn't come to that, though Kobe is keen on repeating the whole "come hell or high water thing." And 43 being the number of games that the Lakers have left this season.
The facts are that Kobe is a nine-time first-team All-Defense guy and has a great reputation for defending on the ball. Where he has struggled some this season is away from it. To be blunt, he has just looked unfocused and uninterested at times. Like he was preserving himself or something.
Now, he's got to be much more locked in night to night, on both ends. He doesn't get to take possessions off. Does that mean his offense will suffer? Does that mean he'll be forced to rely more on Dwight Howard, Pau Gasol and Steve Nash? Is this all part of a master scheme by D'Antoni to get Kobe to take less offensive responsibility?
If that last one is the case, I think one thing's for sure: Kobe won't be the one potentially facing death.