David Stern believes NBA will test for HGH by next season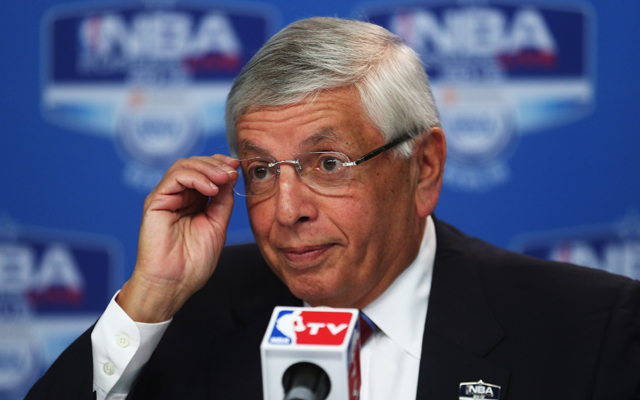 "Keeping a close eye on that whole doping thing."
(Getty Images)
As performance-enhancing drugs have become more prevalant in other sports and also better prevented in other sports, the NBA has been keeping an eye on the developments in drug testing among the various professional leagues. There are already plenty of tests in the NBA through checking urine samples with NBA players, but blood testing isn't something the NBA currently has at its disposal.
However, commissioner David Stern is optimistic that blood testing for Human Growth Hormone will be added to the league's testing policy in time for the 2013-14 NBA season. He talked to WCCO radio in Minneapolis about it Wednesday, as he's in town to take in the Wolves-Spurs game tonight. Via The Point Forward:
"We watch what's going on in baseball, we watch the negotiations that are going on with football, and it is my expectation that by next season [we] will be doing blood testing for HGH," Stern told WCCO radio in Minnesota. "Our players have been terrific. They lead this in some ways, saying, ' We do not want to have anything less than the best.' That's been the way it's been since 1983."
With steroids and HGH being phased out with stricter drug testing in Major League Baseball and the NFL, the NBA is the other major sports league that needs to be able to monitor the use of HGH among its players. It's not a big concern that players are currently using it in the NBA, but to not have the test in place anyway seems to be ignoring the possibility and living behind the times.
As the clock on David Stern's reign as commissioner of the NBA ticks toward the buzzer, something like this is sure to be implemented before he gives way to deputy commissioner Adam Silver. During the lockout in 2011, this was an issue the commissioner wanted worked into the current drug testing policy but there wasn't a test that seemed acceptable for the NBA standards.
That apparently won't be a problem by next season.
Back in October, the World Anti-Doping Agency claimed the NBA's testing program was insufficient. While the NBA has banned HGH for some time, it doesn't test for it at all because it doesn't have the blood test that would be needed to do so. From Henry Abbott:
In the past, including in testimony before Congress in 2005, NBA officials have made the case that performance-enhancing drugs are unlikely to be effective in basketball.

"They do not feel they have such an issue as the other major leagues and therefore haven't addressed it in quite the same way," World Anti-Doping Agency Director David Howman said. "I just think you've got to be very careful when you start saying performance-enhancing drugs are not beneficial in any sport, because you're going to be proven wrong. And you'll be proven wrong when you're not expecting it."
Because the NBA isn't so much a power game as it is a speed game at times, the need for building excessive bulk to crack heads or swing baseball bats isn't there. However, that doesn't mean HGH couldn't be used by some players to help them get into better shape, recover from injuries more quickly and build speed that could be used in an open and fast-paced game.
The common misconception with performance-enhancing drug use in sports is it is primarily to be stronger than the opponent. But as we've seen in cycling, track and field and various other sports, that might not be the reason for doping.
Now that the NBA could be testing for it next season, we'll get an answer to whether or not NBA players could benefit from HGH and whether or not there are players who violate the league's policy by using HGH. Just don't expect David Stern to test positive for PEDs:
"I don't take them," he said. "I just want you to know, if you want to come here and test me, I'm ready. … You won't find anything."
I guess we'll find out next season, David ...