Critical Coaches: What issues does the NCAA need to pursue?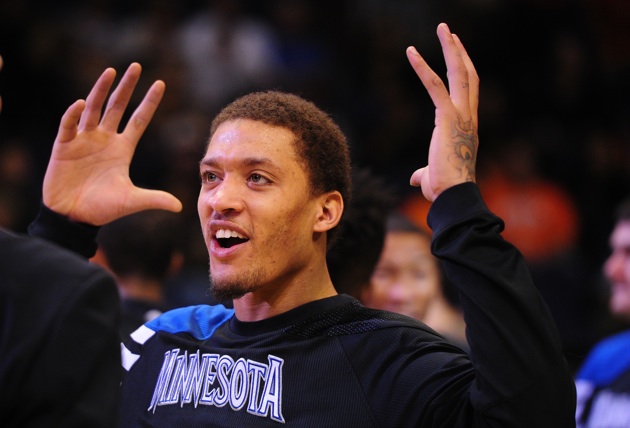 In a lawsuit, Michael Beasley alleges that agent Joel Bell funds the DC Assault AAU program. (US Presswire)
CBSSports.com's college basketball quartet spent the July open recruiting period hobnobbing with nearly 100 coaches, brain-picking them on some of college basketball's current issues. From the best players to their comrades in coaching; from the AAU programs to the agents' involvement; from the rule changes to the NCAA as a whole. We had to promise them anonymity, and in exchange, they gave us honest answers. Over the next three weeks here on the blog, we'll be putting out one question per weekday and giving you the array of results, straight from the coaches' mouths.
Every few months, there's a new NCAA discussion point amongst the basketball world, ranging from agents and academics to recruiting and cheating. College coaches have sounded off on the one NCAA rule they would change, but what about NCAA issues? The NCAA has gotten a few things right lately, including the increased contact between coaches and recruits, and the earlier opportunities for recruits to take visits. The recruiting calendar change had mixed reviews, but there were certainly some positives. Suspending four AAU programs for agent affiliation from the month of July was another big move by the NCAA. Of course, though, there are still problems – and coaches were not afraid to talk about them.
The question is: What is the one issue the NCAA should spend more pursuing?
Cracking down on agents/runners: 42 percent
Finding a fair academic model (APR, eligibility standards): 18 percent
Tweaking/improving recruiting model (calendar, unofficial visits): 13 percent
Catching the big programs cheating: 11 percent
One-and-done rule: 7 percent
Implementing a paying-player system: 4 percent
Also received votes: Developing a better relationship with the NBA; Simplifying the rulebook
Quotes that stuck:
On agents/runners: "A lot of hard work by assistants gets spoiled and a lot of kids are going to places they don't want to go because of agent/coach relationships."
More Critical Coaches
Questions
On APR: "For low-majors, the coaches are the academic coordinators too. Low-majors don't have enough staff to monitor it like we really would like it to be monitored. The NCAA is punishing the whole team for a couple dudes who didn't make the grades. What about the kid that got a 3.0 and is on pace to graduate? Why should he be punished? It sucks for a new head coach too. They come into a new situation and four kids want to transfer – they lose APR points right away."
On academics: "There are disadvantages built into the system as it is now."
On recruiting model: "I thought it would be better like this, with April and July with three weekends. But it's still wrong. I know guys that haven't been home in a month. I'm not talking about coaches – I'm talking about the 16-year-olds on the court here."
On catching the big programs cheating: "Make the rulebook easier to follow and then focus on the real and major violations. The NCAA is understaffed and yet they spend time on little s***. Focus on the real cheaters!"
Takeaway (by Jeff Borzello):
The NCAA will always have more to do when it comes to college basketball. Even if they change one thing, there will still be problems. That's just the nature of sports; nothing is perfect. College football is a money-making machine – and everyone has hated the lack of a playoff system. In fact, in response to the above question, one college basketball coach said the number one issue the NCAA should pursue is a college football playoff.
More than anything else, college basketball coaches want the NCAA to focus on limiting the relationships between AAU coaches and agents. On Wednesday, we specifically examined the connection between the two, and coaches said that more than 60 percent of prominent AAU programs have ties to agents. Coaches think that players are no longer the number one decision-makers in the recruiting process; AAU coaches are taking the reins of the recruitment and heavily influencing the commitment. The NCAA has begun to crack down on this, with the July ban given to four AAU programs. In general, I do think AAU basketball does plenty of good for youth basketball players, but the shady relationships between prominent coaches and agents has put a dark cloud over the organization.
Academics are another issue that college coaches want to see pursued. This umbrella includes APR and academic standards. Coaches would like to see each conference have the same academic standards – right now, different conferences can accept different caliber of players. As for the APR, coaches seem to generally dislike the postseason ban that comes with poor APR scores. To me, though, are scholarship losses enough? Most people barely paid attention until Connecticut and other schools were banned from the postseason.
The recruiting model underwent a major change this season, as players were allowed to take official visits earlier in their careers and restrictions were lifted on when coaches could contact recruits. College coaches aren't completely content with the current model, though. The new July calendar still left coaches and players exhausted by the end of the month. Moreover, multiple coaches mentioned unofficial visits as a growing problem. Some players are taking plenty of unofficial visits, which cannot be paid for by the school. In certain cases, AAU coaches or other third-party people are paying for the flights and lodging.
Outside of those three main issues, many coaches wanted the NCAA to do a better job of catching cheaters. That could be something of a pipe dream – unless the NCAA gets more manpower.
In general, coaches are happy with many of the recent changes the NCAA has made to the recruiting model and other issues. However, there are still major problems remaining. Will the NCAA make a concerted effort to solve many of these issues? Coaches can only hope.
Coming Monday: Should players be paid, and if so, how would you compensate them?