Emmert: NCAA doesn't necessarily need Thomas or jewelry store to cooperate to punish Duke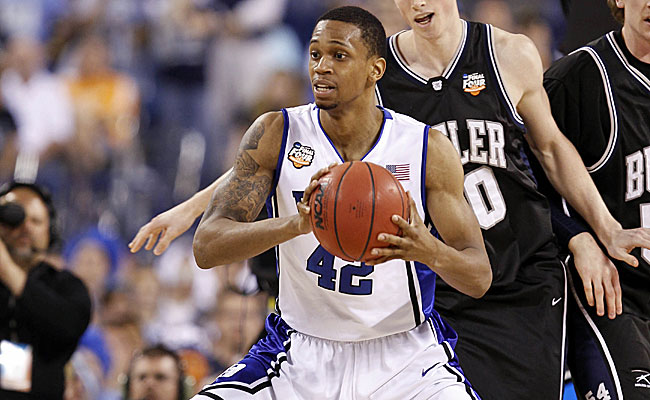 Lance Thomas averaged 25 minutes per game while helping Duke win the national title in 2010. (US Presswire)
NCAA president Mark Emmert said his governing body "certainly could" charge a member institution with rules violations even if the involved parties refuse to cooperate, in response to CBSSports.com asking Monday about reports that former Duke starter Lance Thomas purchased nearly $100,000 worth of jewelry during his senior season.

Thomas, who now plays for the NBA's New Orleans Hornets, recently settled a lawsuit with the jewelry store after initially failing to repay a $67,800 line of credit. The 6-foot-9 forward has to date declined to discuss the situation with the NCAA, and on Monday he refused to explain where he got $30,000 cash to use as a downpayment on the jewelry and how he secured the line of credit from an upscale firm in New York when asked about it during the Hornets' media day in New Orleans, according to Steve Wiseman of Herald-Sun.com.
"We certainly could deal with a case where we don't necessarily have cooperation from the actors, but we still have to rely on facts and rely on well-established information," Emmert said while making it clear he was speaking in general terms and not specifically about Duke's situation. "It occasionally drives fans out there crazy because they'll read in a blog or some other source that this or that happened. But the standards of evidence that we use are pretty darn high because we're dealing with people's lives here. ... We have to go out and make sure we can verify all that facts, and that's always a big challenge [without cooperation]."
More college hoops
Related links
Thomas averaged 25 minutes per game during the 2009-10 season while helping the Blue Devils win a national championship, but whether that title might be vacated became a reasonable conversation last month when it became known that the jewelry store that caters to professional athletes was suing Thomas because he failed to repay a questionable line of credit the firm extended to him well before he was a professional athlete. On the surface, that loan seems like the definition of an extra benefit and something that could, at least in theory, lead to Thomas being ruled retroactively ineligible and Duke's 2010 title being vacated. But the NCAA's lack of subpoena power means Thomas and the jewelry store's owners are under no obligation to speak with NCAA investigators, and a lawyer representing the jewelry store has already said his client will not speak to the NCAA.

But it might not matter.

Emmert's comments suggest the NCAA could still punish Duke if the facts of the case can be verified in another way provided they also place Thomas on the wrong side of the NCAA rulebook while he was a student-athlete. Whether they can and will remains unclear, of course. But the idea that Thomas and the jewelry store's owners might not be essential to an investigation provides hope to those who think Duke should be punished because one of its players seems to have accepted extra benefits while still in school just like UMass was once punished because one of its players (Marcus Camby) accepted extra benefits while still in school.

Either way, Duke coach Mike Krzyzewski has declined comment on the matter. Asked if he thought Krzyzewski would or even should address the issue publicly given his stature within the sport, Emmert said simply, "that's going to be up to [Krzyzewski]."