PHOTO: Xavier's Sandy Hook jerseys will raise money for Newtown charity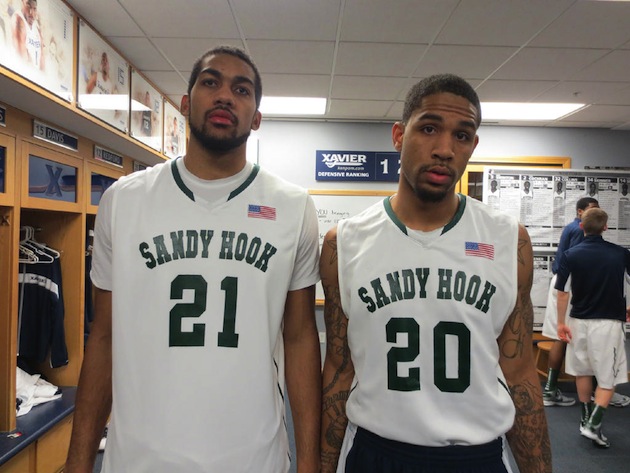 Jeff Robinson (left) and Justin Martin display the Saturday-only Musketeers jerseys. (Xavier Athletics)
Rarely has the saying "It's all about the name on the front of the jersey" been more emblematic and truthful.
As you can see, Xavier has picked up where Providence left off.
The Musketeers were playing a home game Saturday against Wofford -- a nondescript one at that amid a very busy day in college basketball, but it will surely get some attention.
Xavier opted to not only pay tribute to Newtown, Conn., and Sandy Hook Elementary School by wearing these uniforms, but will also offer a chance to give money to charity. It will auction off the game-worn jerseys and shorts to online bidders with all proceeds going to the Sandy Hook School Support Fund, per XU sports information director Tom Eisner.
Xavier coach Chris Mack also helped bring publicity to this Saturday, as he twice tweeted out the one-day-only look.
Love for you to help us support the town of Newtown, CT. I urge you to make a bid. Hug your kids. Help if you can!!! twitter.com/CoachChrisMack…

— Chris Mack (@CoachChrisMack) December 22, 2012
Really impressive gesture by Xavier. It encompasses the best of everything, right? College hoops, good feelings, the holiday spirit, fan involvement and everyone coming together to help those who deserve and need it.