Indiana State, Virginia could pose problems for selection committee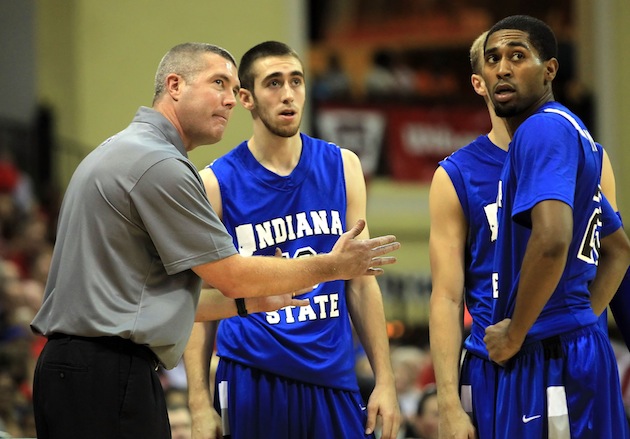 Jake Odum and Indiana State beat Creighton on Wednesday, bringing their top 50 win total to four. (US Presswire)
When USC received an at-large bid to the NCAA tournament in 2011, some people were surprised. After all, the Trojans had losses to Rider, Bradley, TCU and Oregon State -- but they did have wins over Arizona, Washington, Texas and UCLA.
This season, there might be two teams along the same ilk of that USC profile: Virginia and Indiana State.
Let's start with Indiana State. After beating Creighton on Wednesday night, the Sycamores now own wins over four top-50 teams. In addition to the Bluejays, Indiana State has defeated Miami (Fl.), Wichita State and Ole Miss. The power numbers are solid, with an RPI of 42 and an SOS of 33.
On the flip side, though, there are also four sub-100 losses on the docket. All four were on the road, although Illinois State, Drake, Morehead State and Southern Illinois are all below 130 in the RPI.
Indiana State is only one game out of first place in the Missouri Valley standings, and the Sycamores are done with Creighton and Northern Iowa already. There is a home game against Wichita State on Feb. 19, followed by a BracketBusters game against Iona. Win both –- and don't suffer any more bad losses -- and Indiana State could be dancing as an at-large team.
Virginia is a bit tougher of a case. The Cavaliers have an RPI in the triple-digits and a Strength of Schedule near 200. Unless they get those numbers up in the final weeks, they won't even be considered.
With that said, there are three very solid wins on the resume: NC State, North Carolina and Wisconsin; and Florida State is also among the top 60 of the RPI. When compared to most bubble teams, those wins hold up favorably.
Here comes the rub, though: Virginia has six -- all six of its losses, in fact -- sub-100 defeats. There is one of the worst losses by anyone this season, a neutral-court defeat to Old Dominion, along with two more CAA losses and three sub-100 defeats to ACC teams.
The Cavaliers are in fourth-place in the ACC, just one game back of second-place Duke. Just being in the ACC, Virginia's power numbers are going to rise, but the Cavaliers will need to pick up more good wins, while not suffering any more bad slip-ups. There are still two games left against Maryland, road tilts at North Carolina and Miami (Fl.), and a home game against Duke.
Given the bubble this season, it's easy to see at least one of these two teams making the NCAA tournament -- but both will have problematic profiles for the committee.
For more college basketball news, rumors and analysis, follow @EyeOnCBB on Twitter, subscribe to our RSS Feed and subscribe to our College Basketball Newsletter. You can follow Jeff Borzello on Twitter here: @jeffborzello