Kendall Marshall's father: "Hang onto your seatbelt"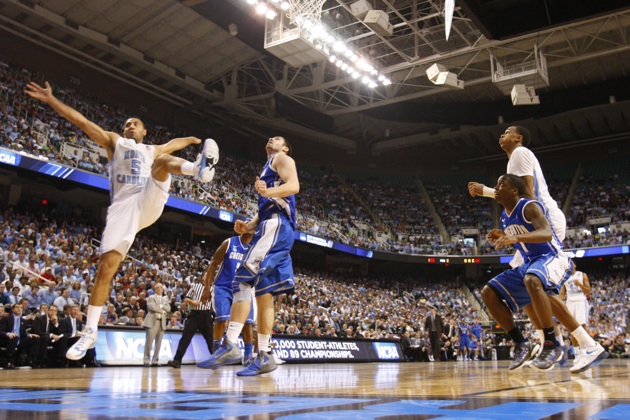 Kendall Marshall landed awkwardly after a hard foul, leading to a fractured right wrist. UNC is optimistic, though. (US Presswire)
After it was announced that North Carolina point guard Kendall Marshall fractured his wrist on Sunday, the future didn't look promising for the Tar Heels.
Now, though, it seems that things are looking up.
CBSSports.com's Jeff Goodman spoke via text with Marshall's father, Dennis Marshall. Dennis Marshall told Goodman that surgery on Kendall went well and lasted about 30 minutes. Moreover, they are optimistic about him playing against Ohio in the Sweet 16 on Friday.
"Hang onto your seatbelt," Dennis Marshall said.

Marshall suffered a fractured right wrist after getting fouled by Creighton's Ethan Wragge in the second half of Sunday's round of 32 contest. Marshall fell hard on his arm, and was clearly in pain after the play. He returned to the game, but did not use his right hand much. After a few minutes, he requested a substitution and spent the rest of the game on the bench, being looked at by multiple trainers.

Marshall is a lefty, and the fracture occurred in the scaphoid bone in his right wrist. While in the game after the injury, Marshall mostly passed with one hand and did not put too much stress on his right arm. Initially, his status for Friday -- and the rest of the NCAA tournament -- seemed unlikely, but they're not ruling him out just yet.

North Carolina has been snakebitten this season, losing guards Leslie McDonald and Dexter Strickland earlier this season to torn ACLs. John Henson also missed time with a wrist injury, but the junior big man returned against Creighton on Sunday. Without Marshall, Stillman White and senior Justin Watts would see an increase in playing time. Neither was much of a factor this season.

Arguably the best point guard in the country, Marshall has become a more consistent scorer later in the season. The 6-foot-4 sophomore averaged 7.8 points and 9.7 assists on the season, but over the last six games, Marshall boosted those numbers to 14.8 points and 10.3 assists.