South Regional preview: Kentucky-Indiana rematch looms large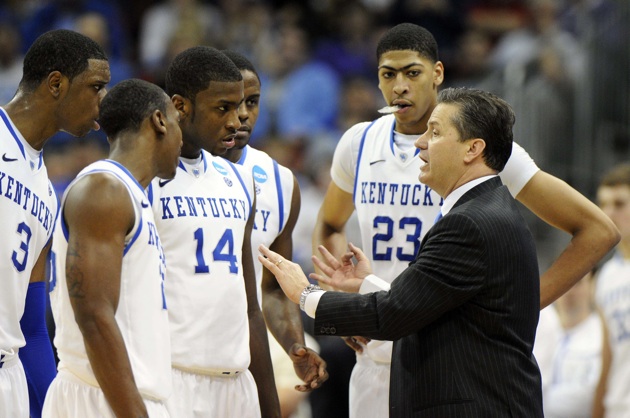 Kentucky will gets its shot at revenge against Indiana on Friday. The Wildcats remain the overall favorite. (US Presswire)
The South Regional has three of its top four seeds remaining ... and Xavier, which was ranked 14th in the preseason AP poll. So this isn't a bad group. In fact, UK, Baylor, Indiana and Xavier all spent time in the top 10 this season. So this really is a
great
group headlined by a Friday night game between two of the sports' most notable programs. That's why event organizers are opening the upperdeck of the Georgia Dome. Demand > Supply.
Three storylines dominating Atlanta
The Kentucky-Indiana rematch. Can the Hoosiers become the team that ultimately dealt the Wildcats their first loss of the season and their last loss of the season?
Baylor's second Elite Eight in three years. Do folks realize where this program was when Scott Drew took over? Pretty crazy to go from there to here.
Xavier's surprise trip to the Sweet 16. Will Tu Holloway, Mark Lyons and the rest of the Musketeers zip up the South?
How they get to New Orleans
No. 1 Kentucky:
The Wildcats will advance to New Orleans as long as they don't screw this up. That's the truth. They've got better players than everybody else, and they've been better than everybody else from November to March. They should be fine provided Anthony Davis doesn't find himself in early foul trouble. And provided they don't miss something like 23 of 28 3-point attempts in a game. And provided Assembly Hall isn't moved to Atlanta by the weekend.
NCAA tournament coverage
Related links
More college hoops coverage
Regional coverage
No. 3 Baylor:
The Bears will advance to New Orleans if Pierre Jackson looks like Atlanta's best guard, Perry Jones III shows up and Brady Heslip continues to make nine 3-pointers per game. (You have no idea how big of an advantage someone making nine 3-pointers in a game is for a team.) Baylor has the second best roster in Atlanta with at least three future NBA players in Jackson, Jones and Quincy Miller. They cannot advance to the Final Four without all three playing at a high level. But if they do, they can.
No. 4 Indiana:
The Hoosiers will advance to New Orleans if they sink 9-of-15 3-pointers against Kentucky late Friday like they did in early December, and if Cody Zeller spends the weekend making NBA scouts wonder if he's actually the best freshman big in the Georgia Dome. Let Zeller get going and … watch out. He's good enough to carry IU for stretches, talented enough to compete with any frontcourt player in the nation -- even Davis.
No. 10 Xavier:
The Musketeers will advance to New Orleans if Tu Holloway and Mark Lyons play with the confidence and swagger they had early this season when they were leading a team ranked in the top 10. I watched those little New York guards run Memorial Gym in an early win over the Vanderbilt team that beat Kentucky last weekend. When they're on, the nation has no more dangerous backcourt. And that's not a fight joke.
Atlanta's five best players
Anthony Davis: The shot-blocking freshman is the CBSSports.com National Player of the Year. So he's got to top this list, right?
Michael Kidd-Gilchrist: MKG is UK's leader and lockdown defender. He's averaging 11.8 points and 7.6 rebounds per game.
Cody Zeller: Tyler's younger brother is averaging 15.5 points and 6.4 rebounds per game. He got 16 and 13 in IU's Round of 32 win over VCU.
Perry Jones III: PJ3 is a terrific talent, and he's averaging 14.0 points and 7.7 rebounds per game while shooting 50 percent from the field. His problem is that he disappears too much.
Tu Holloway: Holloway was a preseason All-American left off most postseason teams because Xavier struggled after The Fight. But he got 25 points in a Round of 64 win over Notre Dame and 21 in a Round of 32 win over Lehigh.
And the South Regional winner will be … Kentucky.
The Wildcats are my pick to win the national championship, so it wouldn't make much sense to pick against them in Atlanta. They have pros at every position and a unique focus. I don't see them losing unless they beat themselves.