Lady Vols icon exiting with dignity and class ... and at the right time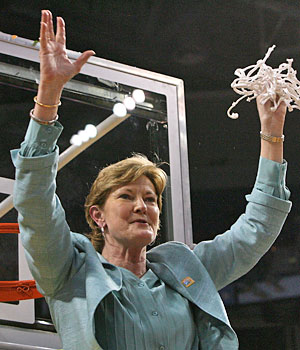 Pat Summitt celebrates in 2008 after the Vols' most recent national title, her eighth.
(Getty Images)
I was in Knoxville in January for a speaking engagement with the Big Orange Tipoff Club, and before and after my speech there was time to chitchat with the locals, some of whom were closely connected to the Lady Vols program.
Predictably, I asked about Pat.
Everybody always asked about Pat.
"She's doing OK," is the way most answers began because it was easier to just leave it at that. But when I asked if there was any difference -- whether anybody could tell she was battling dementia -- the majority of folks acknowledged that, yes, they could tell their iconic women's basketball coach clearly wasn't what she once was.
They were sad to say it.
I was sad to hear it.
And so I was disappointed but not surprised when I got the news Wednesday -- the news that
Summitt is stepping down as Tennessee's coach after 38 seasons
but less than a year after disclosing to the world that she's battling dementia.
On that August afternoon,
I wrote this
:
Summitt has always been sharp and tough and quick, but she has now been diagnosed with a disease that's going to rip, slowly but certainly, most of that away. I know because my grandmother used to be sharp and tough and quick, too. Now she's in a nursing home, confused and helpless. She called me Bobby last time I saw her. I still don't know why. But that's what dementia does.

It's cruel.

At least people with cancer know they're fighting cancer. People with dementia eventually lose most or all understanding of what they're up against, or they forget that they're even up against anything. I can't speak to the disease across the board because I'm not a doctor, but I can tell you that my grandmother went from sharp and tough and quick to somebody who asks if I can take her home because her daddy wants her inside the house by the time the sun sets. Sometimes she's scared that if I don't take her home she's "gonna get a whippin'." Then I calm her down, tell her everything's fine, explain to her that she doesn't have to go home, that she should just relax and watch TV with me. Then she asks my name. Or she just calls me Bobby.

I can't imagine Pat Summitt that way. She has more than 1,000 career victories and eight national titles. She should be able to coach into her 70s, then sit back and reminisce about everything she has accomplished. But what we learned on Tuesday is that, in all likelihood, that's not going to be the way Summitt's career concludes or life unfolds.
So here we are.
Not even eight months later, here we are.
Pat Summit is out and longtime assistant Holly Warlick is in, and I don't know if there's ever been bigger shoes to fill in any sport at anytime. I wish Coach Warlick luck. Meantime, I'll be thinking of Coach Summitt, too, and what I'll always take away from this announcement is how she handled the situation -- this incredibly unfortunate situation -- the same way she handled everything, i.e., with dignity and class. She's not going to hang on too long like legends tend to do. She's walking away at the right moment and before anybody has a chance to whisper (or yell) that it's time, and now I hope she'll be able to spend the rest of her life cherishing and remembering all the people she's impacted and things she's accomplished for as long as humanly and medically possible.