Tony Stewart doesn't think Kurt Busch's response to reporter was out of line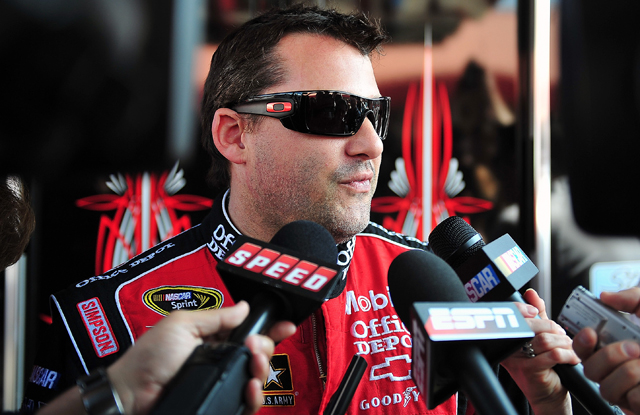 Tony Stewart is known to get prickly with the media from time to time. (US Presswire)
Tony Stewart
, who has had his fair share of media flareups through the years, says he has no problems with the response to a reporter that ultimately got
Kurt Busch
suspended this week.
LISTEN: Tony Stewart on Busch-Pockrass | Stewart on Pockrass/media
"I'll be honest, I liked [Busch's] answer," said Stewart on his
Tony Stewart Live
show on Sirius/XM on Tuesday. "I kind of thought it was good when it pertains to Bob Pockrass. Bob's a decent guy. But there's just so many good things to write about in our sport. There's a couple of reporters that strictly want to be tabloid journalists. Unfortunately, he's one of them."
Following a Nationwide race Saturday at Dover, Pockrass, a reporter for the
Sporting News
, asked Busch whether being on probation had an impact on how he raced Justin Allgaier, with whom he was clearly frustrated with after the event.
Busch responded: "It refrains me from not beating the s--- out of you right now because you ask me stupid questions. But since I'm on probation, I suppose that's improper to say as well. If you could talk about racing things, we could talk about racing things, Bob."
On Monday, Busch, who was on probation through July 25 for an incident at Darlington earlier this season, was suspended by NASCAR through June 13.
NASCAR said Busch violated Section 12-1 (actions detrimental to stock car racing; violation of probation; verbal abuse to a media member) of the 2012 NASCAR Rule Book.
Stewart, who in 2002 was placed on probation and fined $10,000 for striking a photographer at the Brickyard 400, said there are some reporters who like to stir things up.
"Every time he [Pockrass] interviews somebody, it is strictly about something controversial, so that's just kind of his angle. But, you know, just because he asks you a question, the great thing I've learned is when it comes to Pockrass, if he asks me something that I know -- which 9 times out of 10 it's something that is going to make you frustrated -- you just don't even answer it. Just go on to the next question."
Pockrass responded through a
Sporting News
report Wednesday.
"I appreciate Tony acknowledging my work ethic," Pockrass said. "He indicated that I aggressively pursue people involved in controversies to get comment. That's certainly something any journalist wouldn't apologize for doing as that is the staple for fair and accurate reporting."