U.S. women's hoops coach Auriemma sued for employment discrimination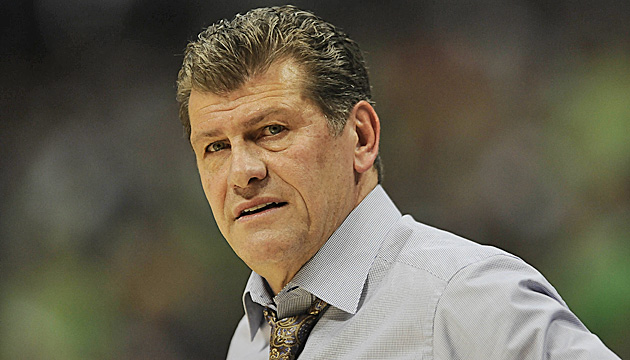 A former USA Basketball staffer claims Auriemma engineered her ouster after she rebuffed sexual advances. (US Presswire)

UPDATE, Monday, 10:41 p.m.: Auriemma released a statement through USA Basketball. It reads: "This claim is beyond false. I will defend myself to the fullest, and I'm confident that the truth will ultimately prevail. In the meantime, I remain focused on representing the United States this summer and getting our team ready to compete for the gold medal."
Geno Auriemma will enter the 2012 Olympics with a bit of controversy surrounding him.
On Monday, the longtime UConn women's coach, who will lead this year's women's USA team in London, had
an employment discrimination lawsuit filed against him and the NBA by a security executive with the league
. The woman filing the suit, Kelley Hardwick, alleges Auriemma arranged to have her unethically relieved of her Olympics duties with USA Basketball after she nixed Auriemma's advances on her in a Russian hotel three years ago. The 46-year-old Hardwick did security detail at the Summer Olympics in 2004 and 2008.
Hardwick alleges that in 2009 Auriemma "followed, grabbed and tried to forcibly kiss her at a hotel during a basketball tournament in Russia in 2009."
The New York Times
reports
:
[Hardwick] provided a list of witnesses who she said knew about the encounter to the NBA this year, in an attempt to retain her Olympic assignment, she said. But the league's general counsel did not talk to these people, or to Mr. Auriemma, according to the lawsuit.

"I was willing to close this story in 2009," Ms. Hardwick said in an interview last week. "If Geno had not interfered with my job and my livelihood, I would not have filed this lawsuit."

... Mr. Auriemma, in an e-mail statement on Monday, said, "I was unaware of this lawsuit until hearing about it in media reports today and therefore will have no comment."

The N.B.A., through a spokesman, Tim Frank, declined to comment on the lawsuit. USA Basketball did not return several calls for comment.
While it's getting harder these days to not instantly pair the word "frivolous" with "lawsuit," consider this plaintiff first. This is someone who's worked with the NBA and USA Basketball for years upon years. And, Hardwick has done undercover narcotics work with the NYPD before. On the surface, this isn't a woman only looking for money.
Money is part of it, though. Hardwick makes the claim that, in the past, she didn't receive compensation for her job that was on par with male counterparts. What's interesting is, according to Hardwick, the lawsuit would have never been made had Auriemma, according to her, not made moves to get her off London duty.
All parties affiliated with the change in personnel for the Olympics dey the claim.
As for the details of Auriemma's alleged sexually driven behavior, the
Times
has a two-person account of Auriemma's actions that night in 2009
. The most unseemly act in question, though -- the attempt at a kiss -- only has Hardwick's word attached to it.