Conference-by-Conference team rankings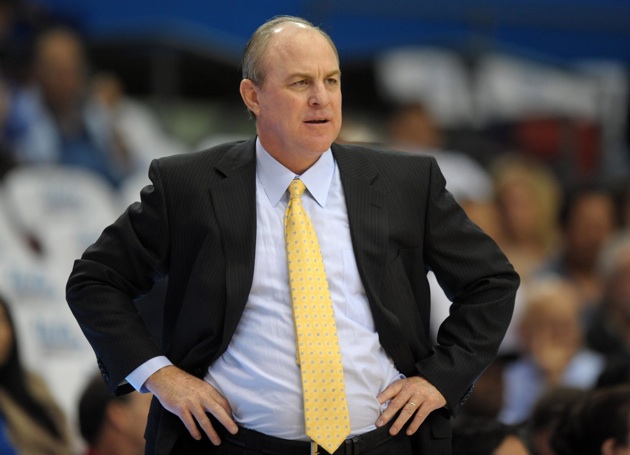 A terrific late signing period gave Ben Howland and UCLA the nod over Arizona in the Pac-12 class rankings. (US Presswire)
Because of the proximity between the schools, recruiting battles within a conference can be more heated and exciting than national ones.
Territory is at stake, which means coaches are doing everything they can to keep players at home and not allow an outsider to poach a player. Of course, with realignment, territorial battles will begin to feature schools from multiple conferences, which might not be a bad thing from a national perspective. Which schools dominated their conference foes on the recruiting trail in the class of 2012? And which schools could be headed for a down year after a subpar performance on the recruiting circuit?
We've given you our top 25 overall classes, but here's a look at the conference-by-conference breakdown.
ACC
1. North Carolina State: During his first full recruiting season in Raleigh, Mark Gottfried locked up three in-state studs.
2. North Carolina: The Tar Heels nabbed a solid four-person class that will make an impact inside and out.
3. Duke: Thanks to the late signing period pledge of Amile Jefferson, the Blue Devils finished with two five-stars.
4. Maryland: With two four-star recruits and a quartet of solid performers, Mark Turgeon upped the talent ante.
5. Virginia: Tony Bennett did very well this season for the Cavaliers, reeling in three top-100 recruits.
6. Georgia Tech: The big move of this class was convincing five-star big man Robert Carter to stay home.
7. Wake Forest: The Demon Deacons have plenty of holes; this seven-man class will certainly help the effort.
8. Florida State: Leonard Hamilton nabbed two big-time wing scorers in Aaron Thomas and Montay Brandon.
9. Clemson: There are no top-100 players in the class, but it's a solid five-man class that will make an impact.
10. Miami (Fl.): Melvin Johnson had a very good senior season, and big man Tonye Jekiri has tons of potential.
11. Boston College: Neither Olivier Hanlan nor Joe Rahon will bring explosive scoring, but both can contribute.
12. Virginia Tech: With Montrezl Harrell moving on after the coaching change, Marshall Wood is the lone signee.
Big East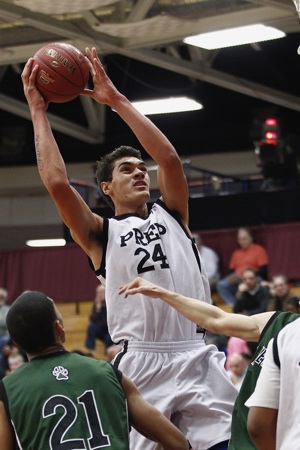 Pitt signee Steven Adams could be the best freshman in the Big East next season. (US Presswire)
1. Providence: With Ricardo Ledo and Kris Dunn, Ed Cooley has his explosive backcourt of the future.
2. Syracuse: Jim Boeheim did a great job keeping DaJuan Coleman home, while also nabbing Jerami Grant.
3. Pittsburgh: Top-10 prospect Steven Adams is the prize of the class, but James Robinson is a great fit.
4. St. John's: The Red Storm made a late run in the rankings, getting a trio of impact frontcourt players.
5. Villanova: Ryan Arcidiacono and Daniel Ochefu will form a very good inside-outside duo for Jay Wright.
6. Connecticut: Jim Calhoun got himself a great scorer in Omar Calhoun, while Phil Nolan has a high ceiling.
7. Notre Dame: The Fighting Irish got a couple of long, athletic players in Cameron Biedscheid and Zach Auguste.
8. Louisville: With addition of Montrezl Harrell, Cards have another top-100 player to go with Terry Rozier.
9. Georgetown: D'Vauntes Smith-Rivera is a strong scorer, and Brandon Bolden will be a nice back line on D.
10. South Florida: If the Bulls' junior college signees pan out, Stan Heath will have an immediate impact class.
11. Marquette: Buzz Williams got himself a nice class, led by Chicago native Steve Taylor, a versatile scorer.
12. DePaul: 6-foot-7 Jodan Price is a tough matchup on the wing, and DeJuan Marrero is a hard-nosed forward.
13. Cincinnati: The lone Bearcats' signee is junior college transfer Titus Rubles, a talented forward.
14. Rutgers: Vince Garrett, a JC transfer from Lee College (Tex.), should provide an impact on the wing.
15. Seton Hall: The Pirates bring in just one player for 2012, point guard Tommy Maayan.
Big Ten
1. Indiana: The Hoosiers bring in a tremendous class that could push them to the preseason No. 1 ranking.
2. Michigan State: Tom Izzo will love the versatility of this four-man group, led by five-star guard Gary Harris.
3. Michigan: Mitch McGary and Glenn Robinson Jr. should contribute immediately; Nik Stauskas is a sleeper.
4. Purdue: The Boilermakers have a ton of talent in this class, but the quartet needs to bring effort on a nightly basis.
5. Iowa: AAU teammates Adam Woodbury and Mike Gesell are both top-100 players in the class.
6. Wisconsin: The Badgers have one of the best newcomers in the league, skilled forward Sam Dekker.
7. Northwestern: Kale Abrahamson, Alex Olah and Sanjay Lumpkin should provide depth next season.
8. Minnesota: The Golden Gophers picked up two solid newcomers in Charles Buggs and Wally Ellenson.
9. Penn State: A couple of forwards out of Pennsylvania, Donovan Jack and Brandon Taylor, will contribute.
10. Ohio State: Amedeo Della Valle is the Buckeyes' lone signee, but his versatility at the guard position is a plus.
11. Nebraska: Since coming over from Colorado State, Tim Miles has done most of his damage with transfers.
12. Illinois: The lone signee for the Fighting Illini, Michael Orris, decommitted after Bruce Weber was fired.
Big 12
1. Baylor: Scott Drew picked up another loaded class, led by forwards Isaiah Austin and Ricardo Gathers.
2. Texas: Not surprisingly, Rick Barnes brought in a ton of talent. Cameron Ridley and Prince Ibeh are the prizes.
3. Kansas: Despite no five-star prospects in the class, Bill Self has a very solid class. Perry Ellis will make an impact.
4. Oklahoma State: Marcus Smart will be one of the best freshmen in the country next season.
5. Texas Tech: Nine players arrive on campus next season. Look out for Wannah Bail and Trency Jackson.
6. West Virginia: In their first year in the Big 12, Mountaineers need post production from Elijah Macon.
7. Iowa State: The Cyclones beat everyone to the punch on Georges Niang, and three other solid players join him.
8. Oklahoma: Buddy Hield had a strong past year, and former top-150 recruit Jarion Henry should make an impact.
9. Kansas State: Bruce Weber brought along former Illinois signee Michael Orris, a solid point guard.
10. TCU: Guard Clyde Smith comes all the way from Hotchkiss (Conn.); big man Aaron Durley is tough.
Pac-12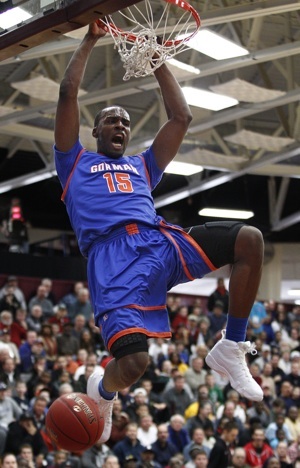 Can Shabazz Muhammad and the Bruin freshmen return UCLA to the top of the Pac-12?. (US Presswire)
1. UCLA: Ben Howland will look to return the Bruins to the top of the Pac-12 with three five-star prospects.
2. Arizona: The Wildcats bring in three of the best post players in the country, and a four-star guard.
3. Colorado: Underrated class. Josh Scott and Wesley Gordon are solid inside; Xavier Johnson is versatile.
4. Stanford: The Cardinal nabbed two top-100 prospects in Rosco Allen and Grant Verhoeven.
5. Oregon: Dominic Artis had an excellent senior season, while Ben Carter is an inside-outside forward.
6. California: The addition of point guard Tyrone Wallace is a huge boost; he should play immediately.
7. Washington State: Demarquise Johnson's eligibility is in question, but Richard Longrus is underrated.
8. USC: J.T. Terrell holds the key to this class. He's a big-time scorer who is not afraid to shoot from anywhere.
9. Oregon State: Craig Robinson brings in a solid class that includes three impact players on the wing.
10. Utah: One of the fastest-rising players last summer was forward Jordan Loveridge; the Utes need him.
11. Arizona State: Herb Sendek nabbed three in-state prospects, led by guard Calaen Robinson.
12. Washington: The lone signee for the Huskies was talented 6-foot-6 JC transfer Mark McLaughlin.
SEC
1. Kentucky: With the No. 1 class in the country, the Wildcats finished miles ahead of the SEC this season.
2. Texas A&M: J-Mychal Reese and Alex Caruso form a solid backcourt, and a couple JC transfers also join.
3. Florida: Braxton Ogbueze is a scoring point guard, while three shooting guards will help on the perimeter.
4. Alabama: Outside of Kentucky's crop, the lone five-star signee was Devonta Pollard. He'll start right away.
5. Mississippi State: Rick Ray will have some talent. Gavin Ware is big down low, and Fred Thomas can shoot.
6. Auburn: The Tigers will get a dose of athleticism and offense with Jordan Price and Shaquille Johnson.
7. Georgia: Kenny Gaines and Charles Mann are two very solid guards who will combine in the backcourt.
8. Mississippi: Anthony J.P. Cortesia was a fast-riser late, and JC transfer Marshall Henderson will contribute.
9. Missouri: This seven-man group will fill roster holes. Stefan Jankovic and Negus Webster-Chan lead the way.
10. Arkansas: Coty Clarke is an impact JC transfer, while Michael Qualls is the best of the high school recruits.
11. South Carolina: Frank Martin will have the services of big men Tyrone Haughton and Laimonas Chatkevicius.
12. Vanderbilt: The Commodores got a late boost when Sheldeon Jeter committed. Kevin Bright could surprise.
13. LSU: JC forwards Shavon Coleman and Calvin Godfrey help, and guard Malik Morgan will get a chance.
14. Tennessee: In his first full offseason on the job, Cuonzo Martin picked up three prospects.
Best of the Rest
1. UNLV: Getting top-10 prospect Anthony Bennett was the icing on the cake; Katin Reinhardt brings shooting.
2. Xavier: Semaj Christon can make a case for being the top PG in the class, while Jalen Reynolds has energy.
3. Houston: James Dickey got it done, bringing in top-100 prospects Danuel House and Chicken Knowles.
4. Memphis: If Geron Johnson plays to his ability, this could be too low. Shaq Goodwin and Damien Wilson are impact guys.
5. San Diego State: Top-50 prospect Winston Shepard is the prize, but Matt Shrigley and Skylar Spencer are solid.
6. Wichita State: Shockers reload. Fred Van Vleet is a top-100 prospect and Cleanthony Early is impact JC transfer.
7. Fresno State: Keeping top-50 prospect Robert Upshaw close to home once he decommitted from Kansas State was huge.
8. UTEP: The prize of this class is Twymond Howard, a big-time guard capable of lighting up the scoreboard.
9. Harvard: Mike Hall and Siyani Chambers had high-major interest, and Agunwa Okolie is a sleeper.
10. Butler: Brad Stevens did another solid job. Four-star guard Kellen Dunham leads the way for the Bulldogs.
11. Marshall: Kareem Canty can get to the rim on anyone, and Ryan Taylor brings a nice offensive skillset.
12. Towson: Look for Frank Mason and Jerome Hairston to make an impact. Both are explosive guards.
13. Rhode Island: Danny Hurley did a good job in his first offseason, led by former top-100 player Jordan Hare.
14. VCU: Shaka Smart is hoping that Jordan Burgess can fill the shoes of his brother, Bradford Burgess.
15. SMU: Larry Brown is gunning for big-time prospects next year, but Blaise Mbargorba leads a solid class this season.
Others: Dayton, Nevada, Temple, UCF, George Washington, Charlotte, Boston University, Eastern Michigan, Cleveland State