Are franchises picking in the late teens really gonna pass on Jared Sullinger?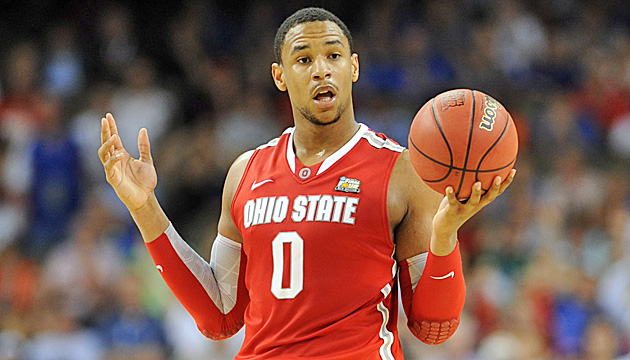 Sullinger's back issues are scaring teams away. (US Presswire)
I was out of the country for the past couple of weeks and mostly unplugged from the daily NBA Draft chatter. So you can imagine my surprise when I got home and a friend asked whether I thought the Grizzlies should take Jared Sullinger.
"The Grizzlies pick 25th," I reminded him.
"I know," he responded.
And, I'll admit, I was confused. Then I looked at various updated mock drafts and realized Sullinger's stock had fallen drastically in my absence, and that the former Ohio State star might really be available at 25. Which is crazy. And, yes, I know all about the bad back reportedly caused by tight hamstrings that has raised a red flag with doctors. But I don't care about that ... or, I should say, I wouldn't care about that enough to let me pass on the two-time All-American if I were picking from 15 to 20.
Jared Sullinger is worth the risk.
That's the simplest way I can put it.
The 6-foot-9 forward consistently dominated college basketball the past two seasons and played in 74 of Ohio State's 76 games, which means he might be the most active "injury prone" prospect in the history of the draft. To be clear, I'm not suggesting the doctors who red-flagged Sullinger are stupid; I'm sure they know what they're doing. All I'm saying is that Sullinger's positives outweigh any potential negatives for a team drafting in the late teens, and I wouldn't want to be the GM who passes on a winning and wise basketball player to take a less accomplished one -- even if the less accomplished one has a better back.
I've watched Sullinger play for years.
I saw him in AAU.
I saw him in college.
He's never not been a crafty scorer, a grab-everything rebounder and, perhaps most important, a winner. And I just think all the concerns about how he'll score against taller players or keep his weight under control will prove silly once he's on the court and able to show what he's always shown, i.e., that he has a knack for being really good at this game.
I'm less certain about his back.
I realize Sullinger wasn't red-flagged for no reason.
But a team drafting in the late teens would be foolish not to roll the dice on Sullinger's back the same way the Spurs rolled the dice on DeJuan Blair's ACL-less knees three years ago. That decision obviously worked out for San Antonio, and I suspect a similar gamble on Sullinger would produce similar, if not better, results.