UK wasn't lucky to win title, but the Wildcats were fortunate in their quest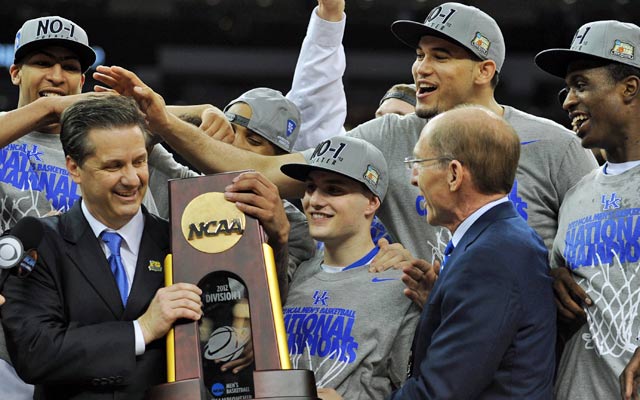 Kentucky sure had talent last season, but luck was also on its side.
(Getty Images)
This week's news that Anthony Davis could be sidelined for two weeks because of an ankle injury suffered Sunday in a workout with the New Orleans Hornets served as a reminder of how fortunate Kentucky was during last season's championship run.
No, I'm not suggesting the Wildcats were "lucky" to win the title.
That's silly.
They were the best team with the best players.
They deserved what they got.
But how many times did Davis workout with Kentucky?
I bet the number is around 150. Maybe much more. And yet what happened to him in his first week with the Hornets never happened to him during all those weeks with Kentucky, and it never really happened to anybody during all those weeks at Kentucky. This isn't breaking news, but I guess I never realized that six of UK's top seven players participated in all 40 games last season, and that the other (Terrence Jones) played in 38 of 40. There were no severely sprained ankles or broken noses or torn ACLs or anything, really. And any one of those things -- particularly any one of those things to Davis at the wrong time -- could've prevented John Calipari from his first championship.
Again, I'm not suggesting UK was lucky to win the title.
Again, that's silly.
I just think it's important to remember -- with the reigning National Player of the Year currently hobbled by a sprained ankle suffered in a routine workout -- that it takes more than great players with great chemistry to march through the madness that is March Madness. It also takes some good fortune, and six of Kentucky's top seven players participating in 38 of 40 games pretty clearly qualifies as good fortune.