Sonny Vaccaro returns to July scene for first time in six years with family, 30 for 30 crew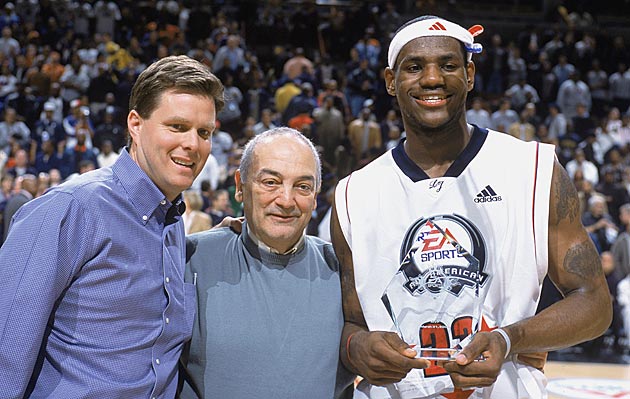 Sonny Vaccaro (center) poses with then-high school senior LeBron James in 2003. (Getty Images)
LAS VEGAS -- It has been a while since Sonny Vaccaro was deep in the summer basketball scene he years ago created, and, he admits, he no longer knows all the names and faces of the folks involved. But they know him. Because he's an icon. So when Vaccaro made an appearance here in the desert at the Fab 48 tournament this weekend, word spread fast that the so-called "Godfather of Grassroots Hoops: was inside Bishop Gorman High, and, one after another, people came over to pay their respects.
"One man introduced himself, and then he introduced me to a coach of one of the teams I didn't know," Vaccaro said. "And he told that coach, 'This is the man who put you here,' and that coach shook my hand and said 'Thank you.' And then all of his players came over and shook my hand and said, 'Thank you,' and it just made me feel wonderful. I've got tears in my eyes right now just thinking about it."
Sonny Vaccaro used to run summer basketball.
Now he mostly ignores it from a distance.
He and his wife Pam conducted their final event -- the celebrated Big Time Tournament -- in July 2006, moved from Los Angeles to Monterey and never really looked back, proof being that Friday was the first time either had attended a July event in six years. They were accompanied by their nephew, their nephew's fiance and a 30 for 30 crew currently making a documentary on the man who started with Nike but later competed directly against the powerful shoe company by running events on behalf of adidas and Reebok.
"It's great to be here and see our old friends," Pam said, that big familiar smile on her face. "We always said our family for years was the 'Family of July.' So this has just been wonderful."
Both Sonny and Pam insisted they've never had much of a desire to get back into the summer scene as deeply as they were once involved, but, both acknowledged, they miss certain aspects. Pam misses the people. Sonny misses the competition. And that's at least in part why he couldn't stop talking about how Nike this month, in a power play, allegedly told some of the elite teams it sponsors to pull out of the independently run Fab 48 or risk losing future Nike sponsorship. The Mac Irvin Fire, led by the No. 1 prospect in the Class of 2013 (Jabari Parker), was among the Nike teams that broke a signed contract and withdrew from the Fab 48 in order to play in a more Nike-friendly event across town.
"Nike is too powerful now," Sonny said. "They run everything, but they couldn't have done what they did last week if I was still around."
That's probably true, by the way.
Sonny and Pam were the only people who could ever really push Nike.
That's what I told him.
"But we didn't just used to push Nike," Sonny corrected. "We used to beat Nike."