Michigan State will celebrate 50th anniversary of 'Game of Change' at Jenison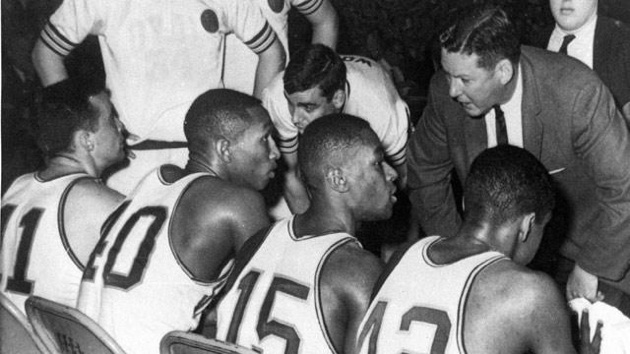 The 'Game of Change' was called 'the beginning of the end of segregation in college sports.' (NCAA)
Michigan State will celebrate the 50th anniversary season of 'The Game of Change' by playing a game at Jenison Field House in December.
"Some describe it as the beginning of the end of segregation in college sports," Michigan State athletic director Mark Hollis said in a video.
In 1963, Mississippi State was scheduled to play against Loyola in the NCAA tournament. Mississippi State was an all-white team and Loyola started four African-Americans, and the state of Mississippi had a law at the time that prohibited its schools from facing integrated teams.
Before 1963, Mississippi State was prohibited on three separate occasions from playing in the NCAA tournament due to the chance the Bulldogs would play a team with African-American players. In March of 1963, though, head coach "Babe" McCarthy snuck his team out of the state in order to play the game against Loyola. Loyola defeated Mississippi State on March 15, 1963, and went on to win the national championship.
The historic game took place at Jenison Field House, which was also the home court for Michigan State for 50 seasons. Jenison has not hosted a Michigan State game since 1989.
"Since Spartan basketball left Jenison, many have dreamed of seeing it return for a game," Hollis said in a statement. "The celebration of one of the great historical events in Field House history generated the desire to make these dreams come true during the 2012-13 season."
The Spartans will play host to Tuskegee University on December 15, while the women's team will play against IPFW on December 16. The "Jenison Jubilee" will also include a reunion game on December 14 and a pre-game concert by The Commodores on December 15. Loyola and Mississippi State already announced a home-and-home series over the next two seasons to commerorate the game. Moreover, Michigan State will play Loyola at the Breslin Center one week before the Jenison Jubilee.
"What an incredible idea," head coach Tom Izzo said. "How does it get any better than that?"