College Basketball Preview: Prairie View hopes to grab SWAC supremacy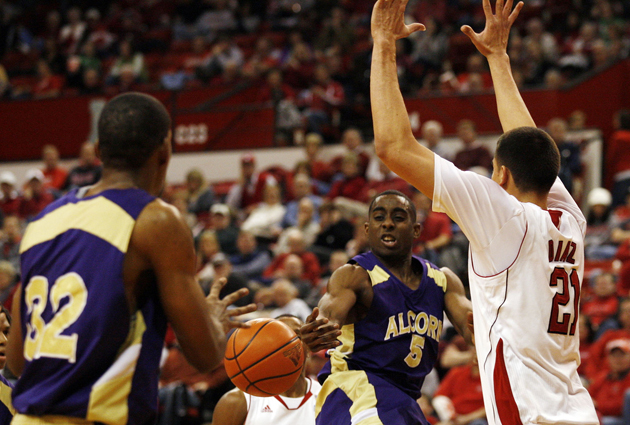 Alcorn State guard Marquiz Baker (middle) hopes to bounce back from a foot injury. (US Presswire)
The last time we saw a SWAC team in action was when Mississippi Valley State blew a 16-point lead in the final five minutes in the opening round of the NCAA tournament. Since that heartbreaking loss to Western Kentucky, the Delta Devils have seen a complete overhaul.
Head coach Sean Woods bolted for the vacant coaching position at Morehead State, while the team's top five scorers all used up their eligibility. Moreover, low APR numbers will prevent Mississippi Valley State from playing in this postseason. Everyone expected the Delta Devils to take a step back after going 17-1 in the SWAC last year, but it wouldn't be a shock to see them near the bottom of the league.
Although the defending champions are heading for a major fall, Mississippi Valley State isn't the only one facing change. All five members of the league's all-conference team have moved on, including the Player of the Year, Defensive Player of the Year, Newcomer of the Year and Coach of the Year.
Arguably the biggest offseason story was Texas Southern hiring former Indiana and UAB coach Mike Davis. Because Tony Harvey surprisingly resigned in early July, the timing wasn't great for the Tigers. However, Davis has some pieces to work with, including Omar Strong and Fred Sturdivant.
Southern could fill the void at the top. With their APR scores back in good shape, the Jaguars will count on the backcourt of Derick Beltran and Jameel Grace to lead the way.
Prairie View A&M brings back nearly everyone, including double-figure scorer Jourdan DeMuynck, but the Panthers struggled to guard at times. They gave up 103 points to Alcorn State in the SWAC tournament last season.
Look for major turnarounds at Jackson State and Alcorn State. Jackson State has a terrific backcourt duo in Kelsey Howard and Christian Williams, while Alcorn State returns the services of guard Marquiz Baker, who averaged 15.9 points two seasons ago.
With no true favorite and no true star players, we should be in store for a fun race in the SWAC this season. There will be no 17-1 Mississippi Valley States this year.
Coach's take
"There's going to balance within the league. Everybody has quite a few people coming back. If you look at Mississippi Valley State and Jackson State the year before, they were senior-heavy. I think Prairie View will do a lot better this year, Arkansas-Pine Bluff, Alabama State will be much improved. Jackson State should be a team that moves up, and Alcorn has a lot of guys. Mike Davis is a great coach, and I think he'll bring something to the table, but it goes back to players." -- SWAC assistant

The league's best
Numbers to know
7: Number of nonconference games the SWAC won last season against Division I teams, by far the lowest mark of any league.
9: Prairie View A&M returns all nine of its players who started at least five games last season, so a jump from fourth to first isn't out of the question.
1.0: Mississippi Valley State brings back exactly 1 point per game from a year ago. Blake Ralling is the lone returnee, meaning last year's NCAA tournament rep has a long way to go in order to return.
For more college basketball news, commentary and discourse, follow @EyeonCBB and @JeffBorzello on Twitter. And be sure to like us on Facebook.