College Basketball Previews: Murray State favored to take Ohio Valley title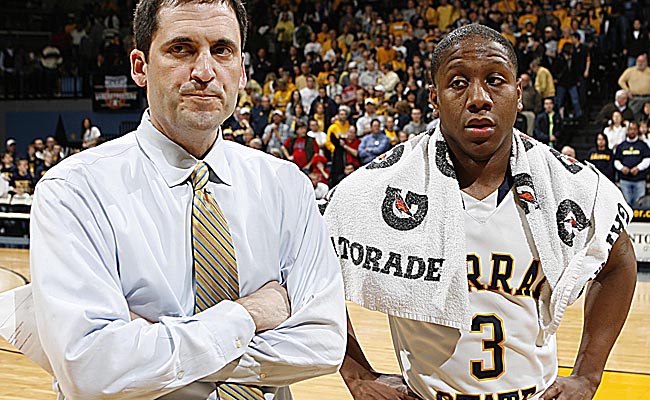 Murray State PG Isaiah Canaan and coach Steve Prohm can lead the Racers back to the NCAA tournament. (US Presswire)
The Ohio Valley Conference has been Murray State's for the past three years.
And it still might be.
But the addition of Belmont has the potential to make things more interesting than things have been recently because it's a development that brings another relevant basketball program into the league.
Murray State has made the past three NCAA tournaments; Belmont has made the past three.
Now these two programs are in the same league and most likely competing for the same automatic bid, meaning there's probably only one spot in the Field of 68 reserved for either Steve Prohm or Rick Byrd.
Forced to pick, let's give the edge to Prohm.
He's the Murray State coach who led the Racers to a 31-2 record in his first season after replacing Billy Kennedy.
Prohm rejected overtures from at least one power-conference school (Mississippi State) after last season and opted to remain in the OVC.
His All-American point guard, Isaiah Canaan, also returned to campus.
He'll be good again. And Ed Daniel should have a breakthrough year that allows the Racers to secure the OVC's automatic bid this season … unless, of course, Belmont does.
Coach's take
"This should be a three-team race between Murray State, Belmont and Tennessee State. NBA prospects Isaiah Canaan and Robert Covington -- along with Belmont's Kerron Johnson -- are capable of leading their teams to NCAA tournament wins. I really do think the OVC champ will have a chance to advance in March."
The league's best
Numbers to know
9 That's the current number of schools that call themselves former OVC members. Among the group -- Louisville.
23 That's the number of consecutive games that Murray State won to start last season. It'll be tough to repeat that act considering the Racers play a November tournament featuring Baylor and Colorado.
28.5 That's the number of wins that Belmont has averaged over the past two seasons. The Bruins won 30 games in 2010-11 and 27 games last season.
Previously in previews:
No. 23 -- Big West
No. 24 -- SoCon
No. 25 -- NEC
No. 26 -- Big South
No. 27 -- Southland
No. 28 -- Big Sky
No. 29 -- America East
No. 30 -- MEAC
No. 31 -- Great West
No. 32 -- SWAC
For more college basketball news, commentary and discourse, follow @EyeonCBB and @GaryParrishCBS on Twitter. And be sure to like us on Facebook.