UCLA shows promise and inexperience in loss to Georgetown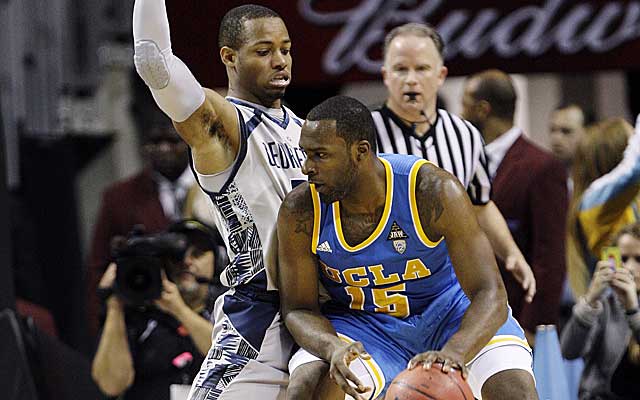 Freshman forward Shabazz Muhammad scored 15 points in 25 minutes while making his debut for UCLA. (AP)
NEW YORK -- Everybody had been so focused on how much time the NCAA decided to make Shabazz Muhammad not miss that we forgot how much he actually did. Like nine weeks in the summer with an ankle sprain. And all of UCLA's preseason trip to China. And another two-plus weeks with a shoulder injury, which led to the heralded freshman getting a grand total of four practices leading up to his highly anticipated debut here at Barclays Center.
"Hopefully I'll get better," Muhammad said late Monday, and I'm certain he will. But the one thing that became clear during the Bruins' 78-70 loss to Georgetown is that Muhammad doesn't only need to get better.
He also needs to get comfortable.
More college basketball
Related links
More college basketball coverage
As does Kyle Anderson.
And all these new Bruins.
"We need more time [to practice]," UCLA coach Ben Howland said. "But this is part of the problem with starting so early in college basketball."
Nearly 50 NBA scouts converged on New York City this week with the hope being they'd spend Tuesday watching two ranked teams (Indiana and UCLA) and two projected top-five picks (Cody Zeller and Muhammad) play each other in the title game of the Legends Classic. But the Hoyas screwed that up with a zone defense and an offense rooted in patience and under instructions from coach John Thompson III to "keep moving and keep cutting" because he wanted UCLA's young players "chasing" them.
Why?
Because Thompson III must've figured UCLA's young players wouldn't know how to chase them given that they're inexperienced and still learning how to play with each other and at the high-major level in general. And if that's what he figured, he was right. Georgetown got one easy shot after another in the the final 20 minutes and shot 60 percent from the field in the second half to open up a 14-point lead and cruise to the comfortable win.
"Their offense really, really cut us up," Howland said. "It was a problem for us. You have to credit them, but we're a team that's obviously very young and we really got hurt defensively."
To highlight UCLA's inexperience it's important to recognize that four of the players who led the Bruins in minutes against Georgetown weren't on Howland's roster last season, and it's important to remember (as noted earlier) that they've barely practiced together. In other words, UCLA is very much a work in progress. So while I wasn't shocked to watch the Bruins lose to an experienced and wise Georgetown team in mid-November, I'll be shocked if they're not handling unranked opponents easily by February because the pieces are in place.
Howland just needs to figure out how to use those pieces.
And that's going to take time.
But boy does he have some pieces.
Muhammad wasn't overwhelming -- he's clearly not in game-shape -- but still finished with 15 points in 25 minutes while making half the shots he took. Anderson didn't score, and that was odd. But he still got six assists, seven rebounds and showed glimpses of his ability to make plays in a variety of ways from several places on the court. He's good. Muhammad is good. But anybody with a recruiting website bookmarked knew that long before this game.
The pleasant surprises were Larry Drew II and Jordan Adams.
I didn't know what to expect from them.
But Drew II finished with eight assists and one turnover against Georgetown, and he now has 33 assists and just six turnovers through four games. That's not bad for a guy who spent the early part of his college career making North Carolina mediocre. And Adams? He's now scored at least 20 points in each of his first four games and is obviously going to be an elite scorer at this level even if his exact role still needs to be determined.
Bottom line, that's four good pieces I just mentioned.
Add the Wear Twins and freshman big Tony Parker -- who didn't play against Georgetown because of a back issue but might play Tuesday against Georgia in the third-place game -- and Howland has a roster gifted enough to win the Pac-12. But it's going to take more than four practices for Muhammad and four games for the Bruins for this to look impressive.
It might take until January.
Or February.
But eventually UCLA will be worthy of the No. 11 ranking they currently possess.
"We really just not ready yet," Muhammad said. "But we're gonna practice and get this together, and I think we're going to be a really good team."