Parrish: Indiana beats Georgetown in OT thriller that caps wild night of basketball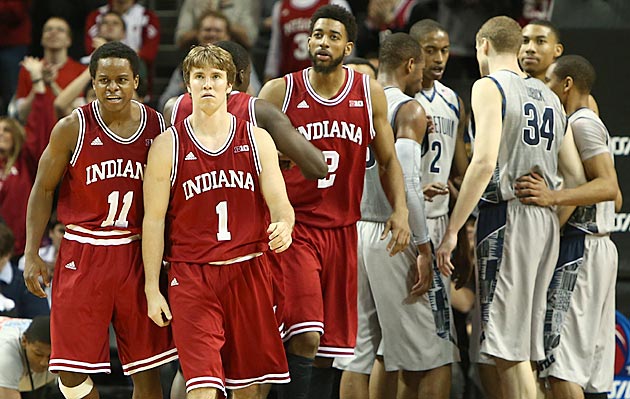 The top-ranked Hoosiers and the underrated Hoyas do themselves proud with a great show in Brooklyn. (US Presswire)
NEW YORK -- The night started with the nation's most beloved mid-major pounding one of college basketball's blue bloods, got more interesting (in a bad way) when an elite freshman suffered a shoulder injury, and turned downright crazy when a Division III player scored an NCAA-record 138 points on 101 shots.
Then Indiana-Georgetown tipped.
What followed was the best high-profile game of this early season.
"This was one of those games where it would've been fun to be up there cheering [in the stands] or watching on television at home," IU coach Tom Crean said afterward, and I couldn't agree more. Final score: Indiana 82, Georgetown 72. And don't let the 10-point margin mislead you. This game was close. It went to overtime.
"Our guys went out and played a high-level team in a high-level way," Crean said. "I'm proud of everybody."
The title game of this Legends Classic was a fun back-and-forth affair -- that started on Tuesday, ended on Wednesday and was played in front of a rowdy crowd of 10,478 -- in which Georgetown trailed by seven with 67 seconds remaining before rallying to force overtime against the nation's top-ranked team on a drive and bucket from Otto Porter, who finished with 15 points and five rebounds. Meantime, CBSSports.com preseason National Player of the Year Cody Zeller led Indiana with 17 points and eight rebounds despite playing with what he told me had been diagnosed as "asthmatic bronchitis or something."
"Up until tonight I couldn't breathe very well," Zeller said between coughs. "But tonight I felt great."
As did Jordan Hulls.
The senior guard finished with 17 points and was named the event's Most Valuable Player.
So Indiana (5-0) won and Georgetown (3-1) lost.
That's the way this game was supposed to go.
No surprise in the outcome.
But John Thompson III still must feel great about his team's two impressive performances here at the Barclays Center this week, and all writers worthy of a vote in the Associated Press poll should have the Hoyas on their Top 25 ballots Monday (provided Georgetown doesn't slip and drop a home game to Mount St. Mary's this weekend).
Yes, Georgetown lost its top three scorers (Jason Clark, Hollis Thompson and Henry Sims) from last season, which made it reasonable to leave the Hoyas unranked this preseason. Too many question marks and all that. But the preseason is over. We've now seen the on-the-court product. And it's pretty clear -- after a victory Monday against a talented UCLA team in Shabazz Muhammad's college debut and this overtime loss to an Indiana team projected by most to win the Big Ten and everything else -- that Georgetown is better than the Big East coaches who picked them fifth in the preseason anticipated. That is partly due to the development of Porter and fellow sophomore Greg Whittington, the latter of whom finished with 12 points and six rebounds against IU and is now averaging 12.8 points and 8.5 rebounds this season after averaging 4.3 points and 2.9 rebounds in a limited role for last season's Georgetown team, which won 24 games before falling to North Carolina State in the Round of 32.
"Whittington is one of the underrated, undervalued future stars of college basketball," said Crean, whose team's next big game will be Tuesday inside Assembly Hall against ninth-ranked North Carolina in the ACC-Big Ten Challenge. "Everybody knows about Otto Porter. But Whittington is gonna be tremendous."
Which means Georgetown could be something approaching that.
"We have a team full of guys who can play," said junior guard Markel Starks, and do you mind if I add to that quote? Because it's not just that Georgetown has a team full of guys who can play. Lots of teams have that. It's that Georgetown has a team full of guys who can play and play well together.
The Hoyas are uniquely long, mostly disciplined and they really understand what their coach wants and how to execute it. Does all this mean Georgetown will challenge Louisville and Syracuse at the top of the Big East? I'm not certain of that. But it shouldn't surprise anybody if that's how this season unfolds throughout January, February and March.
Not now.
Not after what I saw here in Brooklyn.