Louisville's Gorgui Dieng out 4-6 weeks with broken wrist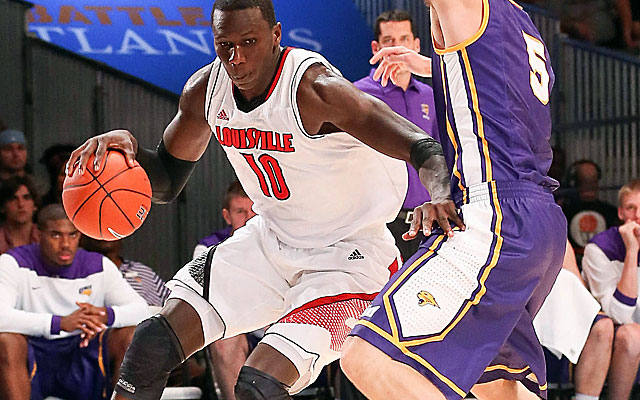 Will it be a couple of weeks or a couple of months? Louisville fans will have to wait a while longer to know. (Getty Images)
Louisville center Gorgui Dieng will miss 4-6 weeks with a broken scaphoid bone in his left wrist, the school announced Monday afternoon.
The diagnosis came down after he saw a hand specialist on Monday. The 6-foot-11 center injured his wrist while taking a charge early in the first half of Louisville's 84-61 win over Missouri on Friday in the Battle 4 Atlantis tournament. But he still returned and played 22 more minutes before sitting out the title-game loss to Duke. Dieng is averaging 8.2 points, 8.0 rebounds and 2.0 blocks through five games.
"With a little luck, Gorgui will be back by the start of our Big East schedule," Cards coach Rick Pitino said in a statement. "We will miss his defensive presence and passing ability, but it's time for other guys to step up their performances."
Dieng will have surgery on Tuesday performed by Dr. Luis Scheker of the Kleinert Kutz Hand Care Center, who will insert a screw into the broken bone, and so we'll most likely next see Dieng again in 2013.
Dieng is a preseason All-Big East selection and probable first-round draft pick. Louisville will continue rely on Zach Price and Stephan Van Treese in his absence.