Kentucky still looking like a 'November basketball team' in December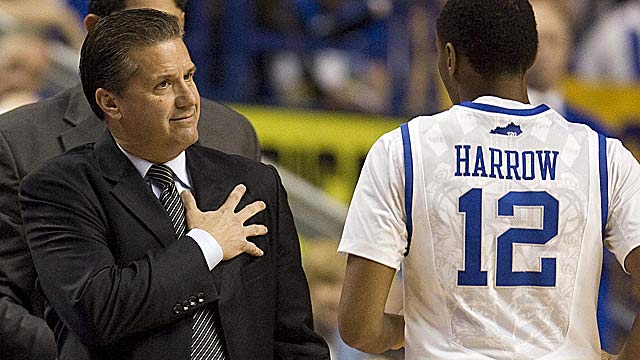 John Calipari admits his Wildcats have a long way to go.
(US Presswire)
The thing that everybody remembers about last season's Kentucky Wildcats is that they had three freshman starters. But what most forget is that three of UK's top six scorers were veterans who had previously averaged at least 28 minutes per game for a Final Four team, meaning those three freshmen always had somebody to look to, especially early.
That's simply not the case this season.
And it's showing.
More on Baylor-Kentucky
Related links
"We look like a November basketball team," said John Calipari, and it should be noted that the Kentucky coach spoke those words before Saturday's 64-55 loss to Baylor that snapped the Wildcats' 55-game home-winning streak.
So what now, Coach Cal?
"We've got a ways to go with this team," Calipari said during Saturday's postgame press conference. "I think everybody understands now you don't just put a collection of players out there."
Especially not a collection lacking a true point guard.
And a serious post threat.
And a veteran leader to, you know, lead.
So, yeah, these Wildcats are very much a work in progress. They were ranked third in the Associated Press preseason poll based on potential and upside and all of those types of things. But that's when many assumed Ryan Harrow was an NBA-level point guard and Kyle Wiltjer could never possibly miss 10 shots in a game. Fast-forward to the present, and we now know that Harrow might not even be an SEC-level point guard and that Wiltjer is fully capable of missing 10 shots in a game because he just did it against Baylor. The result is a Kentucky team with a 4-3 record coming off consecutive losses to unranked opponents, and the Wildcats just might find themselves unranked when the national polls are updated Monday.
But that's the least of their problems.
The main issue is that Calipari must figure out how to make Harrow usable so that he can move Archie Goodwin off the ball and order him to score, score, score. Do that and everything else will work itself out, I think, because (don't ever forget) Kentucky still has at least three future lottery picks, and teams with at least three future lottery picks tend to win at a high level even if it takes some time.
And, either way, this is gonna take some time.
That seems obvious now.
Is this UK roster still good and talented?
Yes.
But it's clearly not last season's roster in lots of different ways.
"We came in here thinking we were that team," said UK freshman Willie Cauley-Stein. "And we're not that team."