Illinois has new coach, new culture and 10-0 record after win at Gonzaga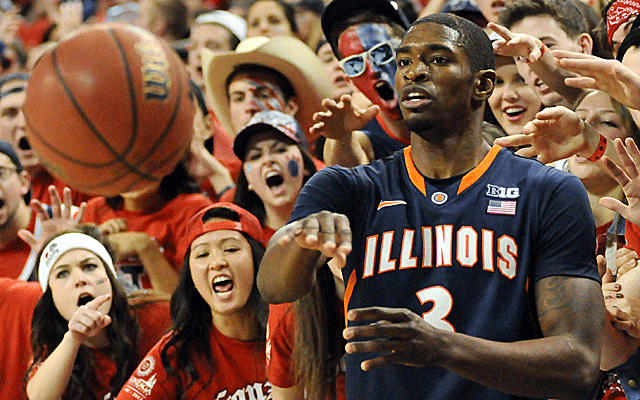 Not even the rabid Gonzaga fans can faze Brandon Paul.
(US Presswire)
SPOKANE, Wash. -- Six hours before tipoff of Saturday's most interesting college basketball game, Gonzaga assistant Ray Giacoletti was in his office preparing for shootaround. I stopped by. We talked. I eventually asked for his thoughts on Illinois, at which point Giacoletti described Brandon Paul as an NBA guard, John Groce as a coach whose players have bought in and the Illini in general as a dangerous opponent because of their ability to shoot 3-pointers.
"We're not gonna stop them from taking them," Giacoletti said. "But we have to keep them from making them."
More on Illinois-Gonzaga
Related links
Simply put, Gonzaga did not.
The Illini made 11 of its 26 3-point attempts.
So now Groce is the first Illinois coach to win his first 10 games in more than a century, the Illini are 10-0 and on the verge of breaking into the top 10 of the Associated Press poll, and Paul has to be under consideration for Player of the Year honors on both the Big Ten and national levels. Put another way, things are going well in the world of Illinois basketball. And it's hard to remember the last time anybody could've reasonably typed those words.
"I'm happy for Illini Nation," Groce said following his team's 85-74 victory here inside the McCarthey Athletic Center that represented just the ninth time in 118 outings that Gonzaga has lost in this building. "I'm happy for our students, our fans, all of our alums. It's great. But I'm most happy for our guys. They've been through a lot."
Most notably a 2011-12 season in which they lost nine of their final 10 games and (consequently) their coach who had led their school to six NCAA Tournaments in the previous eight seasons, including an appearance in the 2005 national championship game. Even worse, they were labeled quitters who stopped playing for Bruce Weber, plain and simple. So Groce had some kind of job on his hands when he left Ohio for Illinois last March. And he knew it. But he also knew he was inheriting at least one dynamic guard in Paul who had shown signs of brilliance, and Groce figured he could win immediately if the brilliant moments came more often.
This season, they are.
Late Saturday, they did.
"Brandon is a big-time player," Groce said. "He's one of the best in the country."
Who could argue after this performance?
The 6-foot-4 senior took 16 shots, made 10 and finished with 35 points, four rebounds, three assists and three steals. He was 5-of-9 from 3-point range. He was 10-of-11 from the free throw line. He was awesome in every way while completely surprising and silencing a sellout crowd of 6,000 that included Gonzaga legends Adam Morrison and Dan Dickau.
"He looked like a high-level NBA guy," said Gonzaga coach Mark Few, whose team came in ranked 10th in the AP poll, three slots ahead of Illinois. "We didn't have a guy who could guard him one-on-one."
Few was obviously upset after the game -- mostly because of blown defensive assignments, somewhat because of 16 turnovers, and a little because his starting guards (Kevin Pangos and Gary Bell Jr.) made just six of the 20 shots they attempted while playing 68 of a possible 80 minutes. But what can you do when a team makes 11 3-pointers on you? That's the question Few must've been asking himself. And it's precisely why Giacoletti had told me hours before tipoff that the Illini were a serious threat despite being a double-digit underdog, because he knew they were actually averaging 11 3-pointers per game.
That means there was nothing fluky about this.
This is what the Illini have been doing for an entire month.
They take lots of 3-pointers and they make lots of 3-pointers.
If you didn't know that before Saturday, you haven't been paying attention. But what the nation should've learned on Saturday is that this version of the Illini is made of something different. They're mostly the same guys that quit on Weber, sure. But Groce has them back believing -- not only in themselves but in him. And that became most obvious early in this game when Gonzaga jumped to a 12-3 lead that turned into a 31-20 advantage that seemed capable of ballooning and putting this contest out of reach. Most teams would fold under those circumstances in this building. Last season's Illinois team would've folded under those circumstances in any building. But Groce kept coaching, his players kept playing, and before long it was the Illini who had the double-digit lead and signature win their resume had lacked.
"Coach Groce is obviously amazing," Paul said. "We wanna play hard for him."
So they do.
And the byproduct is this 10-0 record.
Where will things go from here?
Who knows?
The Big Ten is stacked and could prove difficult for anybody.
But there's no denying that this team looks different from last season, sounds different from last season and is different from last season. Put another way, things are going well in the world of Illinois basketball. And it's hard to remember the last time anybody could've reasonably typed those words.