Here are some answers to some of your questions about the Big East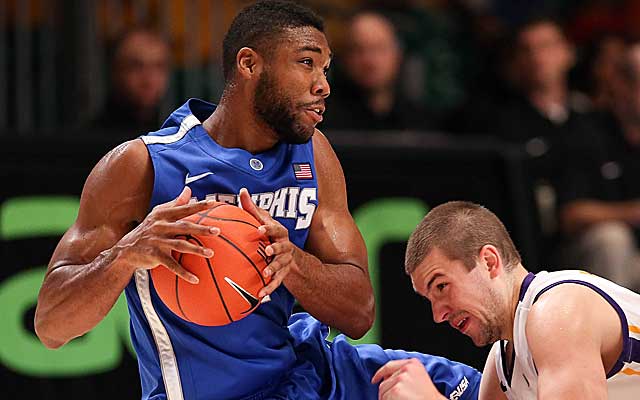 A split in the Big East could leave programs like Memphis scrambling. (US Presswire)
A meeting in New York between officials from the Big East's seven non-football-playing members and Big East Commissioner Mike Aresco -- at which the possibility of breaking from the football-playing members was discussed -- has countless schools and fans asking questions about the future of the league. Allow me to answer some of them.
How serious was this meeting?
Nothing was formally discussed or decided, but the meeting was serious in the sense that it represented the first time the non-football-playing members have indicated they're genuinely considering breaking away. So I'm not sure the meeting was serious in tone. But what the meeting represented, yeah, that's serious.
More on the Big East
Related content
So why are the non-football-playing schools doing this now?
They can say it's about the addition of Tulane, but I don't think that's it as much as it's last week's report from my colleague Dennis Dodd that detailed how the television contract Aresco is currently negotiating could be worth as little as $60 million annually. That number was lower than anybody had previously reported, and I believe it served as a wakeup call of sorts for the non-football-playing members. Suddenly, they realized the television money they'll earn by staying connected isn't going to be nearly what they anticipated. So here we are.
How much do the Big East's non-football-playing members stand to get from TV if they stay with the football-playing members?
That depends and is hard to say. But Dodd's report suggests they'll only get between $1 million and $1.5 million per year, and either number is disappointing. They could actually get less from their next contract than they get from their current contract. That's terrible.
So how much could the Big East's non-football-playing members get on their own?
Again, that depends and is hard to say. Would Butler, Creighton and VCU be a part of this new league? What about George Mason and Saint Louis? The makeup would matter. But I can tell you this: Any league that plays football can garner a better TV deal than any league that doesn't play football, so the non-football-playing members would be better off in that regard to just stay with whatever Big East football-playing members are left. But how much better off? That's the question. If it's only a few hundred-thousand dollars per year, then is it really worth it to remain in a league you no longer recognize, travel to places that cost more money and play schools you have no interest in playing? That's the question the non-football-playing members must answer. That's what they're trying to determine. Is it worth it to stay?
So when will a decision be made?
Probably not for months. The first step is to let Aresco finalize the best television contract he can finalize, then see where everything sits. My understanding is that the non-football-playing members would like to decide something one way or another before Memphis, SMU, Houston and UCF officially join the Big East on July 1 but not without first seeing what kind of TV deal Aresco finalizes, and not without gauging the interest of other basketball-first schools that might be willing to join a new league with them. Simply put, this is all incredibly complicated. And it's also worth noting that other shifts in realignment could change things. It's possible the non-football-playing members could decide they're OK staying in a Big East with Cincinnati and Connecticut but then decide they have no interest in staying if Cincinnati and/or Connecticut jump to the Big 12 and/or ACC. So keep your eye on the SEC, Big Ten, Big 12 and ACC, too. Any moves by them could lead to more moves within the Big East, which could lead to, well, you get the point.
What's to stop the Atlantic 10 for trying to pull the Big East's non-football-playing members to its league? Isn't that better than just waiting around to see if the Big East's non-football-playing members break away and then try to poach the Atlantic 10's best programs?
Yes, that's better. And I suspect such inquiries will be made on some level, if they haven't already. But my guess is that the Big East's non-football-playing members would prefer to either stay put or figure out a way to start their own league. I'd be surprised if they simply merged into the A-10 to create a 21-team league. But that shouldn't stop the A-10 from asking. Absolutely, it's a question worth asking. And it's a possibility worth following.
And what about fans of Houston, SMU, Memphis and UCF? They waited so long to become a part of a power conference, and now this power conference is diminished and on the verge of collapsing before they even arrive. What should those fans do?
Cross their fingers.
Hope.
Maybe even pray.
Because a split would be devastating for them.