Mark Lyons makes point for Arizona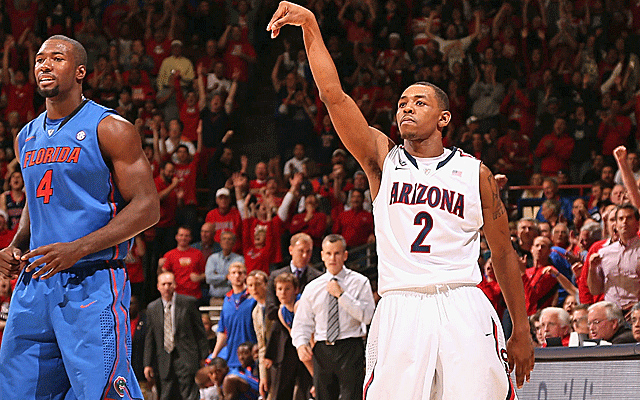 Mark Lyons has brought toughness to Tucson.
(Getty Images)
TUCSON, Ariz. -- Meet Mark Lyons, the new generation of point guard, valuing scoring over distributing, outwardly admitting without hesitation he'd take Russell Westbrook over Bob Cousy. He's the antithesis of the way his coach, Arizona's Sean Miller, played back when he ran the show and constantly gave his teammates easy looks at Pittsburgh in the late 1980s.
But Miller has learned to live with his new floor leader -- especially if he can make shots like the game-winning runner that gave No. 8 Arizona a huge win over No. 5 Florida at the McKale Center. The building was rocking as if it were the early 2000s, when Lute Olson had it rolling in Tucson. Miller admitted that it was the most important regular-season home game of his three-plus year tenure. This was an opportunity for Arizona basketball to prove to the nation that it was truly back.
Arizona trailed virtually the entire game, until the waning seconds. The Wildcats looked sloppy, but managed to stay in the game. Sophomore Nick Johnson gave the ball to Lyons, Arizona down 64-63. Lyons drove down the right side and made a running layup off the glass over the outstretched arms of 6-foot-9 Patric Young with 7.1 seconds remaining.
Did Florida hand over the game -- or did Arizona take it?
"I thought we beat ourselves," Florida coach Billy Donovan said.
"I feel guilty in one sense," Miller added. "But we'll also take it."
This was Arizona's first victory over a top five team during the regular season since December of 2008. It was a signature moment, not just for this program, but for Lyons -- who left Xavier with a year left of eligibility and chose to play for Arizona over Kentucky and Kansas.
"I wanted to play point guard," Lyons said. "And Xavier had Semaj [Christon] coming in."
Lyons doesn't believe he was not asked to return to Xavier, saying "there's no way they didn't want me back." Sources close to the Musketeers program would claim otherwise, stating that the relationship had run its course over a somewhat tumultuous four-year span. Whatever the case, Lyons is now in Tucson and while he isn't a natural point guard, he is the primary ballhandler for a team that is 8-0 and likely to move up a couple spots in the polls from eighth overall.
"It helps our confidence," Lyons said. "A lot of people doubted us, but we got the job done and proved people wrong. People questioned our schedule, our youth and whether I'm a point guard."
"I don't know what a point guard is," he added. "A point guard leads his team, makes plays and wins games."
Lyons is doing all of the above thus far. It's not always picturesque, but Miller needed Lyons -- and Lyons needed Miller. He finished with 14 points, three rebounds and more turnovers (3) than assists (2), but this team desperately needed a warrior, someone who won't wilt under the pressure and wants to take the big shot. Florida guard Mike Rosario grew up playing against Lyons, and knew exactly where the ball was going on the final possession.
"He loves all the pressure on him," Rosario said.
Miller makes it clear that it's unfair to judge Lyons just eight games into the season. In fact, it's unfair to evaluate this team -- one that has three talented freshman big men all playing significant minutes. Right now, the Wildcats still appear disjointed on the offensive end, without a guard that consistently makes it easier for the young frontline and void of a big-time shooter. Arizona, however, wound up making 7-of-20 shots from deep in the win against the Gators, and were 18-of-21 from the charity stripe.
Is this a team that can get Arizona back to the Final Four for the first time since 2001? Johnson proclaimed the Wildcats "the real deal" after the game, and while that may wind up being the case, it's still too early to tell. Lyons said it's a team that can win the national championship, especially after knocking off a Gators team that some had inserted into the national title conversation. What is certain, though, is that this team has plenty of room for growth.
Josiah Turner was supposed to be the point guard this season, but the heralded California native is now playing pro ball in Canada after failing to make it through his freshman season in Tucson. Next year Miller will add a "pure" point guard in Duquesne transfer T.J. McConnell, who is sitting out this season. For now, Miller has Lyons -- and it doesn't matter what anyone calls him.
"I love him," Miller said.
Miller was an old-school floor leader in the truest sense. He'd prefer to set his teammates up, rather than put the ball in the basket. But he understands the game, and the point guard position has changed. Lyons is an aggressive scorer who happens to have the ball in his hands more than anyone else on the team. He's the Westbrook of college basketball -- and there are a ton of them all over the country. The two couldn't be more different in their styles, but more alike in their desire to do whatever it takes to win with the game on the line.
"My coach has faith in me," Lyons added.
"He gives us that confident edge and toughness," Miller added. "At the end of the game, he believes he can win."
Whether he's a point guard or not, that's exactly what this team needed.