LIU Brooklyn star Julian Boyd out for season with torn ACL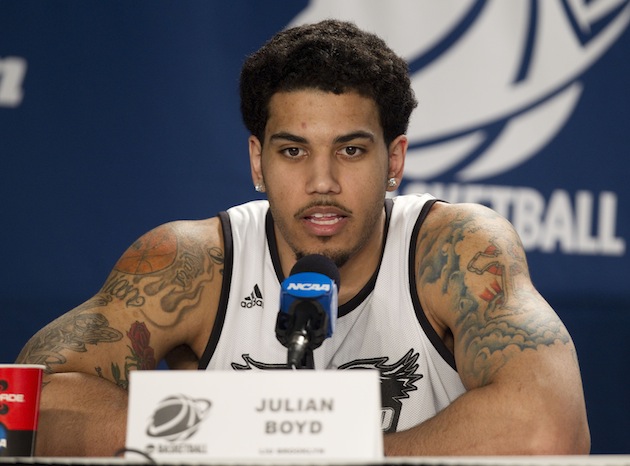 LIU Brooklyn forward Julian Boyd was averaging 18.5 points and 6.5 rebounds so far this season. (US Presswire)
With Julian Boyd in the lineup, LIU Brooklyn was the favorite to win its third straight Northeast Conference title. Without him, can the Blackbirds still win the automatic bid?
We're about to find out: a school official told Nelson Castillo of Blackbirds Hoops Journal that Boyd would miss the rest of the season with a torn ACL.
Boyd suffered the injury on Wednesday, when he dove for a loose ball against Rice. He underwent an MRI on Friday, which confirmed the ACL tear.
The 6-foot-7 senior forward from Texas has been one of the most productive frontcourt players in the country the past couple of seasons. He averaged 17.4 points and 9.3 rebounds last year and was putting up 18.5 points and 6.1 boards this season. Castillo reported that Boyd would apply for a medical redshirt, but it would mean a sixth season of eligibility. He missed the entire 2009-10 season with a heart ailment.
Without Boyd, LIU Brooklyn (4-4 going into Sunday's game against Manhattan) will now rely even more heavily on Jamal Olasewere, a forward who presents matchup problems for most opponents. Jason Brickman and C.J. Garner are still one of the best backcourts in the conference, and Brandon Thompson provides 3-point shooting. In Boyd's place, Khalil Murphy started on Sunday. Physical big man Kenny Onyechi could also be a factor on the inside.
Boyd was one of four players suspended for two games due to their involvement in a campus brawl back in September.