Podcast: Nate Silver is here to talk with us about sports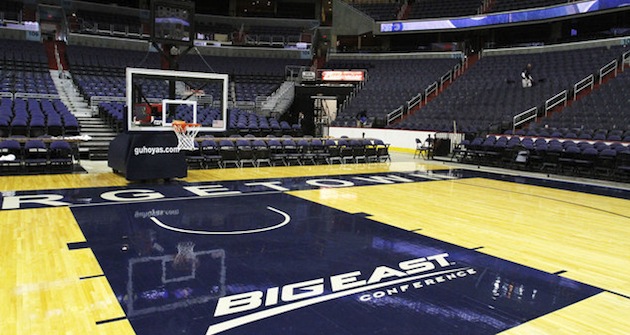 Silver believes basketball motivations for splitting the Big East up has a few net positives. (Getty Images)
Nate Silver's name became ubiquitous in the lead-up to the 2012 election. His Five Thirty Eight blog tracked the polling data from across the country and deduced long before that first Tuesday in November that Barack Obama would have a steady victory. This made him an unwitting sworn enemy to some and a nerd hero to others. You think he's new to the game, though? Naw. Dude was a finalist for Time's Top 100 in 2009.
But Nate's been on this pod before. He knows sports -- and he loves college hoops. He had a recent piece on realignment go up (linked below), so now that the presidential push has simmered, what better time to get him back on to discuss why he likes the Catholic 7 breaking up the Big East. Plus: drunken Nate Silver blackjack stories. I think that's tease enough.
Plus, if you're figuring out how/why predictions work in all kinds of ways -- sports or politics or otherwise -- Nate's got a book out that will swell your noodle. Makes for a good last-minute Christmas purchase, indeed.
FiveThirtyPod:
From the beginning: Lifting off from Nate's piece on the New York Times' site and further explaining why he believes this is such a good thing for the Catholic 7.
5:05: How TV money, which wasn't factored into Nate's piece, can dovetail with the breakaway.
8:30: Will college hoops be a "healthier" sport five years from now than as it currently stands?
11:50: Should this new league take in Cincinnati or UConn, should those programs show interest?
13:45: Oh, yeah, a CBBCL mention! Here's the great piece I mention in the podcast.
15:10: Nate isn't in favor of the Big Ten adding Rutgers and Maryland. Here, he explains why.
17:05: Now, we can discuss Nate Silver: rock star. Because if you were on Twitter or even just watching any kind of program that tracked the 2012 election, his name became ubiquitous. Now that things are coming to a simmer, I wanted to know what it was like for him amid that build-up to the election, as he was also selling a book in the process.
23:20: What was he doing on the night of the election? And good was the afterparty?
26:20: I wanted him to go into the TV circuit detail. What's it like to go on The Daily Show, The Colbert Report, Real Time with Bill Maher, etc. What did his friends think? When was the first time a stranger recognized him in public?
29:20: Nate Silver's life: people giving him their cabs, getting free drinks, free appetizers. Oh, and playing blackjack while plastered at 3 a.m. The last few minutes of the podcast are basically casino stories and bad beats and Nate going to places I didn't think he would.
--> MP3: download the episode here.
--> Popout player: to play pod in a separate window on the Web.
--> If you're not already subscribed via iTunes, please do so now.