Wakeup Call: Winthrop coach passionately follows Jim Boeheim's lead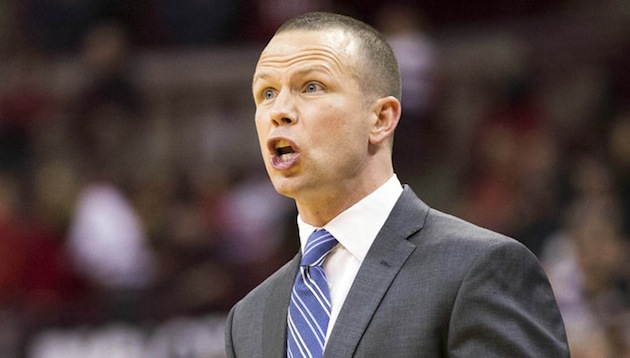 Winthrop coach Pat Kelsey gave an emotional plea for change Tuesday night. (US Presswire)
What are the 10 best games in Big East history? How will Cincinnati vs. Xavier go down tonight? And which teams are still going to have to overcome recent bad news with injuries? All that information below.

Around the World
Interesting. Commonplace words in the modern world that were once considered improper. || If you like "The Price is Right," or even stayed home sick and watched it during your teen years, this is a must-click from SB Nation. And for the record, that list is frighteningly accurate. || Holy crap. I can't believe Saturday will already be the 10-year death anniversary of one of rock's iconic front men. || The Oatmeal has a few comics on the state of the Web in 2012, and it's right on the money, per usual. (Warning: some curse words in that link.) || Unbelievable shot of Saturn should give your Wednesday a wow bright and early.
Layup Line
¶ It's been more than a year since the infamous brawl between Xavier and Cincinnati. The rivalry almost came to a halt, but tonight the two teams meet again for the first time.
¶ You had to figure Jim Boeheim, one of the most respected men in coaching, would spur this. After Boeheim spoke out on guns Monday night, Winthrop coach Pat Kelsey followed in his steps and got emotional on the issue following his team's loss to Ohio State Tuesday night. Video is below.
¶ College basketball fans and readers are luckier for having a guy like Jason King crank out a couple pieces like this each season.
¶ Sports on Earth with a fun take here, one that's already got me kind of weeping for the impending end of the Big East as we know it. I totally forgot about that '02 game -- and seeing Chris Thomas' name has made me feel so old. Time just vaporizes behind us.
¶ A great look at which teams have done what so far. Who's got the best overall resume? Which teams have played the best teams? This is a good chart to keep handy heading into Christmas. Just examine what you know against some data you might not be aware of -- and it gets interesting from there.
¶ If you have any faith that the offshoot of the Big East breakup will give birth to a good new conference name, think again.
¶ Well, this could make the Louisville-Kentucky game more interesting -- but not necessarily better.
¶ Why will USC and UCLA have picket lines outside their arenas during games this week?
¶ Deadspin takes on college hoops and ranking teams in a different way. You know what? I like it, even if it's not totally on point. It's close, though.
¶ It appears Ben Howland is showing a lot of regret over the mistakes and choices of Larry Drew II's life.
¶ One team that's quiet now but could turn into a dangerous club -- even NCAA-worthy -- come February.
¶ I'm going to say "a help," but with the utmost trepidation.
¶ A tournament hopeful team has taken another hit in the injury department.
Moving Pictures and Music
»» Here's the video of Kelsey from Tuesday night. It is really passionate, and it gets a little political, too. If you thought Jim Boeheim went all in, give Kelsey a listen here.
This, right here, is one of my five favorite tunes for this time of year. It's soft. It's a bit sappy. That's what makes it nice, and we could all use some more nice. Julie Andrews has a voice that's connected to a long of songs. This isn't one of them, at least not to many, but I like it that way. It's best to listen to this one long after the sun's gone away.