Podcast: Is Boeheim overrated? Is Syracuse?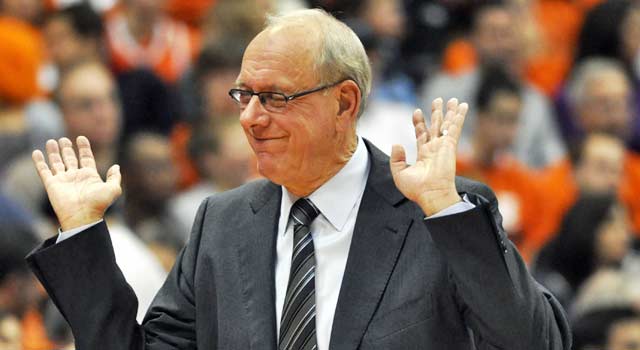 Boeheim gets wind of this podcast post title and reacts as you'd expect. He'll pass Bob Knight with three more Ws. (AP)
With Jim Boeheim notching win No. 900 this week, we have to look back on his career and see where he stands among the all-time greats. There's a good horde that sees Boeheim and Syracuse as overrated. Doug Gottlieb said as much this week. Interesting, though, but I disagree. What about Jeff Goodman and Gary Parrish? It's Wednesday, so they're back on. Beyond Boeheim, we've got a whole bunch to talk about. Whereas a lot of the Wednesday pods can meander, and I love when they do, this one's got a tighter focus in its quick hits on a few teams and stories.
And then Parrish wraps it up by wondering how he can top a man who just bought his wife a Mercedes for Christmas.
Rundown:
From the beginning: Cool. So Parrish is losing his voice, Goodman's got people building things in house. But no realignment talk, we promise! We start the Boeheim debate right off the top.
7:30: Boeheim and K and who will end up with more wins.
11:30: Cincinnati-Xavier rekindles the rivalry Wednesday night.
19:20: We're really already thinking Miami's the second-best team in the ACC? This is why the ACC can't have nice things.
21:30: Does it feel like this season, through six weeks, has something of a lurch to it?
24:05: Arizona-Florida. Goodman was there. Arizona won, but are the Wildcats really a top-five team?
25:45: Memphis. Of course: Memphis. Allow Parrish to fill you in on the latest, including what I find to be the stat of the week in college hoops.
31:25: Wrap-up includes our holiday wishes and Parrish's laments that he's bound to fail as a husband this Christmas.
--> MP3: download the episode here.
--> Popout player: to play pod in a separate window on the Web.
--> If you're not already subscribed via iTunes, please do so now.