What's next for the four schools who missed on Jabari Parker?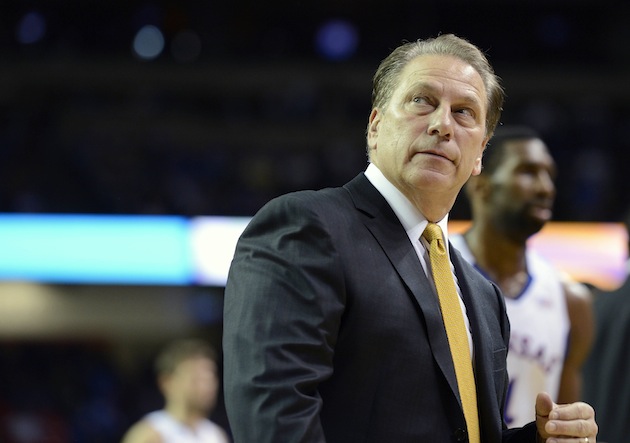 With zero recruits in the class of 2013, where does Tom Izzo turn after Jabari Parker? (US Presswire)
Four teams missed out on Jabari Parker on Thursday, as the consensus top-five prospect announced he was headed to Duke – choosing the Blue Devils over finalists Michigan State, Florida, BYU and Stanford.
While it's understandable that the "losing" quartet of schools will be disappointed, there's no time to feel sorry in the recruiting world. What's next for each of the four teams?
Michigan State
Thought of as the leader for Parker's services for much of the past couple of years, Michigan State had plenty invested in the decision. Essentially, Tom Izzo put all of his eggs in the Jabari Parker basket. In retrospect, that didn't pay off. Michigan State doesn't have too many targets remaining in the class omf 2013, although the Spartans have pinpointed Illinois product Gavin Schilling as a remaining target. Now at Findlay Prep (Nev.), Schilling is still looking at Illinois, USC, DePaul, UCLA, Oregon State, Minnesota, in addition to the Spartans and others. Fortunately for Izzo, nearly the entire 2012-13 roster returns next season, with the exception of big man Derrick Nix.
Florida
Had Parker chosen Florida, the Gators would have had a case for the best recruiting class in the country – despite Kentucky having three elite prospects. Billy Donovan has already secured signatures from top-10 players Kasey Hill and Chris Walker, two guys who should be able to make an immediate impact in Gainesville next season. With five-star big Dakari Johnson trimming his list to three on Wednesday – and Florida not making the cut – only one player is left on Florida's radar: Julius Randle. The top-five prospect is down to six: Florida, Kentucky, NC State, Kansas, Oklahoma and Texas. Texas and Florida could be the leaders at this point. Florida should be fine next season either way, as transfers Dorian Finney-Smith (Virginia Tech) and Damontrae Harris (South Carolina) also become eligible next year.
BYU
BYU already has the best recruiting class in school history, but Parker would have a monumental recruit. Even without him, though, the Cougars are in good shape going forward. Nick Emery and Eric Mika are top-100-caliber prospects, and Luke Worthington, Jakob Hartsock and Braiden Shaw round out the nationally-ranked group. With Emery and Mika playing together at successful Lone Peak, the chemistry this group will have can only help at BYU next season.
Stanford
The Cardinal seemed to be the odd man out in this quintet over the past couple of months, as signs pointed to Parker going everywhere except Palo Alto. Just to make Parker's top five, though, is a sign Johnny Dawkins has things on an upward trend with the Cardinal. Right now, their class consists of Schuyler Rimmer, and twins Marcus and Malcolm Allen – and that might be enough. There are only two seniors on the roster, and Dawkins seems to have focused on the 2014 and 2015 classes.