Podcast: Clark Kellogg talks Myck Kabongo issue at Texas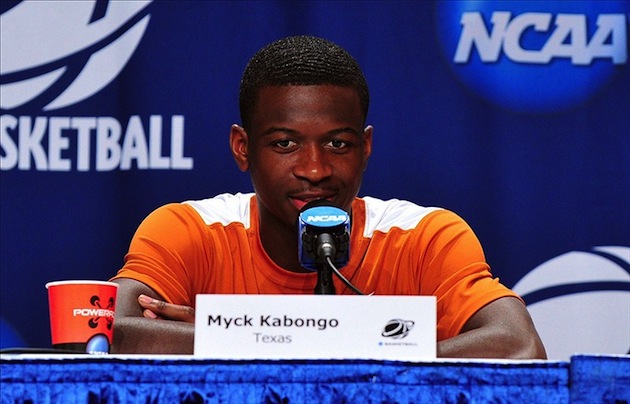 Kabongo's getting his appeal heard by the NCAA today, according to multiple reports. Is his punishment fair? (US Presswire)
As CBS Sports' lead college basketball color commentator, Clark Kellogg gets to guide you through a lot of games but you don't often hear him opine on bigger issues in hoops. That's why we love getting him on the pod. Clark's one of the nicest guys in the business, but this podcast takes a heated turn. Kellogg doesn't find much sympathy for Myck Kabongo's situation; listen to hear why. Beyond that, he addresses the first six weeks of the season so far, the big Kansas-Ohio State game he's calling this weekend, and why on earth he wore a straw hat to his college-commitment press conference in 1979.
Fork over the photos, Mr. Kellogg.
Menu:
From the beginning: Let's go expansive to start. Through six weeks of the season, what's stood out to Clark so far? Since he doesn't do studio work anymore, he doesn't get a chance to stretch his legs and opine as much.
6:05: Syracuse, Jim Boeheim and Kellogg disagreeing with our colleague Doug Gottlieb's asseveration that the program is overrated.
8:30: This is where things take an unexpected and fun turn. Clark goes into his life as a teenager, what it was like to be recruited and what ultimately led him to choose to go to Ohio State.
15:00: Myck Kabongo, his lies and why Clark is relatively OK with the NCAA's decision.
23:10: Who's to blame for this now though? Hint: he doesn't put much onus on the runners and agents.
27:07: With this being the 75th anniversary of the NCAA tournament, Clark's participating in a lot of the CBS 75 retrospectives. Listen to a story or two.
30:35: Looking ahead to Kansas-Ohio State, the game of the weekend, which Clark will be calling on CBS.
--> MP3: download the episode here.
--> Popout player: to play pod in a separate window on the Web.
--> If you're not already subscribed via iTunes, please do so now.