Rendleman's return to school exemplifies UNCW's motivation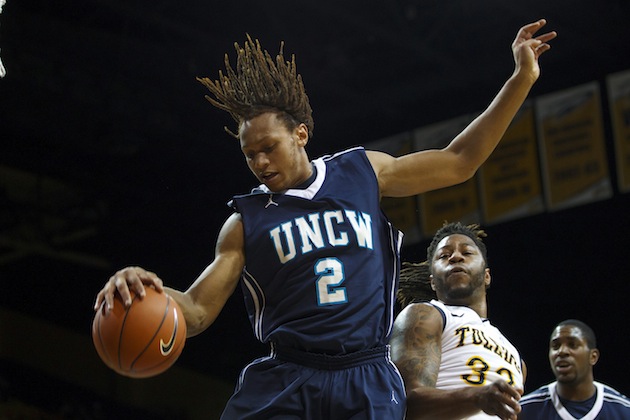 UNCW's Keith Rendleman could have redshirted or transferred. But he didn't. (US Presswire)
WILMINGTON, N.C. – Keith Rendleman could have transferred. Or he could have redshirted and spent an extra year on the beaches of Wilmington.
Back in June, UNCW was one of 10 men's basketball teams banned from the NCAA tournament because of low APR ratings. As a result, the Seahawks also couldn't participate in the conference tournament.
For a team coming off a 10-21 campaign, this obviously wasn't great news. Throw in the fact three players – including Adam Smith, the CAA's leading freshman scorer – had asked for their release, and there was essentially zero optimism for UNCW heading into the summer.
Rendleman, a first-team all-CAA selection, seemed unlikely to suit up for the 2012-13 season, too. Head coach Buzz Peterson had previously mentioned that Rendleman would redshirt in order to have a chance at the NCAA tournament in 2013-14. Moreover, there was talk that he might transfer to a bigger school – where he would obviously have a better chance at the Big Dance.
"I approached him about it," Peterson said. "He could have gone anywhere."
After some deliberation and discussion, Rendleman couldn't pass up a chance to play his final season on schedule.
"I wanted to finish what I started," he said. "I wanted to be loyal. I love it here. It's my new home."
Peterson and UNCW are certainly thankful. After Wednesday's win over UNCG, the Seahawks are now 5-6 – with wins over UNC-Asheville and Wofford, a couple of teams who picked up impressive victories over the weekend. They are undefeated at home, and have some confidence heading into conference play.
Rendleman, a 6-foot-8 power forward from Denver, N.C., is averaging 16.0 points and 9.5 rebounds. In fact, some people around the league feel that Rendleman might be the favorite for CAA Player of the Year honors.
Despite the fact UNCW can't play in the postseason, Rendleman's decision to play his final season has sparked the rest of the team – it's not a lost season.
"There are still regular season accomplishments," Peterson said. "Were going to use it as motivation. We have 30 games, still a lot to play for. We can still put a banner in here."
Heading into the season, that would have seemed like a ridiculous statement. UNCW was projected to finish toward the bottom of the league, as the Seahawks simply don't have the same talent as some of the top teams in the CAA. But after almost two months of basketball, only two teams in the conference are above .500. The favorites at the start of the season, Delaware and Drexel, are a combined 8-15.
Given UNCW's homecourt prowess, why can't the Seahawks see a significant improvement within the league this season?
"We're still trying to win a conference championship," Rendleman said.
As for the senior star, Rendleman might not be done with UNCW athletics when the season is over in early March. He said he's thinking about running track in the spring. After all, he was recruited out of high school by the UNCW track & field coach.
For a player who could have just as easily been at a different school this season, it just goes to show how much Rendleman enjoys Wilmington.
"He just loves the university," Peterson said. "He loves the beach."
But he's certainly not relaxing anytime soon.